At HVAC.com, our writers create solutions that put you in control of your HVAC system. Our product reviews and recommendations are researched and backed by real buyers and industry experts, not dictated by our partners.
Rheem Manufacturing Company has been a popular home HVAC manufacturer for nearly 100 years. The product line started with water heaters and has expanded to heat pumps, furnaces and air conditioners.
Read on for our take on Rheem warranty quality, brand overview, product lines, prices, and value.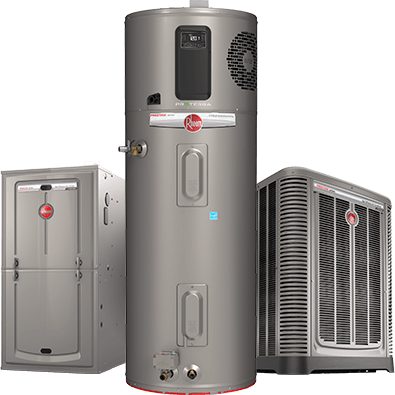 Rheem overview
Rheem is an Atlanta-based manufacturer with a strong reputation in the HVAC industry. The brand earned our recognition as the best value brand, offering quality units at a reasonable cost. 
While Rheem products aren't quite as durable (or expensive, for that matter) as elite brands like Trane, Carrier or Lennox. However, Rheem has higher-quality equipment than economy brands such as Goodman. 
HVAC technicians tend to find Rheem products easy to repair. If you're a fan of DIY projects, you'll appreciate the simplicity of the unit designs.
Rheem offers better warranty policies than many competitors. With a website that allows you to register the unit or verify that your installer registered it, the Rheem warranty and customer service experience are considered top-notch. 
Rheem products don't perform as well in extreme climates or conditions. We recommend Rheem for budget-conscious shoppers living in mild climates.
Rheem furnaces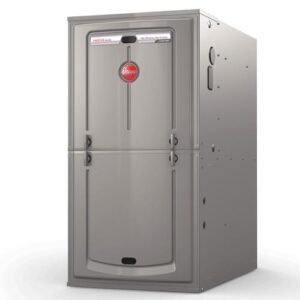 Rheem offers 17 furnace models. The catalog is natural gas or propane-fueled, except for two oil furnaces. 
Some Rheem gas furnaces feature the EcoNet® Smart Monitoring System, which uses sensor technology to regulate home heating. EcoNet boosts the furnace's energy efficiency and promotes lower heating costs.
The furnaces use a diagnostics system for easy troubleshooting. However, the inner parts are proprietary (exclusive to Rheem) and cannot be replaced with generic parts. If your system is out of warranty, you may face a long wait time and high cost for replacement parts.
Product Callouts Section
Series

Classic (entry-level), Classic Plus (mid-range), Prestige (premium)

Efficiency range

.8-.98 AFUE

Average cost

$813-1,576
Pros:
Product Pros Highlights
Easy repairs
Multi-orientation design
Options for every budget
Cons:
Product Cons Highlights
Featured Rheem furnace model
The Classic Ultra Low NOx is the industry's lowest-emission furnace. The gas furnace is a less expensive option compared to high-efficiency furnaces. This is the model for you if you're equally conscious about budget and environmental impact.
With a low cabinet height and flexible design, this furnace fits small spaces. The PlusOne ignition system is nine times more efficient than a traditional ignitor. An insulated blower cabinet keeps operating noise low.
Rheem furnace prices
Rheem furnace units range $813-1,576 depending on the unit size, chosen model and local manufacturer rates. Between the unit and installation costs, expect to pay $2,490-3,589 for your new Rheem furnace.
Rheem furnace warranties
Both oil furnaces are eligible for a limited five-year parts Rheem warranty and a limited lifetime heat exchanger warranty.
The Prestige series' warranty is more comprehensive than competing brands. The two most advanced models offer 10 years of unit replacement once registered.
The Classic and Classic Plus series' limited warranty is on par with industry standards. While each model has a 20-year or limited lifetime heat exchanger warranty, the 10-year parts warranty requires registration with some models.
Rheem heat pumps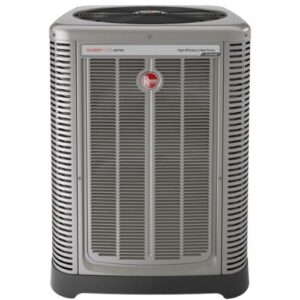 Rheem offers eight heat pump models to cool and heat your space. The heat pumps are available in single, multi-stage and variable-stage operations.
Rheem heat pumps use a scroll compressor for more efficient and reliable operation. The Classic Plus and Prestige models use the EcoNet smart monitoring system to promote lower operation costs. 
Rheem heat pumps perform best in mild, temperate climates such as the Southeast U.S. If you experience temperature swings or colder winters, top-tier heat pumps such as Trane are better equipped for low outdoor temperatures.
Product Callouts Section
Series

Select, Classic (entry-level), Classic Plus (mid-range), Prestige (premium)

Efficiency range

14-20 SEER, 8.5-11.5 HSPF

Average cost

$1,320 – 3,007
Pros:
Product Pros Highlights
Variable-speed operation
Reasonable cost
Durable
Cons:
Product Cons Highlights
Few premium options
Not ideal for extreme temperatures
Featured Rheem heat pump model
The Classic Plus RP17 is an ENERGY STAR certified heat pump. With a maximum 18.5 SEER rating, this energy-efficient heat pump promotes lower utility bills.
The curved design of the outdoor unit protects the inner parts and makes the cabinet stronger and more durable. With EcoNet capability, you can control the temperature and humidity settings from a smartphone.
The RP17 operates in outdoor temperatures as low as 7°F.
Rheem heat pump prices
The average cost of a Rheem heat pump is $1,320-3,007 based on the model, unit size and market availability. Installation costs average $3,760-6,000 depending on local installer rates, your home's insulation quality and other factors.
Rheem heat pump warranties
Rheem's heat pump warranties are on par with industry standards. The entry-level series cover parts for five to 10 years (the Classic heat pumps must be registered.)
The mid-range and premium models offer 10 years of parts coverage and a 10-year conditional unit replacement warranty with registration. Few HVAC manufacturers still offer unit replacement, so Rheem gets bonus points for this special perk.
Rheem water heaters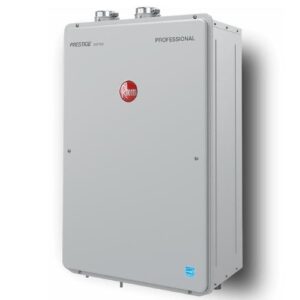 Rheem water heaters have a strong reputation in the HVAC industry. The tankless water heaters maximize hot water, minimize cold water bursts and save energy. Hot water is available on demand, thanks to a built-in recirculation pump kit.
Rheem offers over 40 tanked water heater models. With up to 120-gallon capacity, Rheem has an option for homes of almost any size. 
The two hybrid electric models are ENERGY STAR certified to reduce environmental impact. While Rheem water heaters are well-built, technicians who are unfamiliar with the brand find the gas condenser valve difficult to repair. We recommend going with a Rheem-certified technician to remedy this issue.
Product Callouts Section
Series

Classic (entry-level), Classic Plus (mid-range), Prestige (premium), Performance (from third-party retailers), Professional (from a Rheem dealer)

Efficiency Range

0.54-0.94 UEF

Price range

$550-1,400
Pros:
Product Pros Highlights
Solar, electric and gas options
Indoor and outdoor options
Durable
Cons:
Product Cons Highlights
Performance gas valves are hard to repair
Featured Rheem water heater model
The Gladiator is an efficient electric water heater. The self-cleaning tank promotes a longer lifespan and cleaner water supply.
Leaks are a common concern with most tanked heaters, but not Rheem. With a built-in leak detection system, the Gladiator can sense both internal and external leaks. The auto shut-off valve cuts the system off if it detects a leak, saving your home from water damage.
The hot water availability indicator lets you know how much hot water is available at any time (bye-bye, cold showers.)
Rheem water heater prices
Rheem water heaters cost about $550-1,400 for the unit itself. Plumbers charge anywhere from $1,200-3,500 to install tankless models.
Tanked water heaters are less expensive to install at $400-900.
Rheem water heater warranties
Warranties on Rheem water heaters vary by type and model. Most tankless heaters include a standard 12-year heat exchanger warranty. Tanked water heaters have tank and part warranties ranging from six to 12 years.
Rheem's hybrid water heaters come standard with a 10-year limited tank and parts warranty.
Rheem air conditioners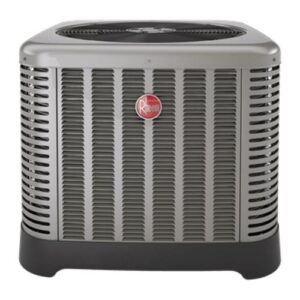 Rheem air conditioners keep you cool when you need it most. The line of 11 innovative options varies in unit size and function. Signature features of Rheem heat pumps, such as multi-stage operating systems and scroll compressors, are also found in the ACs. 
Rheem air conditioners are reliable, lasting some reviewers over 20 years. Rheem air conditioners were once criticized for low energy efficiency, but the brand has stepped it up in recent years. The simple design is generally easy for technicians to repair.
Product Callouts Section
Series

Classic (entry-level), Classic Plus (mid-range), Prestige (premium)

Efficiency range

13-20.5 SEER

Price range

$3,700 – 7,170
Pros:
Product Pros Highlights
Long-lasting
Durable
Easy to repair
Cons:
Product Cons Highlights
Long wait for replacement parts
Some models are noisy
Featured Rheem air conditioner model
The Prestige RA20 is surprisingly affordable for a variable-speed air conditioner. Five fan speeds help this model quickly and efficiently cool rooms.
The RA20 has a QR code on the side, helping a technician troubleshoot issues more effectively. Plus, rebates can help bring the already reasonable price down to a bargain.
Note that RA20 is compatible with the EcoNet communicating system. To operate this model in fully communicating mode, you'll have to purchase the EcoNet smart thermostat.
Rheem air conditioner warranties
Rheem air conditioner warranties are on par with industry standards. The entry-level models have a conditional parts warranty ranging from five to ten years (registration required).
Mid-range and luxury models have a 10-year parts warranty as well as 10 years of unit replacement. Both elements of the warranty require registering your air conditioner, which the installer can do on your behalf.
Rheem air conditioner prices
Rheem air conditioner units cost $3,730-7,170 on average. The cost of installation ranges from about $3,150-4,000 depending on local labor rates and other factors.
Rheem reviews
Conflicts of interest are one reason to take any Rheem review with a grain of salt. For example, a review from a Rheem employee may be as unreliable as a review from a Rheem competitor.
The best reviews come from sites that review multiple HVAC brands, like us.
Most negative Rheem reviews stem from improper installation. Avoid this issue by booking a Rheem-certified installer.
Rheem frequently asked questions
Is Rheem a good brand?

Yes. We think Rheem has high-quality, reliable products. The brand doesn't have industry-leading energy efficiency or technology, but they manufacture durable and long-lasting HVAC equipment.
Do Rheem products pair with smart thermostats?

Four Rheem furnaces, two heat pumps and two air conditioners are compatible with the EcoNet Smart Thermostat. The thermostat makes it easy to sync HVAC devices for whole-home controls. Rheem products are also compatible with third-party smart thermostats like the Ecobee and Nest.
Does Rheem have rebates?

Yes, Rheem offers rebates on some of its high-efficiency products. Rheem's online rebate center lists the products eligible for rebate in your zip code.
Are Rheem and Ruud the same company?

Rheem and Ruud are two separate brands that share a parent company, Paloma Industries. However, many Rheem and Ruud products are structurally identical and are manufactured at the same plants. Rheem and Ruud use different model numbers and series names, but the product catalogs are very similar.