Trane Products: Air Conditioning Units, Parts & Supplies
At HVAC.com, our writers create solutions that put you in control of your HVAC system. Our product reviews and recommendations are researched and backed by real buyers and industry experts, not dictated by our partners.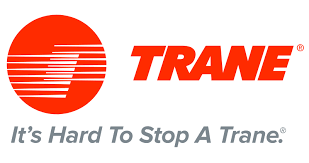 Trane has more than 120 years of experience in home comfort systems. Unlike some heating and air companies, Trane designs, tests and builds every part, so customers can enjoy the ease of mind knowing their homes are supported by a reliable and energy efficient Trane unit. Whether you're looking for a new air conditioner, heat pump or furnace, a Trane system can help you comfortably control the temperature inside your home while helping you become more energy efficient. Trane's suite of products include air conditioners, air handlers, furnaces, heat pumps, coils, packaged systems, ductless systems, thermostats, and air quality products.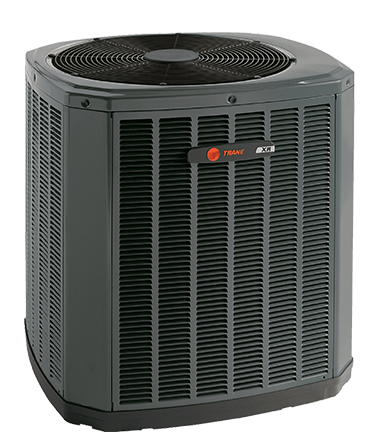 HVAC Cost Calculator
Want to know how much a new hvac unit should cost? Try our cost calculator to get free local price estimates for the top brands.
How Much Does HVAC Replacement Cost?
Average Cost: $3,250 – $12,586
Like your home and needs, your HVAC project cost will be unique. Use the calculator to better estimate your investment.
*Estimate is based on current data and does not represent a guaranteed price. For accurate pricing contact a local HVAC dealer.
Trane products
Trane air conditioners
Trane air conditioners are known for three distinct features. The first is their Seasonal Energy Efficiency Ratio (SEER), which usually ranges from 13-22. A higher number indicates a more efficient unit. The second is the number of units with an ENERGY STAR rating, which is a government-approved label for high-efficiency appliances that are better for the environment. The third is their nominal sound level. The higher the number, the louder the unit. With ten units to choose from, their top-tier air conditioners excel in these three factors. Here are the top three Trane air conditioning units:
XV20i TruComfort™ Variable Speed
Most efficient
SEER up to 22
55 Nominal sound level
XV18 TruComfort™ Variable Speed
Quietest
SEER up to 18
55 Nominal sound level
XR14
Best value
SEER up to 16
72 Nominal sound level
Trane air handlers
Trane air handlers are equipped with variable-speed motors to evenly cool and heat your home. They can be paired with an air conditioner, furnace or heat pump to circulate cool or warm air, no matter what time of year. Trane offers six different air handlers, with three standout units:
Hyperion™ Communicating
This is Trane's most efficient air handler, with 14-industry exclusive patents and communicating technology to create optimal efficiency.
Hyperion™ Series
As Trane's quietest air handler, this refrigerator-styled insulated cabinet eliminates most condensation and operating noise.
M Series
The M Series is one of Trane's most affordable air handlers, equipped with multi-blower speed to create better reliability and energy efficiency.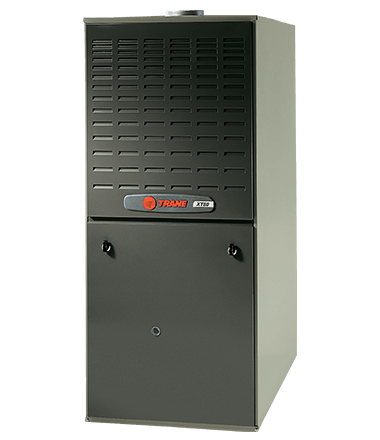 Trane furnaces
Whether you're looking for an oil or gas-powered furnace, Trane offers over 20 units to choose from, including one-stage, two-stage and modulating furnaces to provide an efficient option for every type of home. Every Trane furnace is defined by two distinct features; their Annual Fuel Utilization Efficiency (AFUE) rating and their variety of heating stages, as mentioned above. Here are Trane's top three furnaces:
XC95m
Most efficient
97.3% AFUE
Modulating
S9V2-VS
Quietest
97% AFUE
Two-stage
XB90
Best value
92% AFUE
One-stage
Trane heat pumps
Heat pumps act as an air conditioner during warm months and a heater when it's cold outside. With 11 Trane units to choose from, there's an energy-saving option for every home. Standout features for Trane heat pumps include their efficient SEER and Heating Seasonal Performance Factor (HSPF) ratings. Plus, they also feature the Trane Climatuff® Compressor, which automatically adjusts and maintains the unit to avoid temperature swings. Here are Trane's three top heat pumps:
XV20i Variable Speed
Most efficient
SEER up to 20
HSPF up to 10
Climatuff® Variable
XV19 Variable Speed Low Profile
Quietest
SEER up to 19.5
HSPF up to 12
Climatuff® Variable
XR15
Best value
SEER up to 16
HSPF up to 9.5
Climatuff® Single-stage
Trane packaged systems
Trane's packaged systems are ideal for homes with limited space and can be placed at ground level or on your rooftop. With four package types, there's an energy-efficient option for every household.
Gas electric packaged systems – During the summer, these packaged systems work as a high-efficiency air conditioner and a furnace during winter. There are three packages to choose from, all with efficient SEER, AFUE and ENERGY STAR ratings.
Heat pump packaged systems – With four units to choose from, these heat pump packaged systems are designed for efficient heating and air conditioning.
Earthwise hybrid dual fuel packaged systems – These dual systems are a combination of a heat pump and gas furnace, making them very efficient units. There are two units to choose from and include very efficient SEER, AFUE and ENERGY STAR ratings.
Air conditioner packaged systems – If you don't have a split system, this package is a great option. With humidity control, air conditioner packaged systems are great for households located in warmer regions.
Trane pricing
Prices for each Trane unit will vary depending on model, installation costs, the size of the unit and the type of home. The best way to get accurate pricing information is to contact your local HVAC professional. Here's a pricing breakdown for certain Trane products:
Frequently Asked Questions

How much is a Trane air conditioner?
Trane air conditioners range in price between $4,800 and $10,000, depending on the model, installation and type of home. 

Where can I order Trane products?
The best way to order Trane products is to contact an HVAC professional in your area. Call or fill out the HVAC.com contact form so that we can put you in touch with a top-rated Trane professional near you.

Where are Trane units manufactured?
Trane units are made in 29 different manufacturing locations. These are located in different countries, including the U.S., Brazil, China, France, Malaysia, Mexico and Thailand.

Which is better – Trane or another AC brand?
It's important to research different brands and consider factors like your home, lifestyle, and the features you want to decide which brand is right for you. You can also contact a local HVAC professional who can help you find the best system for your home.