The 6 best air purifiers for large rooms 2022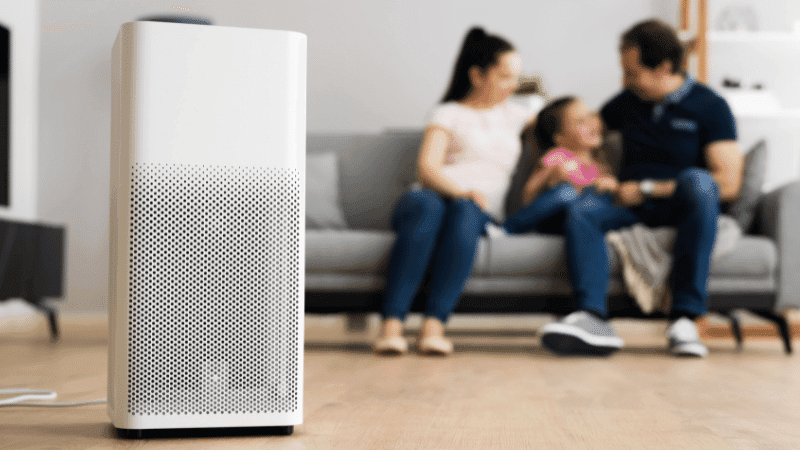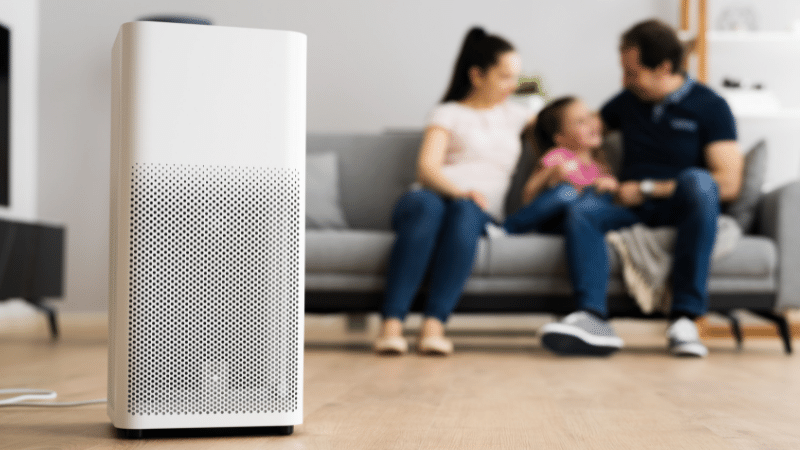 Did you know indoor air is generally more polluted than outdoor air? To improve the air quality in your home, consider purchasing an air purifier.
We've reviewed many types of air purifiers for HVAC.com – from the best air purifiers for allergy sufferers to the best air purifiers for wildfire smoke. This article specifically focuses on the best air purifiers for large rooms. We consider a large room to be between 400 and 1,500 square feet. 
Best air purifiers for large rooms
How to choose the best air purifier for large rooms
There are several factors to consider when determining which is the best air purifier for your large room.
| | |
| --- | --- |
| 📦 Coverage | First, make sure the air purifier is intended for use in a large room. Most air purifiers note the square footage they cover on their box or website. Read our piece on air purifier coverage for more information. |
| 📏 Size | Where do you plan to place your air purifier? On the floor in a corner? On the counter? Check that the dimensions (including the weight) of the air filter meet the requirements of your space. |
| 👂 Noise level | Depending on where you want to use your air purifier, its noise level is important. Sound is measured in decibels (dB). We consider air purifiers below 50 dB quiet. |
| ⛔ Filtration type | We think the best air purifiers use three types of filtration. True HEPA filters remove the most allergens and impurities from the air. "Pre-filters" catch large particles. And a carbon filter removes smoke, odors, and gasses. |
| 💨 CADR | CADR stands for clean air delivery rate. It signifies how quickly an air purifier can remove contaminants from the air. The higher the CADR, the faster the system. |
Some air purifiers have additional features that may impact your purchasing decision. These may include:
Traditional remote control
WiFi remote control via app
Variable fan speeds
Wheels for easy moving
Air quality indicator
ENERGY STAR certification
The best large room air purifiers
Best overall air purifier for a large room
The Levoit Core 400S is an affordable large room air purifier (up to 1,005 square feet) that delivers solid performance. It traps 99.7% of airborne particles, completely cleaning the air in your room at least twice per hour.
This Levoit air purifier is whisper-quiet. It's modern-looking and energy-efficient with three levels of filtration. It has multiple fan speeds and a sleep mode.
The Levoit Core 400S is WiFi-enabled. So, you can control the air purifier via the Versync app, which includes insights into air quality levels, system usage, and filter life. It's also compatible with tools like Amazon Alexa for voice commands.
Levoit is a U.S.-based woman-owned company offering discounts for teachers, first responders, medical personnel, and veterans.
Buy on Amazon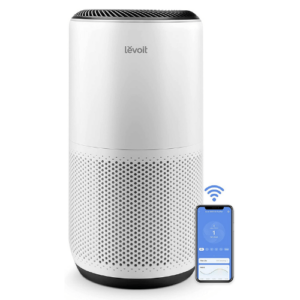 Size
10.79" x 10.79" x 20.47"
Smallest air purifier for a large room
The Honeywell HPA300 is a powerful air purifier in a compact package. It's affordably priced and easy to lift.
This large room air purifier uses a HEPA filter and a pre-filter to remove large and microscopic airborne particles, including dust, pollen, and pet dander. It has four cleaning speeds, but the HPA300 is noisier than most competitors when operating at high and turbo speeds.
This Honeywell air purifier is ENERGY STAR certified. It's durable and long-lasting with easily replaceable filters.
We like the intuitive buttons to change settings. Its timer options and dimmer settings are also helpful.
Buy on Amazon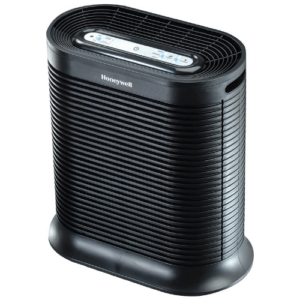 Size
9.25" x 20" x 22.25"
Best medical-grade air purifier for a large room
The IQAir HealthPro is our favorite medical-grade large room air purifier. It uses a "HyperHEPA" filter that it claims is more effective at capturing ultrafine particles smaller than 0.1 microns, including viruses.
We like that this system comes with a remote control and offers programmable schedule options. It monitors filter life and notifies you with a light when it needs a change.
The IQAir HealthPro has a quiet, resilient fan motor that uses minimal electricity. You can adjust its speed depending on your preferences. This large room air filter delivers clean air from almost all directions (320°).
One of the unique features of the IQAir HealthPro is its 10-year warranty. Though it's more expensive than alternative options, this lengthy guarantee may be worth the expense if you have severe allergies, COPD, or other long-term health issues.
Buy on Amazon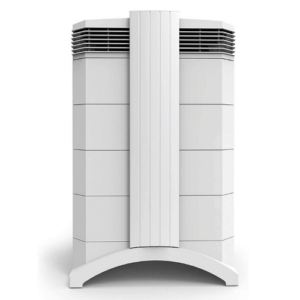 Most stylish air purifier for a large room
The Blueair Blue Pure 211+ is one of the most beautifully-designed large room air purifiers we've seen. Its sleek form blends into any interior.
This system has a streamlined one-button control, making it extremely easy to use. Its prefilters come in multiple colors, so you can customize this air purifier to match your decor.
We like that the Blue Pure 211+'s filters are reusable. You can wash them in your sink or dishwasher. We also appreciate that it's energy-efficient.
This Blueair air purifier is quieter than a whisper on its lowest setting. It efficiently cleans the air with three-phase filtration at 360°, so it easily reaches all the air in your large room.
Buy on Amazon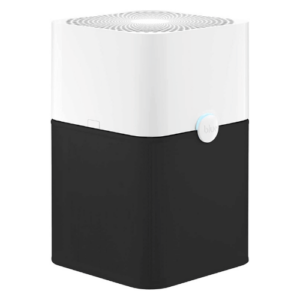 Smartest air purifier for a large room
The Coway Airmega 400 has an impressive range of smart technology features. For example, it can sense when a room goes dark and automatically put itself in sleep mode. 
This large room air purifier can turn itself on when it detects impurities in the air, and then turn itself off once it's done cleaning. It has a timer feature and a light that displays the air quality level, so you can watch as it improves.
The Coway Airmega 400 uses three-stage filtration, including a true HEPA filter. The company says it captures 99.99% of particles down to 0.01 microns. 
The WiFi-enabled version of this purifier works with the Airmega IoCare app, where you can set schedules, control the unit remotely, and monitor indoor and outdoor air quality. The Airmega is compatible with Amazon Alexa for voice commands. It can even order its own filter replacements!
Buy on Amazon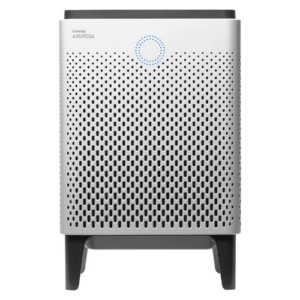 Size
14.8" x 14.8" x 22.8"
*At the time of publication
FAQs: Air purifiers for large rooms
What is the best air purifier for large rooms?

Our picks for the best air purifier for large rooms are:
1. Levoit Core 400S
2. Coway Airmega 400
3. Blueair Blue Pure 211+
4. IQAir HealthPro
5. RabbitAir MinusA2
6. Honeywell HPA300
Do air purifiers kill COVID?

Though many air purifier manufacturers claim their products help prevent COVID, the Environmental Protection Agency says air purifiers alone do not protect against COVID.