Clearing the Air: Air Quality Testing at the Indianapolis Children's Museum
By Tom Moor
•
October 8, 2023
Introducing
QuoteScore™Beta
---
Are you getting a fair deal?
Our independent team of HVAC industry insiders can score your quote
Learn More
Sharing your quote takes less than a minute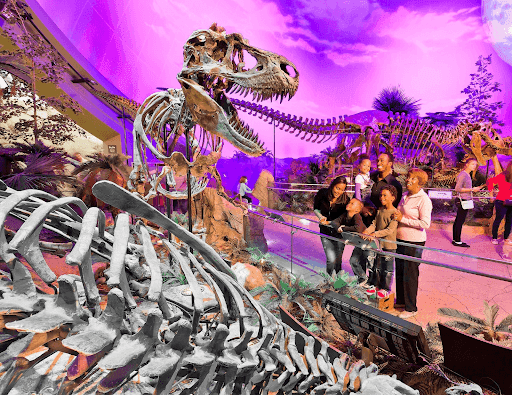 Have you ever wondered how healthy the air quality is in your favorite venues? COVID-19 brought increased awareness to this topic and helped expose the potential health risks associated with compromised air quality in businesses and homes. It's an issue we take seriously at HVAC.com and report on frequently to help homeowners live safer, healthier lives. 
With indoor air quality in mind and armed with a handheld air quality detector, my daughter and I recently embarked on a mission to assess the air quality at one of our favorite destinations – the Indianapolis Children's Museum. We believed the museum would be the perfect starting point for HVAC.com's series on air quality testing at popular family-friendly destinations across the nation
The Indianapolis Children's Museum, the largest of its kind globally, sprawls across five floors, encompassing exhibit halls, 472,900 square feet of space, and housing more than 130,000 artifacts. Located just north of downtown Indianapolis, the museum attracts more than a million visitors annually.
What Pollutants Do Air Quality Monitors Detect?
I purchased a Kaisal 5-in-1 air quality monitor online through Temu for about $50. I chose it because of its affordability and reliable ratings. This compact indoor air quality tester monitors for air pollution in three primary categories: TVOC, HCHO, and CO2, while also providing temperature and humidity readings.
The monitor classifies each of these metrics as "good," "OK'' or "poor'' depending on the level of air quality pollution. According to the instruction manual, its innovative vent design ensures full contact between the air and the sensor.
To obtain accurate readings, the user manual recommends placing the device in the area you're testing for 20 minutes. Once the 20 minutes have elapsed, you simply press the power button, and the air quality monitor counts down from 120 seconds before displaying the TVOC, HCHO, and CO2 levels.
Now, let's delve into the meanings of these three key indicators of indoor air quality in buildings and commercial spaces:
TVOC
TVOC stands for Total Volatile Organic Compounds, a group of organic chemicals that can easily evaporate into the air and contribute to odors and indoor air pollution. Examples of TVOCs include formaldehyde, benzene, toluene, xylene, and various other chemicals commonly found in household products, building materials, and indoor pollutants. It's crucial to monitor TVOC levels to ensure a healthy air quality supply.
The Kaisal air quality monitor uses a "good," "OK," and "poor" rating based on the TVOC levels.
Good: Detection reference value is lower than 0.3 mg/m³
OK: Detection value is 0.300-0.599 mg/m³
Poor: Detection value is higher than 0.6 mg/m³
HCHO
HCHO, or formaldehyde, is a colorless, strong-smelling chemical compound commonly used in various industrial and household products, such as building materials, adhesives, and preservatives. Like TVOCs, exposure to this chemical can lead to various health issues, including respiratory irritation and long-term health risks. The HCHO levels are rated as follows:
Good: Formaldehyde reference value is lower than 0.04 mg/m³
OK: Detection value is 0.04-0.079 mg/m³
Poor: Detection value is higher than 0.08 mg/m³
CO2
High carbon dioxide (CO2) levels can lead to dizziness, shortness of breath, and impaired cognitive function, and prolonged exposure can have adverse health effects. High CO2 levels in commercial spaces can result from faulty heating equipment, incomplete combustion of fuels, blocked exhaust vents, or inadequate ventilation systems. 
Good: CO2 monitor reference is less than 500 ppm (parts per million)
OK: CO2 detection value is 500-599 ppm
Poor: Detection value is higher than 600 ppm
Indoor Air Quality Testing at the Indianapolis Children's Museum
To learn how to test indoor air quality, I first used the air quality monitor in my own home. While the results weren't poor, there is certainly room for improvement. Now it was time to see how the air quality at the museum fared.
After purchasing two tickets for $55 in the main lobby of the Indianapolis Children's Museum, my daughter and I chose three popular exhibits to monitor the air quality. We started at the Dinosphere display, located on the museum's lower level.
The Dinosphere
The Dinosphere allows visitors to explore life-sized dinosaur fossils, including two giant sauropods that stand an impressive 28 feet tall and measure 65 feet in length. Additionally, it features a Paleo Prep Lab area where guests can observe real paleontologists at work. There are also cool interactive activities for kids, including digging for fossils and bones.
As we wandered through the 7,000-square-foot Dinosphere, the temperature and humidity levels felt ideal, and the air circulation was noticeable, making it a comfortable experience.
We tested the air throughout the Dinosphere for 20 minutes before activating the TVOC and CO2 monitor and waiting as it counted down from 120 seconds. When the numbers were displayed, I took a quick snapshot with my phone:
As I expected based on my comfort level, all of the air quality metrics, including HCHO, TVOC, and CO2, fell well within the "good" range, indicating a healthy air quality supply.
HCHO: 0.024 mg/m³
TVOC: 0.068 mg/m³
CO2: 0453 PPM
To gain a more accurate assessment of the entire facility, though, we headed upstairs to our next indoor air quality testing location.
2nd Floor
On the second floor, we browsed large exhibit halls filled with fascinating exhibits including Sacred Spaces, American Pop, and ScienceWorks. The American Pop exhibit, which explores American pop culture from past decades, particularly intrigued me as the Star Wars figures and Cabbage Patch dolls took me right back to my childhood in the 1980s. ScienceWorks, meanwhile, explores the work of real scientists like hydrologists, naturalists, and geologists.
After 20 minutes, we activated the air quality detector and took a picture as the alarm sounded:
The air quality results here were stellar and even a slight improvement from the Dinosphere, with HCHO, TVOC, and CO2 levels all falling within the "good" range.
HCHO: 0.000 mg/m³
TVOC: 0.023 mg/m³
CO2: 0385 PPM
Carousel Wishes and Dreams
Our air quality assessment concluded on the fourth floor, inside Carousel Wishes and Dreams. This exhibit features a completely restored carousel built in 1917, full-size dollhouses, and a mirror maze. We enjoyed taking in the sights and sounds here as children and their parents cheerfully played nearby.
As expected, the results closely mirrored those from the second floor, with all three measurements receiving "good" ratings.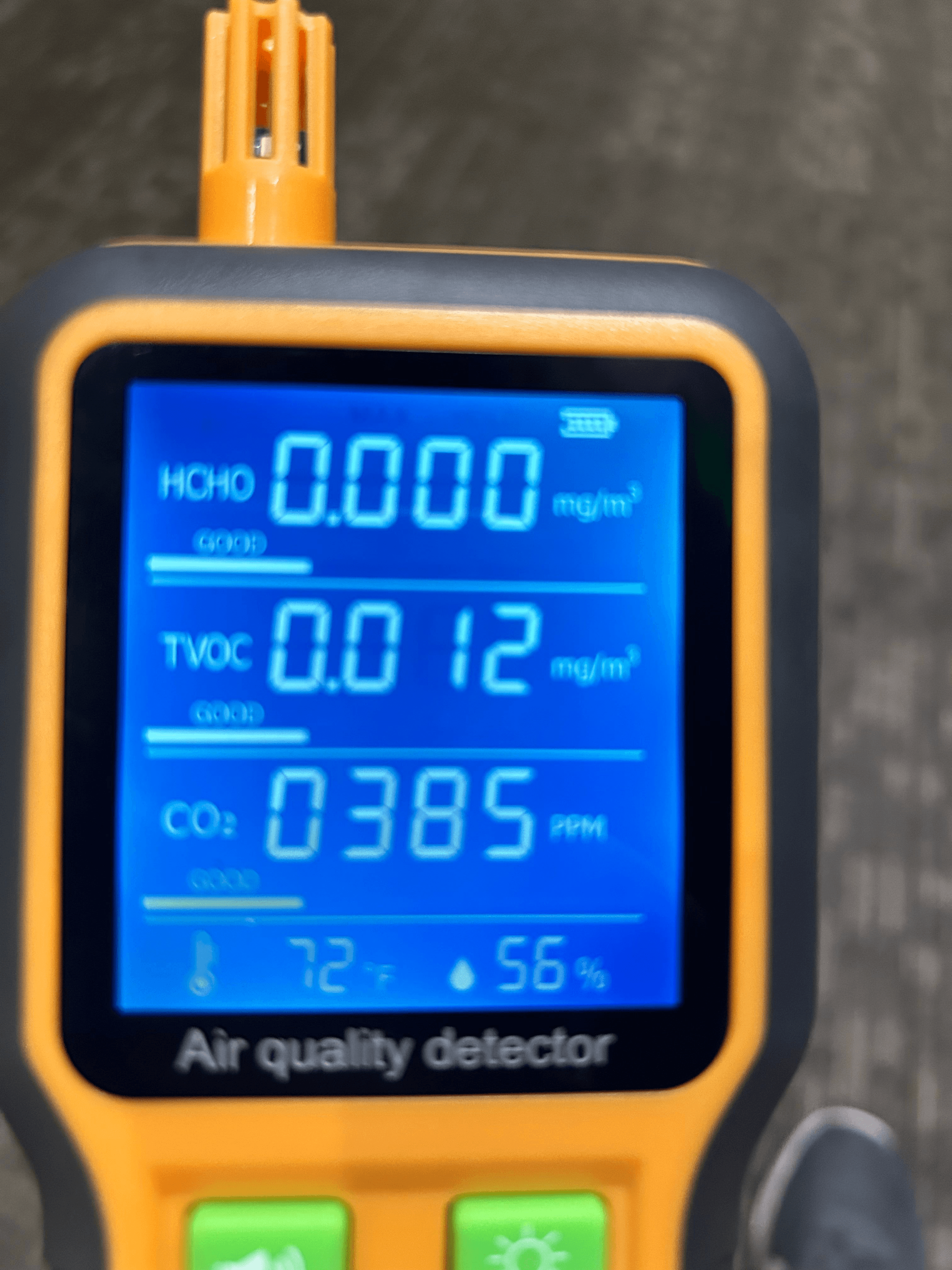 HCHO: 0.000 mg/m³
TVOC: 0.012 mg/m³
CO2: 0385 PPM
After recording the results of our third and final indoor air quality test inside the museum, it became clear that the staff at the Indianapolis Children's Museum places a priority on delivering a healthy environment for its guests who visit from around Central Indiana and the Midwest.
As a final test, we measured for air pollution just outside the museum and discovered the numbers were nearly identical to inside the museum which seemed impressive.
The measurements were as follows:
HCHO: 0.001 mg/m³
TVOC: 0.013 mg/m³
CO2: 0388 PPM
Prioritizing Healthy Air Quality at the Indianapolis Children's Museum
With the indoor air quality testing in Indianapolis complete, I desired to learn how the Indianapolis Children's Museum delivers a healthy, high-quality air supply for its customers. I reached out to Kim Harms, director of media and public relations at the museum who put me in touch with VP of operations, Audra Blasdel, who gladly agreed to an interview.
I asked Blasdel about the priority the museum places on air quality and the types of IAQ products and equipment it uses.
"The health, safety, and security of our staff, volunteers, and visitors is the highest priority in all the work and operations of the museum," Blasdel said. "As it relates to air quality, the primary method to ensure healthy indoor air quality is through the use of filters within the air handling system. These are high-grade bag and pleat filters that are changed quarterly, or more often if needed."
I was impressed at learning the museum uses an astounding 500 pleated and bag filters which are changed out every three months on a rotating schedule. By the time the air makes its way through the museum's HVAC systems, it has gone through three or more filters.
The primary pleated filters, which are rated MERV 8, are located in the supply line after the dampers and before the air reaches the HVAC coils. The bag filters – designed to catch bacteria, pollen, and other contaminants – are also found in the supply line shortly after the primary filters.
In addition, the museum utilizes 19 exhaust fans to bring in fresh outside air, cycling the air about five or six times an hour.
"As a result, air movement throughout the building and air exchangers play a big contributing role in our air quality," Blasdel said.
The Indianapolis Children's Museum performs regular preventative maintenance every three months to ensure all components, including air handlers and exhaust fans, are clean and operating properly and efficiently.
Unique Air Quality Challenges Facing the Indianapolis Children's Museum
The sheer size of the Indianapolis Children's Museum presents distinctive challenges in maintaining a consistently fresh and healthy air supply. Blasdel explained that the museum's nine expansions since its opening have introduced additional mechanical systems, mechanical rooms, and varying levels of integration for building controls.
"Working to keep those systems in sync to create a consistent experience for the visitors and also ensure appropriate humidity and temperature levels for preservation of our collection of over 130,000 objects is an ongoing, daily challenge," Blasdel said.
The museum also operates two water tables and three functioning science labs. These components serve the museum's mission but also introduce additional variants into the environment which must be managed effectively.
"Managing those specific spaces to address the needs of those exhibits and areas, while not impacting the overall functioning of the system, is a critical balance the team works through on a daily basis," Blasdel said.
COVID-19's Impact on Air Quality in Buildings and Commercial Settings
Although recent inquiries about the Indianapolis Children's Museum air quality are less frequent, Blasdel explained that museum staff addressed several questions from visitors during COVID-19. In response, they created a video to address air quality concerns and explain the museum's safety and health protocols for its guests.
Many of the air quality improvements the museum introduced during the pandemic remain in effect today, guaranteeing the highest air quality standards.
"As a museum that services more than one million children and adults every year, our air quality is very important," Blasdel said. "The pandemic obviously brought about an even greater awareness of air quality. Some of the adjustments we made to bolster filter quality and air exchanges during the pandemic have remained in effect within our air handling system to continue to provide good air quality for all visits to the museum."
Why Indoor Air Quality Matters in Commercial Spaces
According to the U.S. Environmental Protection Agency, poor indoor air quality is not just limited to homes; many offices and other large buildings have significant indoor air pollution sources. The mechanical systems may not be designed appropriately for these spaces to provide adequate levels of ventilation with the outside air.
Workers and visitors to commercial spaces – especially people with allergies, asthma, and other respiratory illnesses – are at a heightened risk of reported health problems because they have less control over the indoor environment.
According to the Occupational Health and Safety Administration, poor indoor air quality is tied to adverse health symptoms including fatigue, headaches, concentrating, and irritation of the eyes, nose, lung, and throat. Damp indoor environments, meanwhile, can exacerbate asthma symptoms.
Some of the most common causes of poor indoor air quality in buildings include a lack of outside air, unbalanced humidity levels, and issues controlling the temperature. Pesticides, cleaning supplies, mold, and excess dust can worsen indoor air quality over time.
According to an article by Canfil about indoor air quality in museums, excess air pollutants can not only adversely affect the health of visitors and staff, but can compromise the integrity of the museum's exhibits.
Final Thoughts
In the aftermath of COVID-19, the focus on indoor air quality has become increasingly important. Our air quality testing in Indianapolis at the Children's Museum revealed consistently healthy air quality metrics across various locations within the facility. This outcome suggests that the museum prioritizes maintaining excellent indoor air quality, offering visitors a safe and enjoyable experience.
If you're looking to monitor indoor air pollution in your home, consider purchasing an indoor air quality monitor. Many heating, cooling, and indoor air quality companies also perform professional assessments with indoor air quality testing equipment. HVAC.com's customer concierge team which can connect you with a reputable indoor air quality company.
Introducing
QuoteScore™Beta
---
Are you getting a fair deal?
Our independent team of HVAC industry insiders can score your quote
Learn More
Sharing your quote takes less than a minute