Amana PTAC troubleshooting
By Ashley Sweren
•
August 1, 2023
Introducing
QuoteScore™Beta
---
Are you getting a fair deal?
Our independent team of HVAC industry insiders can score your quote
Learn More
Sharing your quote takes less than a minute
If your Amana PTAC (Packaged Terminal Air Conditioner) is giving you trouble, you've come to the right place! Our Amana PTAC troubleshooting tips target the most common challenges with the units.
We've included a few simple DIY fixes, but if you prefer to leave the Amana PTAC troubleshooting to the pros, click below to connect with a local HVAC expert.
Connect with a local Amana PTAC expert
Yes, please!
Amana PTAC isn't cooling
If your Amana PTAC isn't cooling, check the thermostat. Set it to your desired temperature, and ensure the settings are on "cool," and "auto."
If the thermostat portion of your unit isn't working properly, you'll need to call an HVAC technician. For example, there may be a problem if the display is blank or the touchscreen isn't responding.
Check your air filter. It should snap out of the curtain cover (indoor) portion of your PTAC. You can clean the filter by rinsing it in the sink or vacuuming it with a hose attachment. A dusty filter may prevent the system from reading the indoor temperature correctly.
Next, turn off the power to the PTAC and remove the cover. You may need to unscrew it with a screwdriver. Clean the vent screen (the screen on top of the unit) with a soft cloth or vacuum hose. Check the evaporator coils (zigzag metal tubing). If there are kinks, straighten them with a coil fin comb. If they are dirty, clean them with HVAC coil cleaner. Replace the cover and try again to see if the unit just needed cleaning.
If you hear a loud noise coming from the PTAC when it's supposed to be cooling, there's probably an issue with the compressor. Call a pro. Repairing the compressor isn't a DIY project.
If none of the Amana PTAC troubleshooting suggestions above resolve the issue, it's likely to do with your refrigerant. A professional can check for potential leaks and recharge your refrigerant to make your PTAC cool again.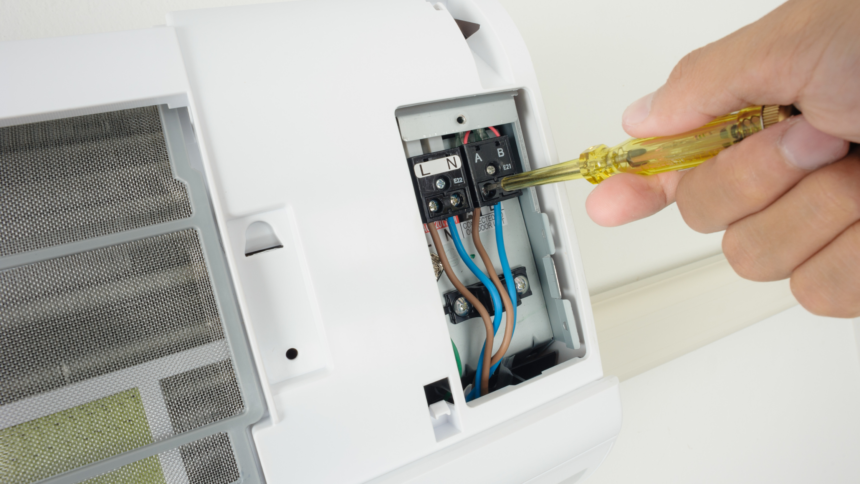 Amana PTAC isn't turning on
Is it plugged in? Once you're sure, check your electrical box for a tripped breaker. Reset it if necessary. If you have a multimeter, check the power cord and the outlet you're using to ensure they're working.
Next, try a hard reset. Find the master power switch. You'll have to remove the front cover to access it in most cases. Check the owner's manual for your unit if you can't find it on your own.
Turn off the master switch and wait at least five seconds. Then, push and hold down the heat and cool buttons simultaneously. While holding those buttons, turn the master switch back on. A red light should appear, signaling a successful reset.
Call an HVAC electrician if these tips don't help you turn your PTAC back on. The technician will investigate for underlying issues with your wiring.
Amana PTAC troubleshooting resources
The Amana product literature library features documentation for each of its PTAC models. These documents may help you identify parts when you're troubleshooting.
You can also look up the warranty information for your Amana PTAC online. If you need to replace parts, your warranty may cover them.
If our Amana PTAC troubleshooting suggestions and the resources from Amana's site don't solve your problem, call a pro. Alternatively, an expert can handle the troubleshooting for you.
Click below to connect with a nearby HVAC technician who can repair your PTAC.
Book a local HVAC expert for PTAC repairs
Connect now!
Introducing
QuoteScore™Beta
---
Are you getting a fair deal?
Our independent team of HVAC industry insiders can score your quote
Learn More
Sharing your quote takes less than a minute