Best Air Purifiers for Pets (2022)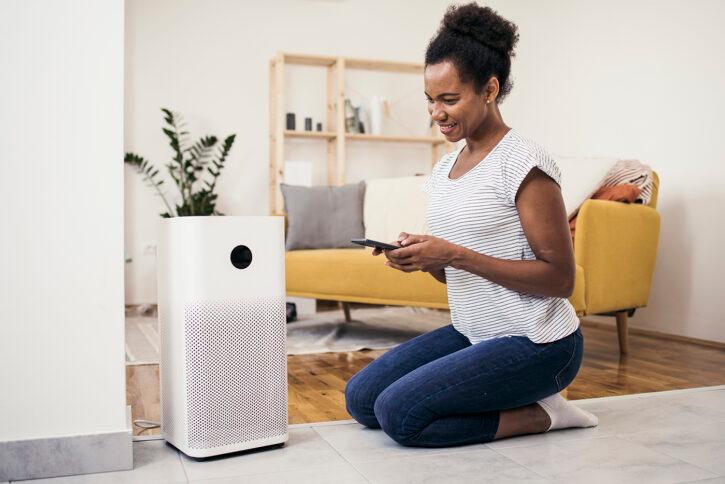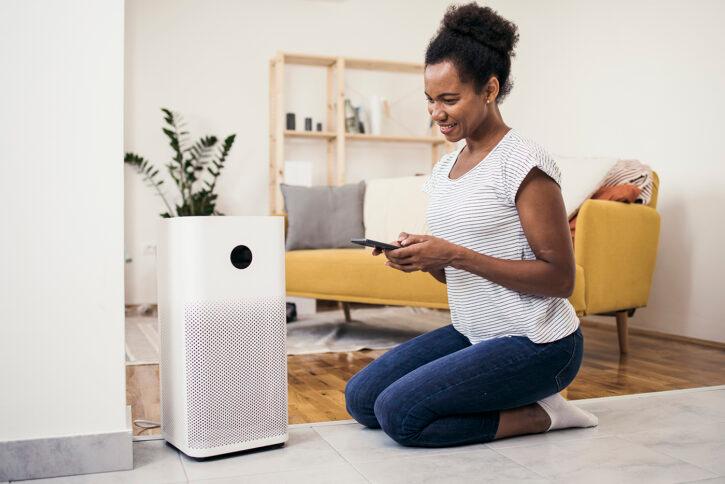 Air purifiers for pets can clear airborne fur and odors in a matter of hours. Reserve a spot on the couch for your furry family member but rid your home of allergens that often come with being a pet owner.
The National Center for Biotechnology Information reports up to one in five people suffer from pet allergies. Even if you feel unaffected by your pet's dander, an air purifier can create cleaner air throughout your home.
Best air purifiers for pets
Features to look for in an air purifier for pets
| | |
| --- | --- |
| 📏 Square footage | Air purifiers can clean anywhere from 50 to more than 1,500 square feet. Consider the size of the room you want to treat. |
| 🔒 Safety features | Some air purifiers come with added touches like pet-proof locks and anti-tip-over settings. If your pet has a mischievous streak, keep these features on your radar. |
| 👂 Noise level | Check the tech specs for decibel levels, as some models can get noisy on high settings. |
| 💨 CADR | An air purifier's Clean Air Delivery Rate (CADR) indicates how effective the device is at removing dust, pollen, and smoke. The number is calculated from the size of the space and delivery of clean air per minute. |
| ⛔ Filter type | True HEPA filters are the way to go. HEPA-type or HEPA-like filters are less expensive, but they're less effective, and you'll have to replace them more often. If you're forgetful about changing out your filters (no judgment here, we are too), look for a model with a built-in indicator light. |
What is the best air purifier for pets?
Our top air purifier picks for pet owners are divided into categories like value, noise level, speed, and room size. Whether your pet barks, meows, or does neither, we've got you covered. All prices are valid at the time of publication.
Best overall
Winix HR900 Ultimate Pet Air Purifier | $349.99
Our best-in-class sends your air through five filters for unmatched cleaning power. With the Winix HR900 Ultimate Pet, you can sit back and relax while Auto Mode adjusts the air purifier fan for you.
The Winix HR900 is Association of Home Appliance Manufacturers (AHAM) verified at 300 square feet, but can treat up to 1,450 square feet in an hour. You can toggle between five fan speeds for a custom cleaning experience.
This model earned our No. 1 spot because of its five filters. Inside the HR900 are two pre-filters. No other models on our list have multiple pre-filters. Multi-pet homes will benefit from quality filter protection.
The second pre-filter is permanent and washable, so you don't have to worry about buying replacements. Past the two pre-filters are a carbon filter, a true HEPA filter, and an ionizer.
With so many layers of defense, pet allergy woes will become a thing of the past in your home. While we don't like that the ionizer emits ozone, you can disable the ozone emission setting.
Sleep mode and pet lock are extra features we love for quiet relaxation and peace of mind. We also love the air quality monitor and auto mode, where the Winix self-adjusts its fan settings in real-time for optimal air quality.
No other model on the market brings so many filters, features, and fur-fighting power. The price tag is heftier than others on our list, but the Winix HR900 ticks all our boxes as an excellent air purifier for pets.
Best value
Hamilton Beach TruAir Air Purifier | $69.99
The Hamilton Beach TruAir is a surprisingly versatile budget-conscious choice. You can stand the device horizontally or vertically, so it fits in almost any space.
The TruAir boasts three-speed settings, and its low noise levels help you sleep peacefully. You can clean the permanent HEPA filter with a vacuum, saving you money on filter replacements.
The biggest drawback of this product is the HEPA-grade filter. Because the TruAir doesn't utilize a true HEPA filter, it may not kill the tiny germs that cause odors to linger in your home.
Plus, this Hamilton Beach model is only ideal for smaller spaces. The unit can clear the air in a 140 square feet space.
With three filtration stages and two replaceable carbon zeolite filters, this pet air purifier is a solid choice when value is a top priority.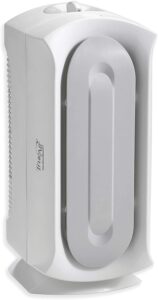 Fastest air purifier for pets
BlueAir Blue Pure 211+ Air Purifier | $287.99
Need clean air, stat? Go for the BlueAir Blue Pure 211+. In just over 12 minutes, this powerhouse model can clean 540 square feet of air.
You can bring some personality to this Energy Star-qualified air purifier. The visible, cloth pre-filter comes in fun colors like yellow, blue, and pink.
The three-part filtration includes a pre-filter and a carbon filter to snatch up fur, dander, and odors. The cloth pre-filter can be tossed in the washer and used repeatedly.
The included filter indicator light will alert you when it's time to change the filter. Plus, quiet operation means you don't have to choose between clearing your sinuses and catching Zzzs.
While we wish this model included a timer, the standout pre-filter earns the Blue Pure 211+ our stamp of approval.
Quietest air purifier for pets
Levoit Core P350 Air Purifier | $129.99
Levoit may be a value brand, but its sleek packaging and standout features could convince us otherwise. The Core P350 is speedy, cleaning all of the air in a 10 x 20-foot room five times per hour.
This model is ultra-quiet on its low setting at just 24 dB(A), so it shouldn't scare or agitate your pet. Plus, the Core P350 has a lock feature to control the settings from accidental bumps.
We love the 2, 4, 8, or 12-hour timer and dimmable display light. These features work in tandem to keep the sniffles at bay while you sleep.
Levoit's true HEPA filter replacements are about $30 each. You'll want to replace the filter about every six to eight months.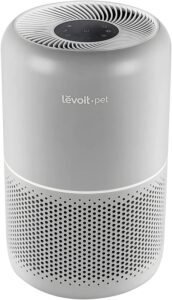 Best for small rooms
Pure Enrichment PureZone Halo Air Purifier | $79.99
Good things come in small packages. The circular Pure Enrichment PureZone Halo cleans up to 100 square feet, perfect for laundry rooms, offices, or closets where you may keep a litter box.
With three timer settings and three fan speeds, you can adjust the Halo as you please. This model can clean 50 square feet of air per minute.
The Halo only has two filters, but the pre-filter is made of activated carbon. Since the first filter is a hybrid of a pre-filter and a carbon filter, it's able to grab fur and trap most odors.
The Halo's light settings make it sleep-friendly, so you and your pet should doze off without issue. You can keep the blue light on strong, dim it, or turn it off entirely.
This petite purifier weighs just six pounds. Transporting it is a breeze, and its 12-inch length fits in nooks and crannies where other air purifiers can't.
While the Pure Enrichment Halo covers less square footage than our other picks, its portability and customizable settings give bigger models a run for their money.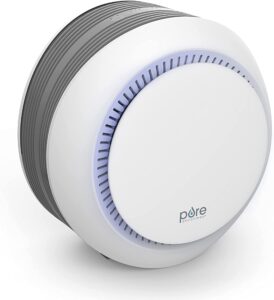 Best for large rooms
Alen 75i BreatheSmart Classic True HEPA Air Purifier | $779
If your pet loves wide open (indoor) spaces, the Alen BreatheSmart is your perfect fit. This premium air purifier for pets was designed by NASA airflow engineers, and we think its features are fittingly out of this world.
In just half an hour, the BreatheSmart can clean up to 1100 square feet. The heavy-duty cleaning power makes it perfect for open concept homes.
The BreatheSmart air purifier has an indoor air quality sensor, so you can literally see the air purifier at work as it cycles through the colors.
This air purifier can take the wheel with Auto Mode. It adjusts the fan speed in real-time, so you can get optimal air quality without lifting a finger.
True HEPA filters and a lifetime warranty can make you a little more comfortable with this considered purchase.
Alen's BreatheSmart air purifier is best for open concept homes or spaces with intense pet odor. You'll only need to change the filter every 12 to 15 months with this device, making routine care easy.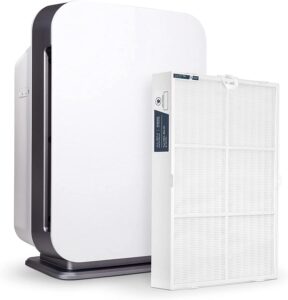 How do air purifiers help with pet allergies?
An air purifier is a device that removes airborne contaminants. It sucks in the air from a room, then uses a series of filters or a UV light to eliminate or minimize the germs.
The best pet air purifiers will have special filters that target pet-related germs. Models with a pre-filter are great at catching pet fur and dander, or dead skin.
Pet owners should also look for air purifiers with a carbon filter. This layer will consume the smallest germs that produce pet odors.The best air purifiers for smoke act in a similar way.
If you have severe allergies or an extra stinky pet, you'll want to opt for a true HEPA filter. HEPA-grade or HEPA-type filters sound deceivingly similar, but they're less effective than the real deal.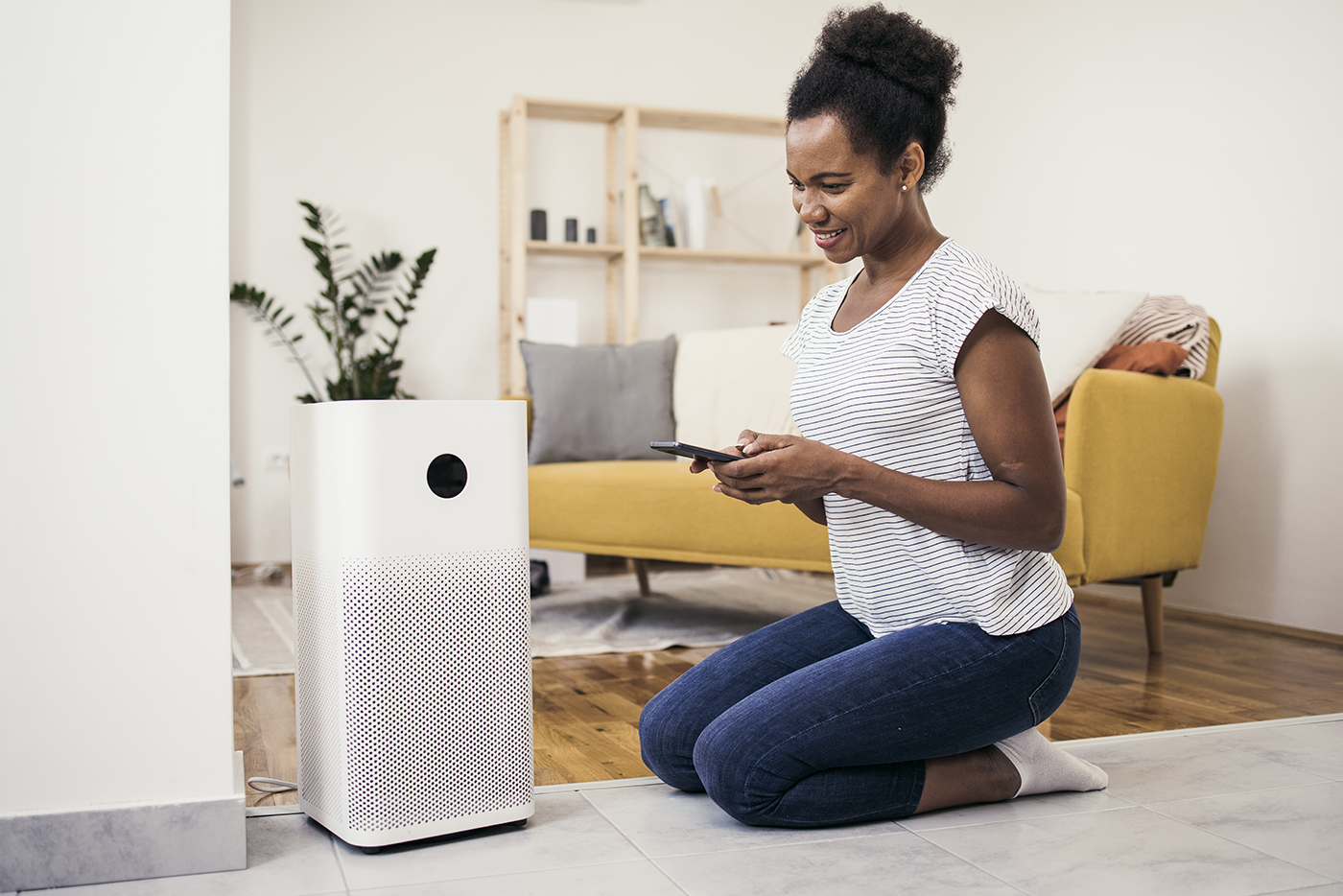 Reduce pet allergens
Pets of all kinds are known to shed fur and dead skin. The allergy symptoms they cause can be severe and strong. Thankfully, air purifiers are stronger.
With an air purifier in your toolkit, your lungs will thank you. The special pre-filters and carbon filters help get rid of airborne fur and dander, so you can breathe clearly.
If your pet sheds or smells, you'd benefit greatly from an air purifier. With no allergy symptoms, you can cuddle up to your fuzzy friend sniffle-free.