The Best Basement Dehumidifier for you in 2022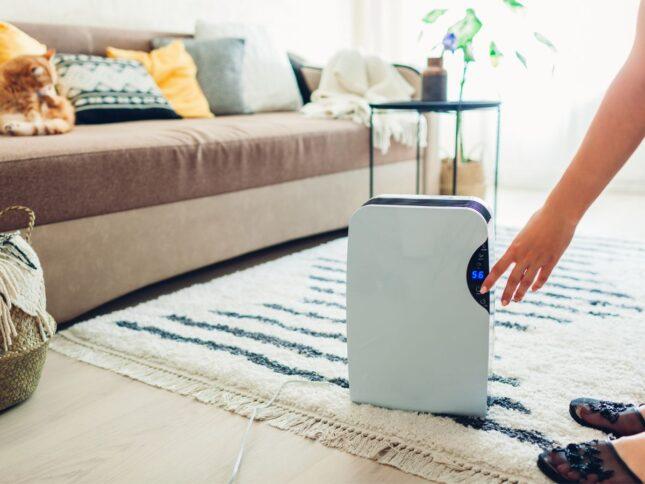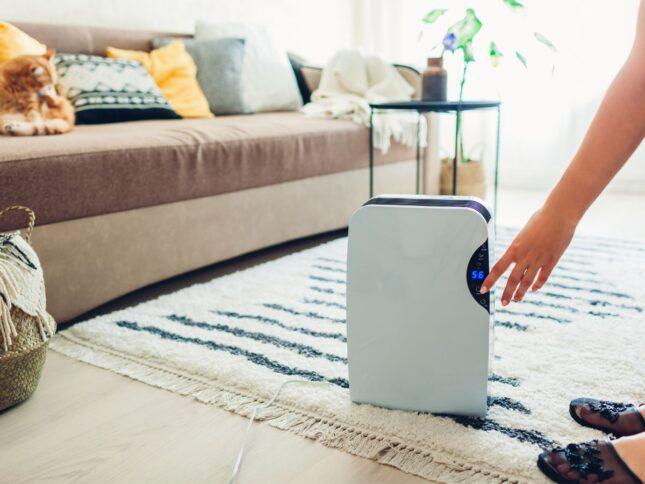 Basements are great bonus rooms and storage spaces, but high moisture levels can make them uncomfortably humid and potentially lead to mold that can cause health issues and damage your home.
A basement dehumidifier offsets the unique moisture challenges of this often damp space. Learn about the benefits of using a dehumidifier, and read reviews of our favorite models.
The Best Dehumidifiers for Basements
What Is a Basement Dehumidifier?
A basement dehumidifier is an air treatment device. The tool sucks excess humidity from your basement, making the air more comfortable and less muggy.
Basements are breeding grounds for moisture buildup. Water vapor often creeps in through the foundation of the home, impacting the basement first.
A basement dehumidifier keeps basement moisture under control. Before choosing the best basement dehumidifier for you, make sure you understand the different sizes and types offered.
Basement Dehumidifier Reviews
Best Dehumidifier for Small Basements
Frigidaire FFAD223W1 | $239.00
Don't feel like emptying out a water bucket every day? Meet your perfect match. The 35-pint Frigidaire FFAD223W1 makes for low-maintenance use, thanks to the continuous drain attachment option.
This Frigidaire basement dehumidifier is easy to clean, with a washable air filter. To move this model to another room, simply grab the handles and roll it.
At 35-pint capacity with a 0.8-gallon water tank, this model is best for small basements on the less humid side. For moderate to extreme humidity, check out the 50-pint model.
A versatile and affordable pick from a reputable brand, the Frigidaire FFAD223W1 is built to last.
Buy on Amazon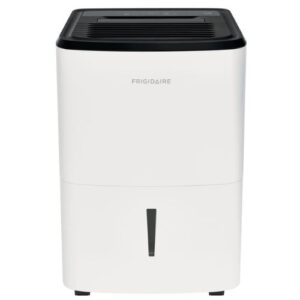 Best Dehumidifier for Medium to Large Basements
Midea Easy Dry | $229.00
This powerful Midea basement dehumidifier is great for chillier climates. The Midea Easy Dry auto-defrosts, so the 1.6-gallon water bucket won't freeze before you can empty it.
If you lose power often, this Midea is a smart option. The auto-restart feature keeps your customized settings intact when the dehumidifier reboots.
You can keep the Easy Dry running while watching a movie or hosting friends. The quiet operation makes this model great for finished basements.
The 50-pint capacity model is great for large basements or smaller spaces with severe moisture issues. At less than $250, the Easy Dry is a cost-effective pick.
Buy on Amazon
Best Dehumidifier for Crawl Spaces and Cellars
Alorair Sentinel HD55 | $496.21
Alorair makes the best dehumidifier for basement crawl spaces. The Sentinel HD55 gets its name from removing 55 pints of moisture per day.
The compact design performs well in unfinished basements and other spaces with temperature swings. The Sentinel HD55 basement dehumidifier operates in 33.8-104℉.
We love the functional design of the Sentinel HD55. With two carrying handles and an easy-access slideout filter, this basement dehumidifier is low-maintenance and easy to use.
The Sentinel HD55 lets you change the humidity level without going downstairs. With the optional wall-mounted remote control, you can adjust the settings and turn the dehumidifier on or off.
While the Sentinel HD55 is costly, the 5-year warranty is the longest we've seen for a basement dehumidifier with a hose. No matter how humid your basement or crawl space may be, this compact model does the trick.
Buy on Amazon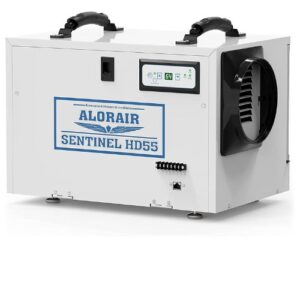 Best Basement Dehumidifier With a drain hose
GE Portable Dehumidifier | $279.00
Emptying a bucket every few hours is no fun. The largest capacity dehumidifier for basements on our list is a game-changer for low-maintenance use.
With the GE Portable Dehumidifier's lengthy 16-foot hose, you'll have some flexibility in its placement. Most basement dehumidifiers with a pump come with hoses that are 6 feet or shorter, so this model stands out.
This GE dehumidifier is also aesthetically pleasing. The gray color and sleek LED display make it a modern-looking addition to your basement.
This basement dehumidifier helps you stay on top of your indoor air quality. The filter change alert takes out the guesswork, so you'll always know when it's time to replace.
It's rare to see a dehumidifier that strays from the bulky, white look. With a refined, sleek appearance, we think this GE dehumidifier is well worth the price.
Buy on Amazon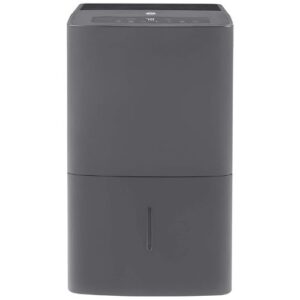 Best Smart Dehumidifier for Basements
Honeywell TP70AWKN | $319.99
The Honeywell TP70AWKN dehumidifier is great if you're often on-the-go. Your cell phone becomes a bonafide remote control with the Honeywell Air Comfort app.
Amazon Alexa takes in voice commands to change the settings on this 70-pint dehumidifier. The 0.875-gallon tank has a splash guard for easy, spill-free emptying.
Fans of Honeywell technology should flock to this versatile dehumidifier. You can sync multiple Honeywell dehumidifiers to the same app for seamless whole-house air control.
Its 5-year warranty is impressive. This Honeywell Wi-Fi-compatible model may be expensive, but its functionality and Honeywell's top-notch customer service justify the price.
Buy on Amazon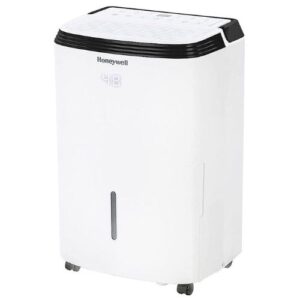 What Size Dehumidifier Is Best for Basements?
The right dehumidifier size depends on the square footage and humidity level of your basement. You don't always need the largest capacity dehumidifier or the highest-priced.
For the chart below, here's what we consider low, medium, and high humidity:
Low: The air feels muggy and may smell foul, but there's no visible moisture buildup.
Medium: Moisture buildup occasionally shows on ceilings and walls.
High: Moisture buildup constantly shows on ceilings and walls.
Dehumidifier size
Basement size and humidity level
35 pints
Low humidity: 1,000-1,500 sq. ft.
Medium humidity: 500-1,000 sq. ft.
High humidity: 500 sq. ft.
50 pints
Low humidity: 2,000-2,500 sq. ft.
Medium humidity: 1,500-2,000 sq. ft.
High humidity: 1,000-1,500 sq. ft.
70 pints
Low humidity: 2,500+ sq. ft.
Medium humidity: 2,000-2,500 sq. ft.
High humidity: 1,500-2,000 sq. ft.
Which Dehumidifier type Is Best for Basements?
All three dehumidifier styles collect moisture in a tank or remove the moisture through an attached hose. One variety stands out as the best dehumidifier for basement use.
Compressor
A compressor dehumidifier draws in air with a compressor-fueled fan. Internal coils cool the air until the air's moisture condenses and forms water droplets.
Most basement dehumidifier models are compressor-based. Desiccant and thermoelectric models don't perform as well in spaces with extreme moisture, such as most basements.
Desiccant
Desiccant dehumidifiers use a filter coated in a chemical drying agent. The filter separates moisture droplets from the air.
Residential desiccant dehumidifiers are not powerful enough for use in basements. They perform better in small and medium rooms such as kitchens.
Thermoelectric
Thermoelectric dehumidifiers are made of small, hot surfaces called sinks. The air is drawn in and pulled over the sinks, where the moisture separates.
We don't recommend thermoelectric dehumidifiers for use in basements, as they're too small to effectively remove moisture. Thermoelectric models are better suited for small spaces, such as bathrooms and closets.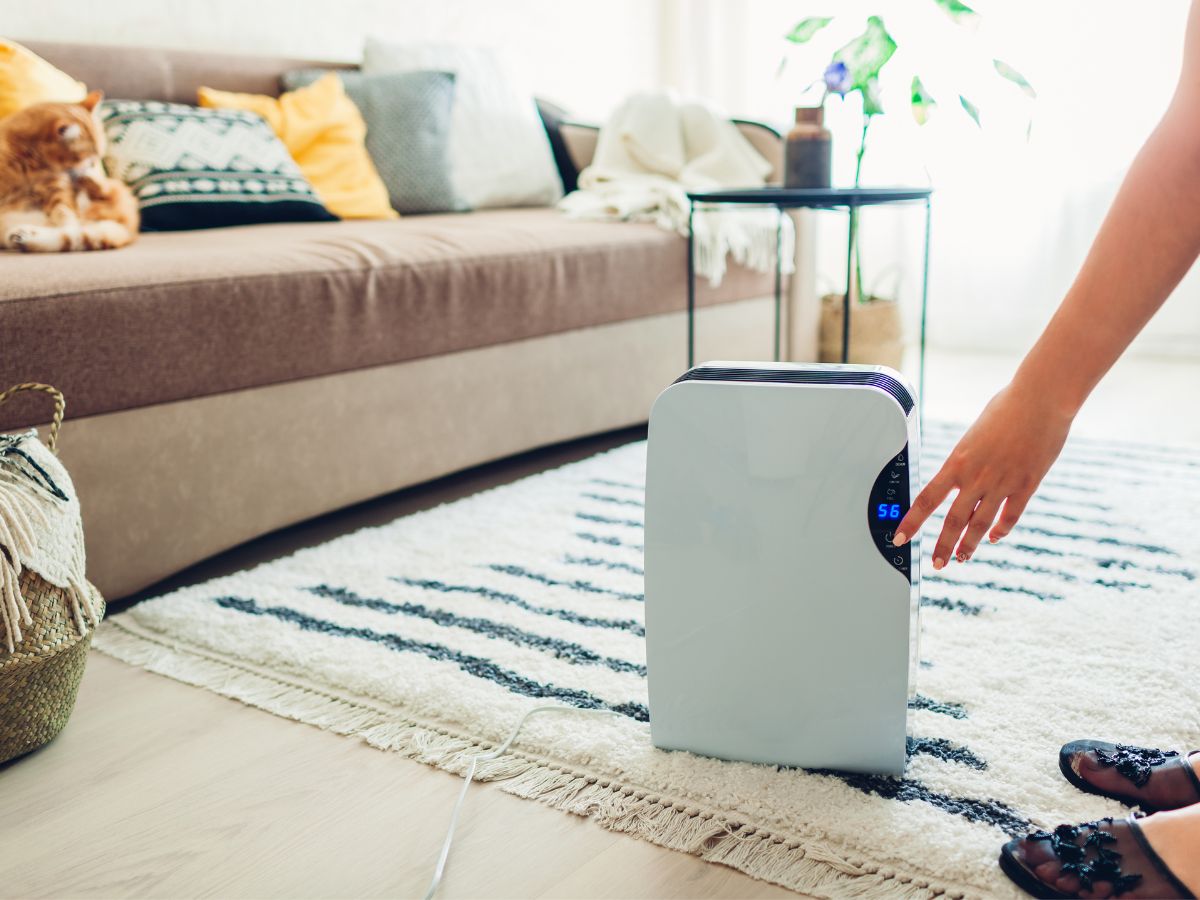 Whole-house humidifiers are another option to consider for your basement. For more information, check out our article on whole-house vs. portable humidifiers.
Signs You Need a Basement Dehumidifier
Basement dehumidifiers are built to combat excess moisture. If you notice these telltale signs, it may be time to invest in a dehumidifier for basements.
🐛Bugs are crawling in your basement.
👃The basement smells damp or musty.
🚪Wooden doors or furniture have moisture damage.
💨Windows look foggy.
Basement Dehumidifier Care
Many of the basement dehumidifiers on our list have washable air filters. Here's our step-by-step guide to cleaning your basement dehumidifier's filter.
Unplug the unit.
Remove the filter from the unit.
For 2-3 minutes, soak the filter in warm, soapy water or a 1:10 bleach to water mixture.
Allow the filter to dry completely before reinserting it in the unit.
Even washable filters need to be replaced every few months. Check your dehumidifier's owner's manual to see when yours needs a swap.
FAQs on the Best Basement Dehumidifiers
Are portable dehumidifiers effective?
Portable dehumidifiers are an effective and budget-friendly option for dehumidifying specific rooms of your home such as a bedroom. A whole-house dehumidifier is a better option to provide coverage for an entire home.
What brand is a good basement dehumidifier?
A brand that serves as a good small basement dehumidifier is the Frigidaire FFAD223W1. The 35-pint model is low maintenance thanks to a continuous drain option. For medium to smaller basements, we recommend the powerful Midea Easy Dry dehumidifier.
What size dehumidifier do I need for 1200 sq ft basement?
To provide effective coverage for a 1,200 sq ft basement, consider installing at least a 50-pint dehumidifier. However, the size dehumidifier depends on how damp the basement is.