Best Bedroom Humidifier 2023
By Tom Moor
•
August 1, 2023
Introducing
QuoteScore™Beta
---
Are you getting a fair deal?
Our independent team of HVAC industry insiders can score your quote
Learn More
Sharing your quote takes less than a minute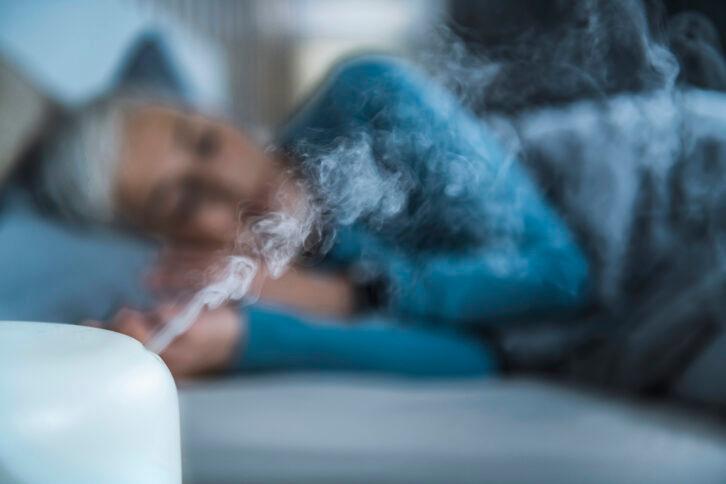 One way to ease the symptoms of dry winter air is with a bedroom humidifier. If your skin and sinuses could use moisturizing relief, add a portable humidifier to your space.
Let us help you choose the right one. We've reviewed the top products on the market to determine the best bedroom humidifier for every need.
Bedroom humidifier shopping guide
When choosing a bedroom humidifier, there are a few things to keep in mind. First, do you want a cool mist or warm mist humidifier?
In general, we recommend a cool mist humidifier, especially if you are using it in a child or baby's room. However, warm mist humidifiers do have some benefits.
Warm mist humidifiers
| ✅ Pros | ❌ Cons |
| --- | --- |
| Quieter than cool mist | Hot steam is a safety hazard for kids and pets |
| Warms cold winter air | Not as energy efficient as cool mist |
| Don't release germs or bacteria in the air | May cause nasal passages to swell |
| Less expensive than cool mist | Don't usually help cold symptoms |
Cool mist humidifiers
Cool mist humidifiers are preferable for most common uses, including keeping skin hydrated and easing cold symptoms.
| ✅ Pros | ❌ Cons |
| --- | --- |
| Safe for use with kids and pets | Can release bacteria and germs |
| Comfortable for year-round use | Noisier than warm mist |
| Helps with coughs and stuffy noises | Doesn't help warm the room in the winter |
| More energy efficient than warm mist | More expensive than warm mist |
Once you determine what type of mist you prefer, you'll need to pick between an ultrasonic or evaporative bedroom humidifier.
Evaporative bedroom humidifiers
Evaporative humidifiers take air from the room and pass it through a moistened wick or filter to add moisture. Then the humidifier blows the hydrated air back into the room.
| ✅ Pros | ❌ Cons |
| --- | --- |
| Less expensive than ultrasonic | Noisier than ultrasonic |
| Release fewer minerals and bacteria into the air | Use more energy than evaporative |
| Include a filter | Usually larger than ultrasonic |
| | Usually less attractive than ultrasonic |
Ultrasonic bedroom humidifiers
Ultrasonic humidifiers are the most common style. They have a metal container that vibrates at high speed to create ultra-fine water droplets. The humidifier then blows the droplets into the room.
| ✅ Pros | ❌ Cons |
| --- | --- |
| Quieter than evaporative | More likely to circulate bacteria |
| Usually more modern looking | Creates white dust that coats your things |
| Usually more compact than evaporative | Require more frequent cleaning |
| More energy efficient than evaporative | Cost more than evaporative |
Portable vs. standing humidifiers
For use in the bedroom, we recommend a portable humidifier. Portable humidifiers can sit on your nightstand, so they're nearby for easy control when you're in bed.
Additionally, portable humidifiers can be easily moved from room to room when different family members need them. Standing humidifiers are more difficult to move and clean.
In our experience, standing humidifiers typically take up more space. There aren't significant advantages to using them, though they may be better for humidifying larger spaces.
Humidifier output
The output capacity of a humidifier should correspond with the size of the space in which it's operating.
The average bedroom size is 132 square feet. We recommend using a 2-gallon or smaller humidifier for rooms this size.
Best bedroom humidifiers
Best humidifier for bedrooms with smart technology
The Levoit Ultrasonic Smart Top-Fill Humidifier is the top choice on our list because of its durability and unique features. We're big fans of the Levoit brand and the quality of its products.
We appreciate that you can fill this humidifier from the top, so there's no need to flip the reservoir and splash water in your bedroom. It's lightweight and made of BPA-free plastic.
You can control this Levoit humidifier via an app, which offers an array of smart features. You can set a schedule, turn the unit on and off remotely, and even check the humidity needs for any plants in your bedroom via the VeSync app.
This system includes an aroma oil tray if essential oils are your thing. It also features a nightlight perfect for children's bedrooms.
Buy on Amazon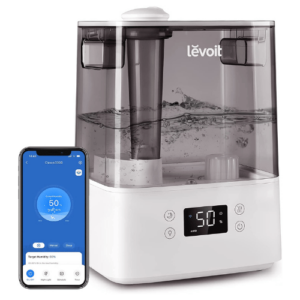 Most affordable humidifier for bedrooms
Our Comfort Experts use the Pure Enrichment MistAire humidifier in their homes. Despite regular heavy use, this system has outlasted any humidifier we've tried.
We appreciate this humidifier's quiet operation and ambient night light. We also like that it runs for 25 hours before needing a refill.
This Pure Enrichment humidifier comes with a five-year warranty, an AC power adapter, and a cleaning brush. Its mist novel rotates 360 degrees so that you can adjust moisture away from linens and electronics.
At under $40, you can't beat the price of this reliable portable humidifier.
Buy on Amazon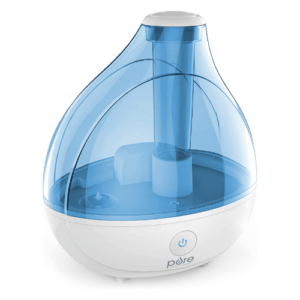 Most aesthetic humidifier for bedrooms
The Pure Enrichment HUME Max is a sleek humidifier with three mist settings to help you customize your bedroom comfort. With a top-fill design and water window, refilling and cleaning are mess-free.
Thanks to a 3.7-liter tank, you don't need to refill the HUME Max often. Its large tank makes it ideal for a big bedroom or living space.
One thing that makes the HUME Max different is its white noise capabilities. This calming feature can help improve your sleep.
This humidifier has a simple control panel, timer settings, and a night light to keep your bedroom comfortable.
Buy on Amazon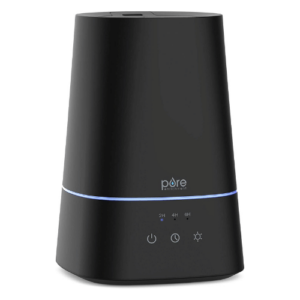 Best easy-to-clean humidifier for bedrooms
The Crane Top-fill Ultrasonic humidifier is one of the easiest-to-clean humidifiers. It's dishwasher-safe, so all you need to do is pop it in with your dishes – no scrubbing required.
With simple controls and a top-fill design, everything about this humidifier is easy. It runs quietly and has an optional nightlight, making it a great choice for a baby's room.
If you use essential oils, the Crane Top-fill Ultrasonic humidifier has a built-in aroma diffuser.
To eliminate the white dust that comes with most ultrasonic humidifiers, Crane offers a replaceable filter. This can significantly help in places with hard water.
Buy on Amazon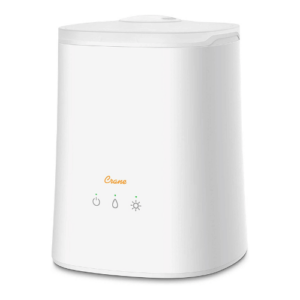 Bedroom humidifier maintenance
To keep your humidifier working smoothly, consider following these maintenance tips.
| | |
| --- | --- |
| 💧 Use distilled or filtered water | Limescale build-up can shorten the useful life of your humidifier. |
| 🧽 Clean the tank and base every three days | Use a white vinegar solution to disinfect safely. Unplug the humidifier before cleaning. |
| 🔎 Check the humidity level | Using a humidity meter, ensure the humidity in your room is 30-50%. Exceeding that can trigger respiratory issues, encourage mold growth, and breed bacteria. |
| 🛏️ Do not allow items around the humidifier to become wet | If linens or carpet feel damp, turn down the output. This can ruin furniture and other household items. |
The bottom line on bedroom humidifiers
We recommend an ultrasonic cool mist humidifier for use in the bedroom unless you have needs that require a different style. A portable humidifier with a less than 2-gallon capacity is best for small spaces like a bedroom.
Clean your humidifier and change the water regularly to keep it working efficiently all winter long.
Introducing
QuoteScore™Beta
---
Are you getting a fair deal?
Our independent team of HVAC industry insiders can score your quote
Learn More
Sharing your quote takes less than a minute