Bryant Furnaces and Heating Systems for Your Home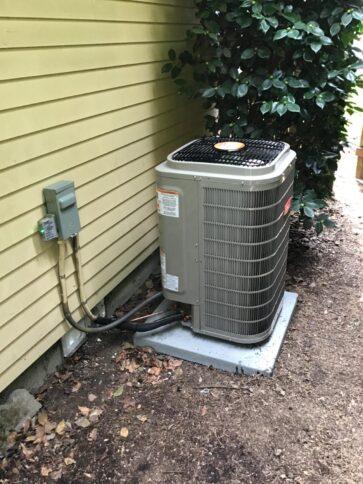 With many heating options on the market, it's a smart idea to learn about the brands available before deciding on a new system. Bryant is a quality manufacturer of residential heating systems. Read on to learn more about Bryant furnaces and Bryant heating systems for your home.
About Bryant Furnaces and Bryant Heating Systems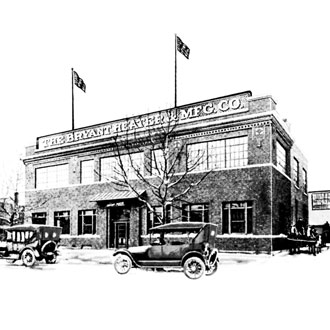 The Bryant brand began over 100 years ago, and has a long history managing the heating, cooling, and indoor air quality needs of homeowners. Bryant furnaces and Bryant heating systems today are built on a foundation of innovation and energy efficiency. They are reliable and factory-tested to ensure your system will function as you expect upon installation.
Bryant Furnace and Bryant Heating System Installation
When purchasing a new Bryant furnace or Bryant heating system, you may wish to work with a Bryant factory authorized dealer. Bryant dealers are trained to investigate your needs and make appropriate equipment recommendations that will help you achieve the best indoor environment. Dealers receive training directly from the brand so they can better serve you with the latest innovations from Bryant. Bryant dealers are also NATE-certified, a standard of excellence in the HVAC industry.
Caring for Your Bryant Furnace or Bryant Heating System
Forced air Bryant furnaces and Bryant heating systems, such as heat pumps, use a furnace filter to catch airborne contaminants and keep air flowing through the equipment correctly. Over time, these filters become full of contaminants and no longer are effective at improving indoor air quality or aiding system efficiency.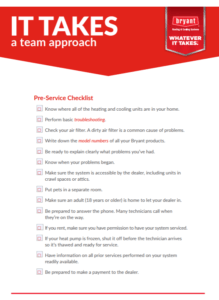 Homeowners should change furnace filters approximately every three to four months. Check the filter manufacturer's recommendation, as higher or lower efficiency filters may require changing more or less frequently.
Bryant furnaces require preventative maintenance, performed by an HVAC professional, every year. This tune-up works to improve efficiency and performance, decrease breakdowns, and extend service life. Bryant heating systems such as heat pumps require preventative maintenance twice per year, as they function as both heating and cooling equipment.
If you're in the market for HVAC maintenance, download the Bryant Pre-Service Checklist to the right – it's a handy guide to help you prep for your service call.