Energy-efficient space heaters: reviews and buying guide
By Joanna Brown
•
August 1, 2023
Introducing
QuoteScore™Beta
---
Are you getting a fair deal?
Our independent team of HVAC industry insiders can score your quote
Learn More
Sharing your quote takes less than a minute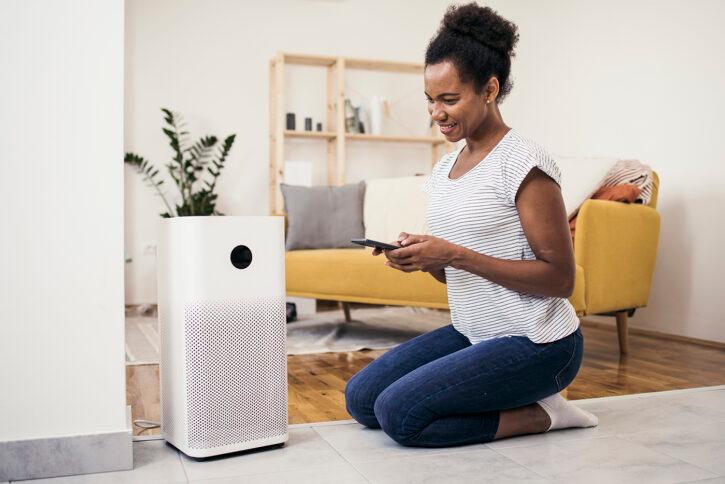 As temperatures begin to dip, relying on energy-efficient space heaters instead of cranking up the thermostat will keep you warm and help save on your monthly energy costs. Our reviews will help you find the unit that offers the warmth you need. 
From ceramic to gas-filled, we're introducing the different types of space heaters and connecting you with top brands in each. Whether you're trying to heat a large family room or need added warmth to your office, our space heater reviews will help you make the best choice.
Most energy-efficient space heaters
What is a space heater?
Space heaters are devices that offer supplemental heating to a small- to medium-size space. These devices are usually electric or powered with a fuel, like gas or oil. Space heaters come in many shapes and sizes and can help keep your energy costs low.
Deciding which space heater to choose can be a tough decision, so we've done the research for you.
Types of energy-efficient space heaters
Before deciding which kind of space heater is best for you, it's important to consider the different types of heaters on the market. Each heater is designed to offer maximum warmth with minimal energy wasted. Read on to find your best heater.
Gas and oil-filled heater 
Oil-filled heaters are a very popular option and most models look similar to old-school radiators. They have a set of columns that house the oil used for heating. Since the oil isn't used as a form of fuel, you won't ever need to replace or refill it.
Oil-filled heaters work by converting energy to heat through the use of the oil inside. The heat is absorbed by the oil as it circulates through the columns and fins. Heat is then transferred from the oil to the metal fins of the heater where the heat begins to radiate throughout the room.
One of the cons of gas and oil-filled heaters is that it can take 20 to 30 minutes to feel the heat being produced. However, once the oil is warm, the unit is able to maintain heat for a long period of time. Many gas and oil-filled heater models have adjustable thermostats, programmable timers, and heat silently to allow for an easy heating experience.
Electric infrared heater 
Electric infrared heaters are highly energy-efficient and work by converting electricity to radiant heat to warm the surrounding objects in the room. Electric infrared heaters warm spaces by converting energy to radiant heat.
Similar to how the sun warms us when we're outdoors, radiant heat warms people and objects in a room, not the air in between. Since none of the warmth is wasted on heating empty space, an electric infrared heater is one of the most energy-efficient models.
Talk with an HVAC pro about heating your home.
Yes, please!
Ceramic heater 
As the name suggests, ceramic heaters utilize a heating element made of ceramic. That component heats the air that is pulled into the heater and the warmer air is redistributed throughout the room.
Ceramic heaters are typically encased in plastic and are very lightweight and portable. There are two types of ceramic heaters: those that operate with a fan and those without a fan.
Convective ceramic heaters
Convective ceramic heaters use a fan to distribute warm air into a room. The heaters are powered with electricity that heats aluminum parts within the unit that then transfer heat to the ceramic heating element. The unit takes cool air from the base of the heater and pushes it over the heating element. The air is warmed and redistributed throughout the space by a fan inside the heater.
Radiant ceramic heaters
Radiant ceramic heaters use energy to heat the ceramic plate and then radiate heat directly to objects in the room. This kind of ceramic heater does not use a fan. While radiant ceramic heaters won't heat up a room as fast as a convective ceramic heater, these units do provide more long-lasting heat.
Convection heater
Convection heaters work by pulling cool air into the device to be warmed by the heating element. The heated air rises while the cold air stays closer to the ground where the heater can pull in the cool air and begin the process again. This continued cycle of air allows the heater to produce a constant flow of warmth. These heaters come in a variety of shapes and sizes and can be wall-mounted or portable. Most units are relatively quiet and evenly distribute heated air throughout the space.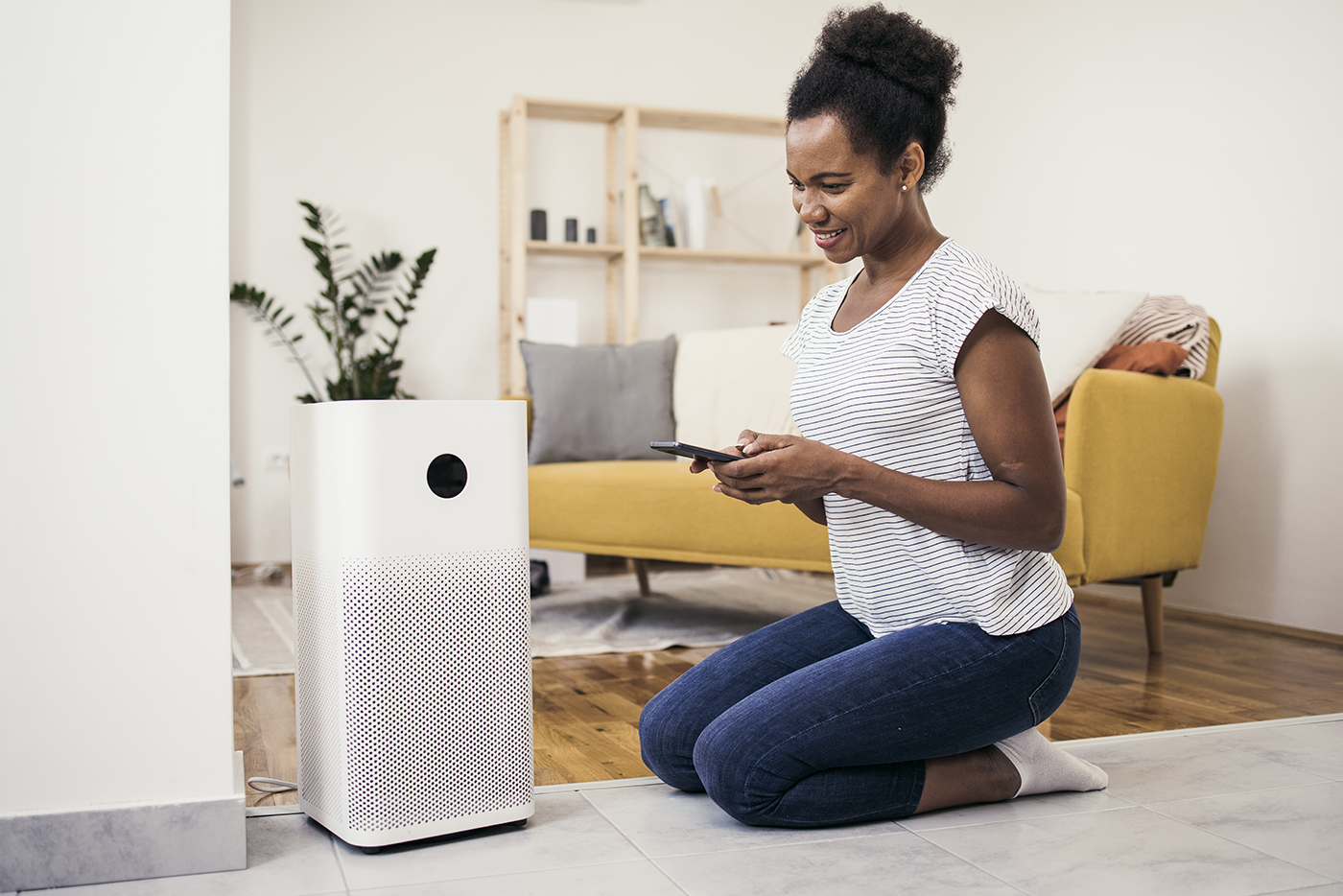 Energy-efficient space heater reviews
Now that you know the types of space heaters that are on the market, check out these top energy-efficient space heaters. Whether you're heating a garage, bedroom, or any other part of your home, you're sure to find a heater that saves energy while making your home comfortable.  
Best space heater for small rooms
Pelonis Oil Filled Heater
With three heating modes to choose from, the Pelonis offers low, high, and eco settings to provide heating for every situation. In eco mode, the heater will toggle between the 1,500-watt high setting and the 900-watt low setting to maintain the temperature that is set on the LED display. 
Designed for smaller rooms up to 164 square feet, this unit is ideal for an office or large bathroom. Plus, it runs silently and provides full-room heat with only 10 minutes of warm-up time. The Pelonis prioritizes portability and safety with a carrying handle, wheels, tip-over protection, and a 10-hour auto shut-off function. It also comes with a 1-year warranty. 
Buy on Amazon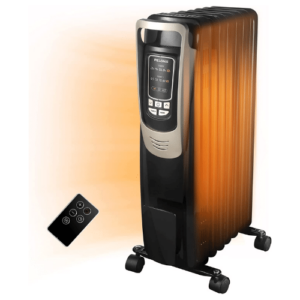 Quietest energy-efficient space heater
Dr. Infrared Heater
Equipped with a built-in eco-mode, the Dr. Infrared Heater prioritizes energy conservation while still optimizing heating. Set a timer for up to 12 hours of heating time and control from a distance with the included remote. 
We especially like that you can heat up to 1,000 square feet with this device. With an operational noise level of just 39 decibels, the Dr. Infrared Heater can quietly heat a large room and keep your family safe. This model is designed with overheat and tip-over protection and is backed by a 3-year warranty.
Buy on Amazon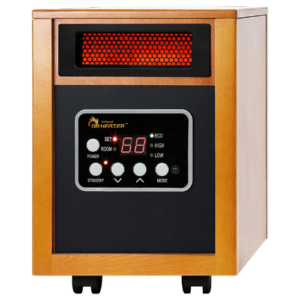 Most aesthetic energy-efficient space heater
Lasko Designer Series
The Lasko space heater is a design-friendly option that's also eco-conscious, functional, and looks great in your living room. This ceramic heater features an adjustable timer that can be programmed from 1 to 7 hours of heating time to eliminate unnecessary energy consumption. 
The unit has built-in safety features including a cool-touch exterior and overheat protection. Despite its small 3-pound size, this heater can warm a room up to 250 square feet with the optional widespread oscillation feature. This heater arrives fully assembled and is ready for immediate use. The device comes with a 3-year warranty. 
Buy on Amazon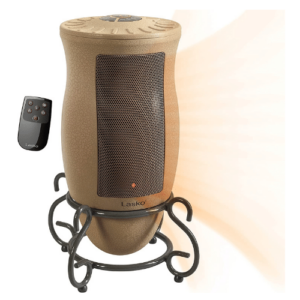 Best energy-efficient space heater for large rooms
De'Longhi Convection Panel Heater
Built to provide full-room warmth with energy-efficient heating, the De'Longhi Convection Panel Heater offers an eco-friendly mode and programmable timer to maximize heat and keep energy costs down. One of our favorite things about this unit is that it can heat rooms up to 300 square feet, making it a great pick for your mid-sized living room or kitchen area. 
The device can stand on its own or be mounted to the wall as a space-saving benefit. The sleek look of the unit offers a design-friendly option that would suit your heating needs and can be controlled from across the room with the included remote control.
The unit also offers an adjustable thermostat, timer, and multiple heating displays. With a tip over alarm buzzer, overheat protection, and an antifreeze setting, this heater prioritizes safety while still being eco-friendly. The device features a 3-year warranty. 
Buy on Amazon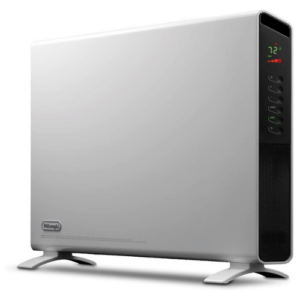 Best energy-efficient space heater with Wi-Fi
Atomi Smart WiFi Portable Tower Space Heater
The Atomi Smart Wifi Heater offers a smart home-enabled heating experience. Compatible with smartphones, Alexa, and Google Home, the heater can be voice-activated or controlled by a large touch-screen panel. 
The device can heat spaces up to 750 square feet with its three operation modes. Choose from the high, low, or eco setting to create the atmosphere you desire. Plus, you'll benefit from a number of safety features, including a wobble-free base, a 360-degree tip-over safety switch, cool-touch housing, built-in overheat protection, as well as instant notifications to your phone if your heater tips over or turns on.  
Buy on Amazon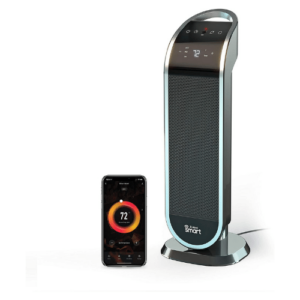 Benefits of electric heaters 
One of the biggest benefits of electric heaters is that they provide heat directly to the space that needs it the most. Especially with portable heaters, you're able to warm the parts of your home that may not get as much heat from your furnace or central heating unit. 
Another benefit of electric heat is the large variety of heaters available. Electric heaters come in many different sizes and styles so you can choose the right model for any home heating situation.
Whether you're looking to heat your craft room or your kitchen, these heating options provide a wide range of heating uses with eco-friendliness in mind. Save on your energy bill without sacrificing quality heating. 
Talk with an expert about energy-efficient home heating options.
Yes, please!
Introducing
QuoteScore™Beta
---
Are you getting a fair deal?
Our independent team of HVAC industry insiders can score your quote
Learn More
Sharing your quote takes less than a minute