Basement finishing: heating and air conditioning considerations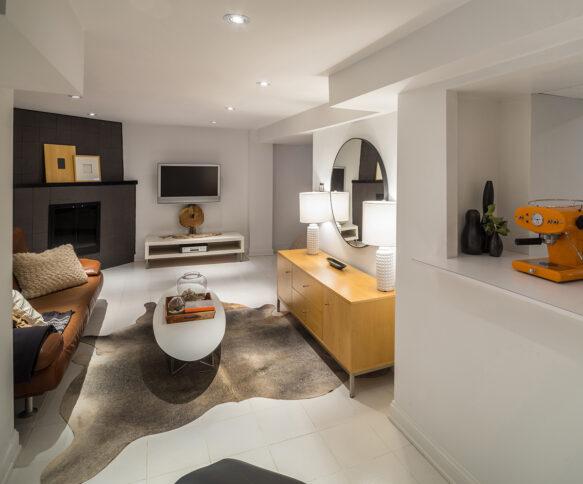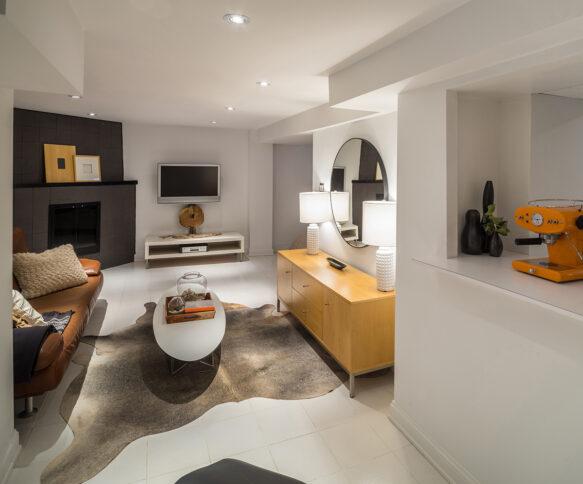 Is there a spacious unfinished basement lurking below your home while your family lives upstairs in cramped quarters? Don't let the current appearance of that dark, damp dungeon below your floors prevent you from gaining the space you need to enjoy your home to the fullest.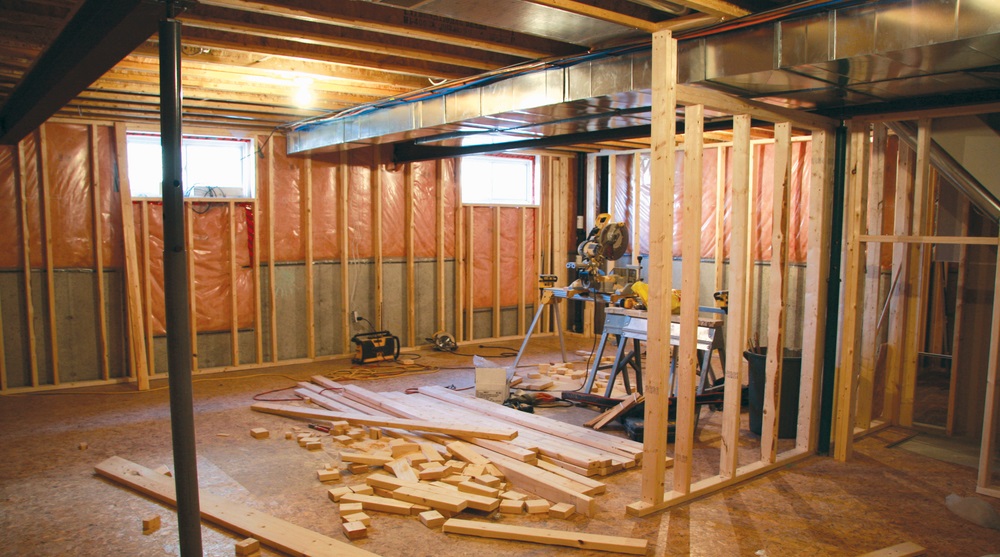 Finishing the basement is one home improvement project that offers a great return on investment. An ROI of about 70 percent, according to Remodeling Magazine. Finishing the space you already have typically costs less than adding on to your home. Per square foot construction costs are around 10 to 15 percent lower for remodeling a basement versus building a room addition.
Whether you hire a general contractor to tackle the renovation of your basement or go the DIY route, you'll need to keep your HVAC system in mind. Determine whether your current heating and air conditioning systems can accommodate the additional space and how to keep their components accessible when developing a floorplan.
Keep heating and air conditioning components clear
Unfinished basements typically house furnaces, air handlers, and other HVAC components. When designing a floorplan for your finished basement, you'll want to develop a way to enclose your appliances for aesthetic and functional reasons, without closing them off entirely. Many finished basements incorporate a utility or mechanical room to conceal this equipment from the new living areas.
If you have a gas furnace or any other gas appliance in the basement, research code requirements to ensure the space is properly ventilated. The number of cubic feet needed to properly vent your furnace will depend on the BTU output of the appliance, as defined in the National Fuel Gas Code.
Your local building codes may also dictate your furnace and other heating and air conditioning system components are accessible for future inspection, repair, or replacement. Not only is this a possible requirement, but it's also an all-around good idea.
Protect yourself in the event of future problems by planning a mechanical room that offers adequate space for a technician to work around the equipment. The openings should also be large enough to remove your old furnace and install a new heating system.
HVAC code and permit considerations for finishing basements
While local building codes vary, the codes that apply to finishing your basement as a living area likely have some heating and cooling considerations, especially when gas furnaces are involved. If basement windows are not available or existing windows don't provide the required amount of natural ventilation, you may be required to install a mechanical ventilation system for the health and safety of occupants.
Unfinished basements that aren't conditioned will need ductwork to supply conditioned air. Your general contractor should offer detailed plans that show where existing equipment, supply, and return ducts are located. The contractor should also note where new duct runs, registers, and other duct system components will be installed.
Your municipality may also require you to obtain a building permit when expanding your existing heating and air conditioning duct system or installing a new furnace, heat pump, or air conditioner.
Determine the needed system size
A skilled heating and air conditioning contractor will help you determine the HVAC system size needed to condition your home plus the additional finished basement space. The HVAC technician may recommend adding a second HVAC unit for the basement space, depending on the size. They'll perform a Manual J load calculation to determine the BTUs needed to heat and cool the space.
Will your current HVAC system suffice?
If you add a significant amount of space when finishing the basement, your current HVAC system may not be able to adequately heat and cool the space. You'll need to determine if your current systems can handle the additional demand.
Heating and cooling equipment is sized in tons – as in BTUs, not pounds. To determine the size of your existing heating and air conditioning equipment, in many cases, you can look to the system's model number.
There are 12,000 BTUs per ton. A model with '024' or '24' in the number is a 2-ton unit, as 24,000 BTU/12,000 BTU = 2 tons. A model number '030' or '30' equals 2.5 tons, '036' or '36' equals 3 tons, and so on.
The size of existing equipment may also be found by searching the equipment's model number on the manufacturer's website.
Upgrade versus add on
If your home's existing heating and air conditioning systems aren't the capacity needed to condition the added space of your finished basement, you have two options. The first is to upgrade your existing heating and cooling system to a larger capacity system. The second option is to add a second heating and cooling system that will condition the space of the basement only.
The better option depends on your situation and preferences. If your current heating and air conditioning system is relatively new, you may not wish to upgrade at this time. If you experience the need for frequent AC repairs or furnace breakdowns, upgrading to a higher capacity system with improved efficiency and performance may make the most financial sense.
Should you extend your current system or upgrade to new forced air equipment, you'll still need to run ductwork to your basement living areas. The average price for new ductwork is just under $1,200, but this ductwork calculator will help determine your price. You'll also need space to house an entire second duct system and HVAC components in your mechanical room.
Ductless mini-split systems are a preferred option for heating and cooling finished basements. These heat pump systems do not require ducts to be run, cutting costs and conserving space. Their indoor air handling units can be strategically placed where space allows, and multiple indoor units can be connected to a single exterior condenser.
Basement indoor air quality issues
Basements are notorious for moisture issues. When finishing your belowground space, it's important that you protect your hard work and the health of your family by installing moisture control solutions.
Simply installing a dehumidifier isn't the solution. On its own, a dehumidifier could actually cause moisture problems in a finished basement, pulling moisture through basement walls. As you finish your basement, be sure to incorporate proper drainage and waterproofing measures to keep moisture out of your underground living areas while also preventing mold growth.
Work with a heating and cooling professional to find a dehumidifier that is appropriate for treating your basement area. Basement bathrooms and kitchen spaces should be equipped with exhaust fans to expel excess moisture.
Finishing your basement can give your family the increased square footage needed to enjoy certain activities and relax. However, no one will relax comfortably in your basement if your heating and air conditioning systems are overlooked during the remodeling process.
HVAC.com connects homeowners like you to heating and cooling contractors in your area who will provide the expert guidance and quality services you need when tackling your basement finishing project. Get started today at HVAC.com.