What you need to know about mini-split heat pumps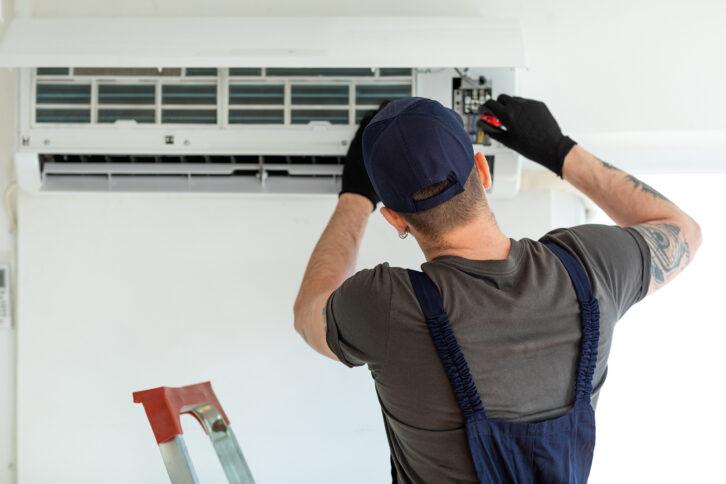 Homeowners today have many great options for heating and cooling! Mini-split heat pump installation is one that'll transform the comfort and energy efficiency of your abode. Learn more about this efficient heating and cooling option, and how it can transform comfort throughout the home.
What is a mini-split heat pump?
A mini-split heat pump installation combines a heat pump system with mini-split technology.
A heat pump is a type of HVAC system which moves heat in order to heat or cool indoor spaces. To heat, the heat pump pulls heat from the air outdoors, moving it inside the home. To cool, the heat pump pulls heat from indoors, expelling it outside to cool down your interiors.
A mini-split is a type of HVAC system which utilizes an exterior compressor/condenser, paired with indoor air handlers. These systems allow for easy zoning, as individual air handlers are installed in different rooms. Temperatures are controlled in each zone independent of the rest of the home, using the same system. Mini-split heat pump installation does not require ducting.
Advantages of a mini-split heat pump installation
Mini-split heat pump systems offer an array of advantages to homeowners.
Comfort advantages:
Mini-split heat pumps offer individual zoning. Control the temperature of each area separately of other zones with a mini-split air handler. Adjusting heating or cooling in one area will not adjust the comfort of other zones, as with central HVAC systems which are not zoned.
With a zoned mini-split system, each person can set the temperature in their zone just as they like it! If one person likes to sleep in a very cold room, the rest of the family doesn't have to suffer – turn down the temperature in one area, and set temperatures higher in others!
Cost advantages:
While mini-split heat pumps can cost more to install than a central heating or cooling system with existing ductwork, they are typically a more affordable option for heating and cooling homes without existing ductwork.
Efficiency advantages:
Thanks to their ductless design, mini-split heat pumps offer better energy efficiency. As much as 30 percent of the heating and cooling produced by a ducted system can be lost through the ducts – this is eliminated with a ductless mini-split system.
With the ability to control zones independently, there is less energy waste with mini-split systems. Instead of increasing energy consumption across the home when one area is in need of more heating or cooling, homeowners can adjust the output only where needed. This limits energy consumption and waste.
Installation advantages:
Mini-split heat pump installation is often chosen for its installation flexibility. Installing ductwork for central systems requires a large amount of space and expense. Mini-splits eliminate ductwork installation altogether.
Installing a mini-split heat pump is far less invasive than installing central systems. Position air handlers on the wall or ceiling of a zone, connecting them to the exterior unit via a 3-inch hole. The exterior unit can be located as far as 50 feet away from the indoor units, offering better flexibility and more design options for installers.
Mini-split systems offer more customization than central systems. Units are available with features such as sleep functions and timers, which help homeowners better control their heating and cooling use. These features also improve efficiency!
Drawbacks of mini-split heat pump installation
Mini-split heat pump installation isn't right for everyone or every home.
Installing a mini-split system may be more expensive than replacing central heating and cooling units when ductwork exists and is in good condition. Local rebates and incentives may be available to offset the cost of installing a mini-split heat pump due to their superior efficiency.
Mini-split heat pump installation requires a skilled installer, as system design is critical to home comfort. If interior and exterior units are not placed correctly, they may not function as expected. Short-cycling can occur, which can deplete the energy efficiency expected from the system.
Some people simply don't like the aesthetics of mini-split heat pumps. While design has come a long way and interior units are now quite stylish, they do have more of a presence in a room than central HVAC vents.
"Split" from your old central heating system – make the switch to a mini-split heat pump system this winter! HVAC.com will connect you with a local heating pro who can get the job done. Tell us more about your project and your comfort goals, and we will pair you with a vetted HVAC professional who'll perform the installation for you!