Space Heater Safety: The Safest Space Heaters for 2022
By Tom Moor
•
August 1, 2023
Introducing
QuoteScore™Beta
---
Are you getting a fair deal?
Our independent team of HVAC industry insiders can score your quote
Learn More
Sharing your quote takes less than a minute
Space heaters are an effective solution for keeping warm in the winter months especially when central heating is inadequate or too expensive to operate or install. But they don't have a great reputation for safety.
In this article, we'll review space heater safety tips and share our picks for the safest space heaters on the market.
Are Space Heaters Safe?
The Consumer Product Safety Commission estimates that portable electric heaters cause about 1,700 fires per year, which resulted in about 70 deaths and 160 injuries each year between 2017-19. Most of these fires could have been easily prevented with proper usage.
The National Fire Protection Association (NFPA) recommends you follow some basic space heater safety tips if you choose to use one in your home.
Space Heater Safety Tips
Keep your heater at least 3 feet away from flammable materials, including curtains and blankets.
Place your heater on a flat, stable surface.
Ensure your heater is in a low-traffic area that isn't blocking an exit.
Don't operate your heater near water. (Except if you're using a waterproof bathroom space heater.)
Plug your heater directly into the wall outlet – do not use an extension cord.
Don't run your heater's cord under a rug or carpet. It may become damaged.
Don't operate a heater you know is damaged.
If you have a fuel-burning space heater, make sure your room is ventilated properly.
Never leave your heater unattended. Turn it off when you go to sleep.
Space Heater Safety Features
In addition to following the space heater safety tips above, make sure the space heater you choose has built-in safety features such as:
Automatic shutdown for tip-overs
Built-in thermostat
Overheat protection
Cool-touch casing
Grill cover
Underwriters Laboratories (UL) certification to ensure safety testing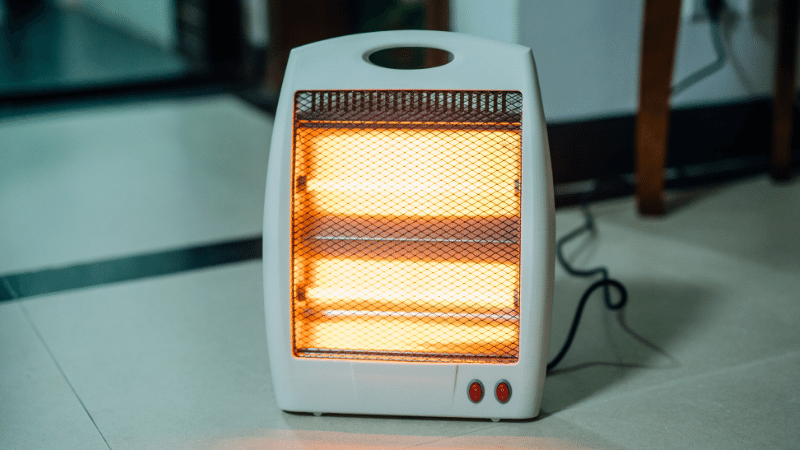 Choosing the Safest Space Heaters
Space heaters are typically powered by either gas or electricity. 
Gas Vs. Electric Space Heaters
Gas-fueled space heaters usually use propane, kerosene, or another fuel to create heat. Their pilot light burns the gas as fuel to warm the room. Electric space heaters plug into a standard electrical wall socket.
In addition to the general hazards of using a space heater, portable gas heaters can create deadly carbon monoxide if your room isn't ventilated properly. They employ an open flame and flammable gas, so many are not a great choice for safe indoor warmth.
Companies label their heaters for indoor, outdoor, or multi-purpose use. Follow all manufacturer guidelines when it comes to safe use.
Electric space heaters are generally the safer and more practical option compared to gas heaters. However, gas heaters are usually less expensive to run and more energy efficient.
When purchasing a space heater, there are a few common styles to choose from: convection, radiant, and conductive.
Convection space heaters
Convection space heaters produce heat as air passes over a heating element. They slowly create long-lasting heat. Convection heaters offer quiet operation and may have a fan to circulate heat.
Radiant space heaters
Radiant space heaters pass liquid through a system of pipes to generate warmth. They are a great option for quick heating.
Conductive space heaters
Conductive space heaters use electricity to produce heat via heating elements (usually metal coils). They create warmth by having direct contact with another object or person. For example, heated seats in a vehicle are conductive heat.
The Safest Space Heaters
We've combed through expert and customer reviews to choose the following space heaters with notable safety features.
Safest Space Heater Overall
The Vornado MVH Vortex heats your room safely and efficiently. It has a number of safety features, including a cool-touch exterior and automatic shut-off for overheating and tip-overs.
The MVH Vortex has three heat settings and a built-in thermostat. You can consistently keep your room at the temperature most comfortable for you.
Vornado products use "vortex action" to spread heat throughout a space. That's how this relatively small space heater packs enough power to warm a whole room.
We appreciate this safe space heater's five-year warranty. The Vornado customer service team is based in the United States, so any service needs can be addressed rapidly and without hassle.
Buy on Amazon
Size
9.2" x 10.4" x 10.6"
Type
Electric, convection
Safest Space Heater for a Large Room
The Dr. Infrared DR988 is our pick for safely heating a large room. It has overheat and tip-over protection. It's cool to touch and UL-certified for safety testing.
In addition to its safety features, the Dr. Infrared DR988 has a number of other useful elements. It operates as a humidifier and a fan in addition to its heating capabilities. It comes with a remote control for convenience, and it has a timer for automatic shut-off.
We like that this space heater has low and high heat settings in addition to eco and sleep modes. Its internal thermostat allows you to precisely choose the temperature you desire.
The DR988 operates quietly. Though it's large compared to other space heaters, it's easy to move with rolling casters.
Buy on Amazon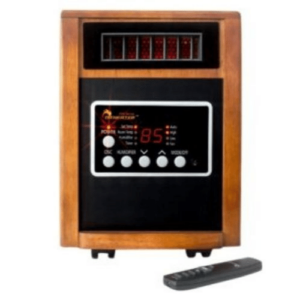 Type
Electric, convection
Safest Propane Space Heater
The Mr. Heater F232000 is a propane heater designed for safe indoor and outdoor use. If you choose to use it indoors, ensure your room is ventilated and use a carbon monoxide detector.
Many people prefer to use propane heaters because they heat more efficiently than their electric counterparts. Overall, propane heat is less expensive and burns cleaner, leaving less of an impact on the environment.
We like the heavy-duty grill on the F232000, protecting the heating mechanism. This propane heater will automatically shut off if it detects low oxygen levels, its pilot light goes out, or it tips over.
This Mr. Heater space heater is lightweight and easy to move, with a sturdy handle. It's an especially good option for construction sites or rustic locations lacking electricity.
Buy on Amazon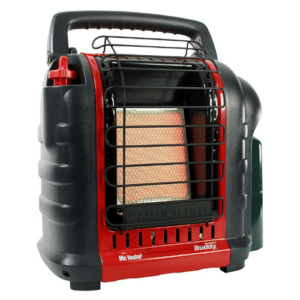 Most Aesthetic Safe Space Heater
The Honeywell UberHeat Ceramic Personal Heater is an attractive and safe space heater designed for small spaces. This little heater produces a surprising amount of heat for its size. 
From a safety perspective, it has solid features, including a cool-touch exterior, automatic overheat shutoff, and a tip-over switch.
The UberHeat has two heat modes and a programmable thermostat, allowing you to keep your space at the precise temperature of your choice.
This space heater has a simple, modern look that fits well with many decor styles.
Buy on Amazon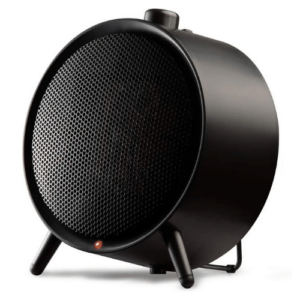 Size
9.02" x 6.5" x 10.24"
Type
Electric, convection
Most Pet-Safe Space Heater
The De'Longhi Mica Thermic Panel Heater is perfect for pet owners. Its slim form can mount to the wall, so you won't need to worry about your pets knocking it over or brushing against it. If you prefer to use it on the floor, it comes with a rolling stand. 
This De'Longhi space heater has a thermal cut-off to prevent overheating and an internal tip-over switch in case its mount becomes unstable. It also has caution indicator lights to notify you of potential safety issues.
With two settings, you can choose the level of heat required in your space. Additionally, this heater has anti-freeze capabilities, which turn on automatically to prevent your pipes from freezing.
Though the De'Longhi Mica puts out a powerful stream of heat, the front doesn't become too hot to touch (though it does get warm). You can let your fur babies gather around it for a nap to warm up on cold days without any safety concerns.
Buy on Amazon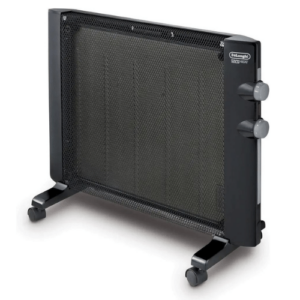 Size
27" x 10" x 22" inches (thinner with casters removed for wall mount)
Safest Space Heaters for a Baby's Room
Maintaining a safe temperature in your baby's room is important. Babies can't effectively regulate their body temperatures, and overheating is linked to sudden infant death syndrome (SIDS). 
Experts say the ideal temperature for a baby's room is between 68℉ and 72℉. If you can't maintain that temperature in your home, consult your pediatrician for advice on the best safe space heater for your baby's room.
The Bottom Line on Space Heater Safety
Before investing in a space heater, make sure it has safety features such as overheat protection and a tip-over switch.
Always follow the directions and refer to any safety notices or warning labels on the heater itself.
With proper usage, any high-quality space heater should safely heat your space throughout the winter.
FAQs on Space Heater Safety
Is it safe to leave a space heater on overnight?
It's generally not considered safe to leave a space heater running overnight, especially if you're not in the room where it's running. Even if you are sleeping in the room with the space heater, you are not aware of what is going on around you.
How long can a space heater be left on?
Most newer space heaters can be left on for 10 or more hours at a time. Monitor the space heater regularly for any issues.
Are space heaters still a fire hazard?
Space heaters are still considered a fire hazard especially when they're placed close to combustible materials including bedding and furniture. It's critical to keep space heaters at least three feet away from combustible materials.
Introducing
QuoteScore™Beta
---
Are you getting a fair deal?
Our independent team of HVAC industry insiders can score your quote
Learn More
Sharing your quote takes less than a minute