What Is a Smart Air Conditioner?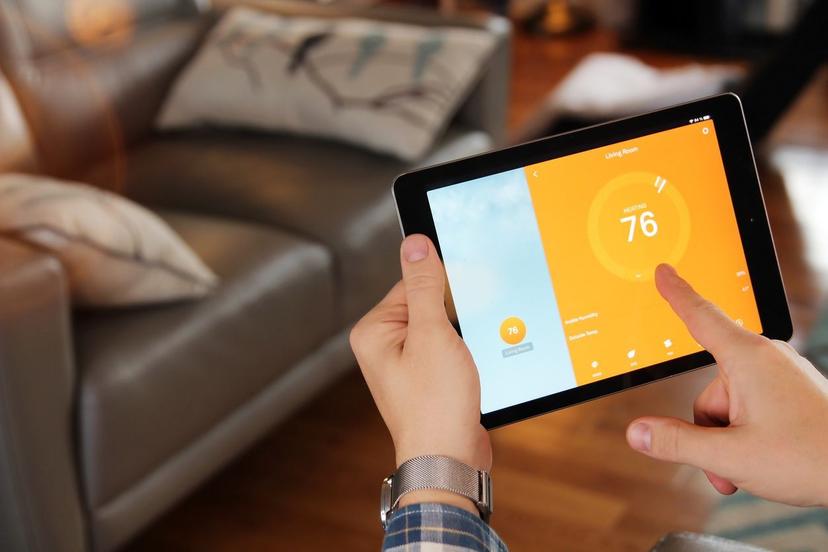 If it seems like everything has a "smart" version these days, you may be right. Add smart air conditioners to the list.
A smart AC unit is a popular alternative to cool small- to medium-sized rooms and spaces. These advanced cooling systems are integrated with smart technology to allow users to control and optimize their operation remotely, providing enhanced convenience and energy efficiency.
Keep reading to learn more about how smart air conditioners operate and their many benefits to help you determine whether one is right for your home.
How Does a Smart Air Conditioner Work?
Smart air conditioners are typically portable or standalone window units. They are essentially portable or window AC units with smart functions. Central air conditioners, meanwhile, are often paired with smart thermostats to allow homeowners to use advanced features such as remote-control capability.
Unlike traditional split-system AC units, smart air conditioning systems don't require an outdoor condenser unit or ductwork to distribute conditioned air. Instead, the self-contained units house all of the necessary components such as the compressor, condenser, evaporator coil, and fan.
A smart portable air conditioner vents hot air and moisture outside through a flexible exhaust hose. The exhaust hose is directed through a window, sliding door, or an opening in the wall, ensuring that hot air is released outdoors while cool air remains inside the home. A smart window air conditioner, meanwhile, vents directly outdoors.
Smart air conditioners are commonly used to provide cooling to small areas such as an apartment or space that was recently converted to livable or workable areas including garages, attics, and basements.
Key Features of a Smart Air Conditioner
As their name suggests, smart air conditioners use smart technology to enhance convenience, improve energy efficiency, and increase control. Some of the key features of a smart air conditioner include:
Remote Control Capabilities
Like a central air conditioner paired with a smart thermostat, you can control a smart air conditioner remotely with a smartphone or other smart device for increased comfort and energy savings. Users can lower the temperature from their smartphones while leaving work to ensure their space is cool and comfortable when they arrive home. Or, they can turn the systems off remotely if they forget to do so before leaving for vacation.
Pre-setting the Temperature
Like a smart thermostat, users can pre-set the temperature on their smart air conditioner based on the time of day and day of the week. For example, you can set the temperature higher from 9 a.m. to 5 p.m. while you're at work and have it automatically lower during the evenings or on the weekends when you're home.
Energy Reports
Some smart air conditioner models offer energy-monitoring features to provide reports on how much energy the unit is using and when. This helps you make necessary changes to lower energy costs.
Geofencing
With geofencing capabilities, some smart AC units track the exact location of your smartphone and automatically turn on or off depending on whether you just left your house or arrived back home. There's no need to even lift a finger! Geofencing ensures your home is always comfortable during the summer.
Voice Control
Many smart air conditioning systems are compatible with voice assistants such as Google Assistant and Amazon Alexa, allowing you to control the system using voice commands.
Integration with Smart Home Systems
Your smart AC unit can also be integrated into your home's larger smart home ecosystem, enabling automation and coordination with other smart devices including smart lighting and smart electronics.
Error Monitoring and Alerts
Your smart air conditioner can provide alerts signaling a malfunction or when maintenance is required such as air filter replacement. Alerts are especially convenient for users who often forget to replace their filters.
The Cost of a Smart Air Conditioner
Smart AC systems cost between $200 to $800 depending on the brand, features, and its cooling capacity, according to ThePricer.org. Other factors that affect smart air conditioning system costs include brand reputation, energy efficiency, and additional smart features such as voice control and compatibility with smart home systems.
Smart AC systems are available online on sites such as Amazon or at any big-box store including Best Buy, Walmart, Home Depot, and Lowe's, to name a few.
Highest Rated Smart Air Conditioners
If you're considering buying a smart air conditioner for your space, a few of the highest-rated models include:
Midea's 10,000 BTU U-shaped Air Conditioner
Midea's 10,000 BTU U-shaped inverter window air conditioner utilizes a U-shaped design so you can open and close the window to bring in fresh air. It's ultra-quiet and covers about 450 square feet. The model's Wi-Fi- and voice-enabled controls provide an extra layer of convenience. With its advanced DC inverter technology, the BTU U-shaped air conditioner continually adjusts its speed, unlike a traditional air conditioner, which makes it up to 35% more efficient than other units.
Cost: $419.
LG's 8,000 BTU Smart Window Air Conditioner
LG's 8,000 BTU air conditioner is Energy Star certified for stellar energy savings. It offers three fan speeds for customized cooling. The 8,000 BTU model can cool spaces up to 350 square feet, making it ideal for medium-sized rooms. With the LG ThinQ App, you can control the unit from anywhere with your smartphone.
Cost: $299.
Hisense's Window Air Conditioner
Hisense's window air conditioner also uses an inverter compressor for increased efficiency. It's also one of the quietest models on the market. Hisense's 8,000 BTU model can cool a space up to 350 square feet, while its 14,000 BTU model can effectively cool spaces up to 700 square feet.
FAQs on Smart Air Conditioners
What does a smart air conditioner do?
Smart air conditioners are similar to traditional portable and window AC units, but the biggest difference is the advanced features they offer. You can control smart air conditioners remotely via your smartphone. Some smart AC units offer voice recognition and geofencing technology.
How much does a smart AC cost?
A smart AC costs between $200 and $800 based on several factors including the brand, cooling capacity, and available features.
What are the disadvantages of smart air conditioners?
The main disadvantage a of smart air conditioner is it is not ideal for cooling large spaces or homes. Many smart AC units cool spaces between 200-500 square feet.