Smart Thermostat Installation Guide
Thermostat technology has come a long way – today's thermostats give users so many options, even the option of effortless comfort control through smart features! Smart thermostat installation in your home helps you create the ultimate smart home, with precision control over indoor comfort and energy consumption. Learn more about smart thermostat installation and decide if a smart stat is right for your household!
What Is a Smart Thermostat?
Smart thermostats work to control home heating and cooling (and sometimes indoor air quality conditions, depending on a model's features). They can be used with home automation systems, are Internet connected, and can be accessed through devices such as smartphones.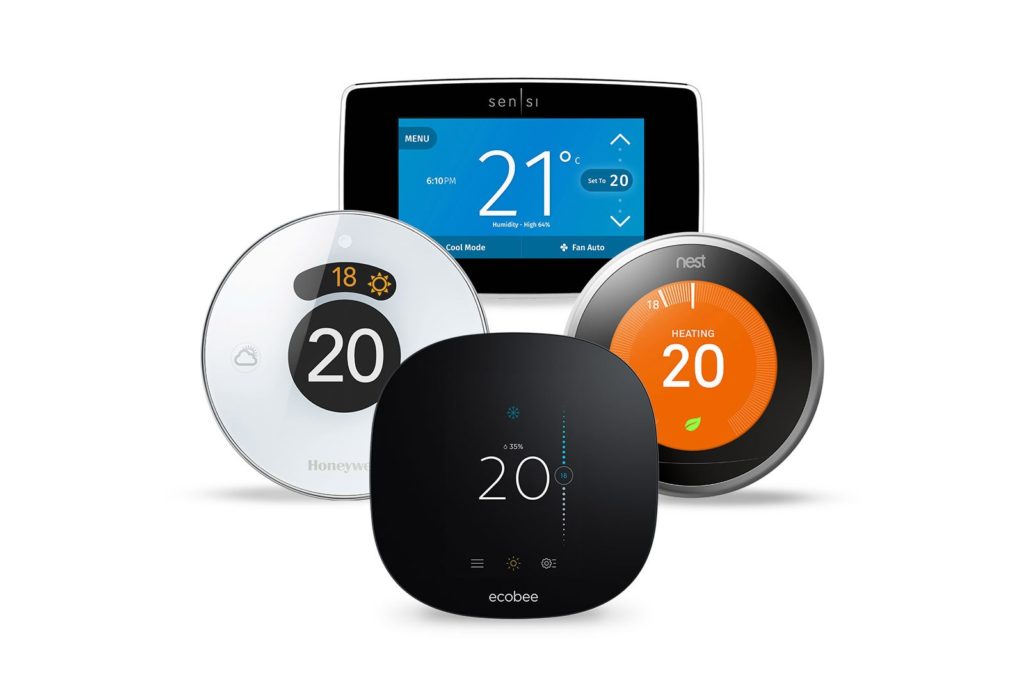 Smart thermostat installation goes above and beyond the capabilities of a standard programmable thermostat.
Smart programming: Instead of programming temperature schedules like on a programmable thermostat, a smart thermostat will learn the behaviors of your household to automatically set and adjust temperatures based on occupancy, conditions, and preferences.
Remote connectivity: Smart thermostats can be remotely adjusted via smartphone or web app. This makes it simple for you to better conserve energy while you're away from home.
Energy reporting: Smart thermostat installation allows data to be collected about your home's energy consumption. You can access this data through the app and see how much your heating and cooling is costing you and adjust your settings to maximize savings.
Smart Thermostat Installation Options
Smart thermostat installation is the latest wave of thermostat technology. Many HVAC manufacturer brands have brought smart thermostat technology to their product lines, producing many options for homeowners in the market to upgrade to this home technology. Brands such as Nest, Ecobee, Honeywell, and others are producing smart thermostats with a range of features.
Smart Thermostat Installation Cost
The cost of the thermostat itself and labor costs for smart thermostat installation make up the total price you'll pay when working with an HVAC contractor. Smart thermostats do cost more than programmable thermostats typically – expect to pay $200 or more for your smart thermostat. Smart thermostat installation can range in cost too, based on the type of HVAC system and components you have. Smart thermostat installation labor may run approximately $100 to $250.
Can I Do Smart Thermostat Installation Myself?
Many guides are available for performing smart thermostat installation yourself, but it isn't always the best option. Installing the thermostat requires checking compatibility, making electrical connections, and setting up connected components. If you are comfortable performing smart thermostat installation yourself, your thermostat manufacturer likely includes a guide for doing so. In some cases, video tutorials are available to show you exactly what to do.
Ecobee smart thermostat installation guides
Nest smart thermostat installation guide
If you're not comfortable performing the smart thermostat installation yourself, an HVAC professional can assist you. Local heating and cooling companies sell and install certain brands of smart thermostats, and can help you learn more about the products available so you can decide which is best for your home.
Get Help with Smart Thermostat Installation on HVAC.com
HVAC.com's Contractor Directory connects you with local heating and cooling professionals who provide quality smart thermostat installation services. Enter your ZIP code to find HVAC companies near you who will answer all your questions about smart thermostat installation in your home, sell high-quality products, and perform the installation work you need to enjoy your new smart thermostat.