Wall heaters

By Tom Moor
•
August 1, 2023
Introducing
QuoteScore™Beta
---
Are you getting a fair deal?
Our independent team of HVAC industry insiders can score your quote
Learn More
Sharing your quote takes less than a minute
When choosing a heating system, you should consider the size of the space you want to heat. If you are looking to warm a small room, a wall-mounted heater can be a good option. In this post, we discuss wall-mounted heaters, how they work, how their energy efficiency is measured, and their benefits and costs.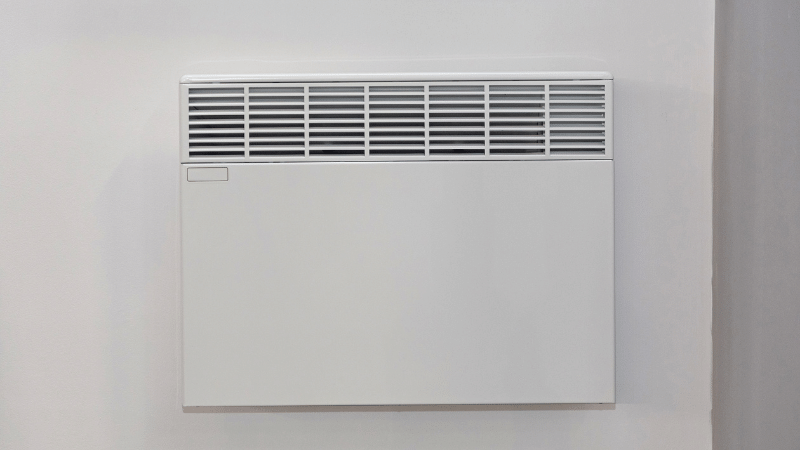 What is a wall-mounted heater?
A wall heater is a heating unit that is installed in or attached directly to a wall. Designed to save valuable floor space, they are usually used to heat smaller offices, single rooms, or compact living spaces. By installing these units, you will not have to expand the HVAC system you are currently using.
During installation, wall-mounted heaters are attached to the wall and wired directly to a circuit in the electrical panel. As such, they are different from portable space heaters that are usually plugged into a wall outlet. With wall heaters, there are no wires to trip on. Since the heaters are self-contained, you don't have to worry about the costly and time-consuming exercise of installing ductwork.
Types of wall-mounted heaters
There are two main types of wall-mounted heaters: gas wall heaters and electric wall heaters.
Gas wall heaters
Large and complex, these heaters require professional installation. While they cost more to buy, they are more affordable to operate.
With regular maintenance, gas heaters have a lifespan of 10-20 years, which is shorter than that of electric heaters. One of the downsides is the potential leak of carbon monoxide, a poisonous gas that can be fatal.
Electric wall heaters
Compared to gas wall heaters, electric heaters have a lower initial purchase price but are more expensive to operate month by month. The units are quiet and durable, with an average life expectancy of 20-30 years. They are also easier to maintain and do not combust fuel onsite, eliminating the risk of carbon monoxide or gas leaks.
Our HVAC experts can help you install your wall-mounted heater.
Get a quote.
Wall-mounted heater energy efficiency
People often consider energy efficiency when choosing a new heater. As such, it is important to understand how to measure their energy efficiency.
The Annual Fuel Utilization Efficiency ratio (AFUE) measures the standard energy efficiency of a wall-mounted heater. It is calculated by dividing the amount of fuel supplied to the heater by the amount of heat produced by the device, expressed as a percentage.
Generally, heaters with a higher AFUE rating are more energy efficient. Because they use less energy to keep your space warm, the operating costs are lower.
Wall-mounted heaters with AFUE ratings of 80-85% are mid-efficiency, while those with ratings above 90% are highly efficient.
Benefits of a wall-mounted heater
Choosing a wall-mounted heater brings numerous benefits. Following are some reasons to consider installing one of these units.
Fast and efficient heating
Provided you operate the unit with proper safety precautions, it can heat your space in a few minutes. By warming only specific areas, wall heaters consume less energy and run more efficiently.
Space saving
You can attach mounted wall heaters directly to your wall. This frees up your floor space and your window, making them ideal for those living or working in smaller spaces.
Lower your heating costs
For many people, the cost of heating their homes goes up when the temperature drops. Wall-mounted heaters are energy efficient, providing a modern and unique way to reduce energy costs. Instead of heating your home, these cost-effective units allow you to warm up only a specific area.
Easy to install and maintain
Wall-mounted heaters are relatively easy to install. Unlike central heating systems, no major ongoing maintenance is necessary.
Innovative features
Some of the more advanced features include precise thermostats, remote controls, and Wi-Fi controls. Units with precise temperature controls have digital displays and sensitive thermal sensors. These features help you to control temperature accurately for optimal comfort and use less energy to heat your space.
Wall-mounted heater costs
The price for a wall-mounted heater will depend on several factors, including the unit's power, energy efficiency, and special features. The brand and specific model you choose also influence price.
Generally, a wall heater will cost $450-550. If you choose to have it installed professionally, expect to pay an additional $150-200 in labor costs alone.
When you request a quote, ask for an itemized list of what the job includes. You might be able to save a bit by providing the installation materials yourself.
Book wall heater installation now.
Yes, please!
Wall heater FAQs
Are wall heaters dangerous?
With proper maintenance and the right safety precautions, wall heaters are quite safe. Ensuring your gas wall-mounted heater is in perfect shape will reduce the chances of gas leaks. Leaving reasonable space around your electric wall heater will help to lower the risk of fire caused by heated coils.
How do wall heaters work?
Wall heaters have a relatively simple working mechanism. The units consist of a heating element that converts energy from the fuel source into heat. The wall unit then expels that warm air into your space.
Introducing
QuoteScore™Beta
---
Are you getting a fair deal?
Our independent team of HVAC industry insiders can score your quote
Learn More
Sharing your quote takes less than a minute