What to expect with air duct cleaning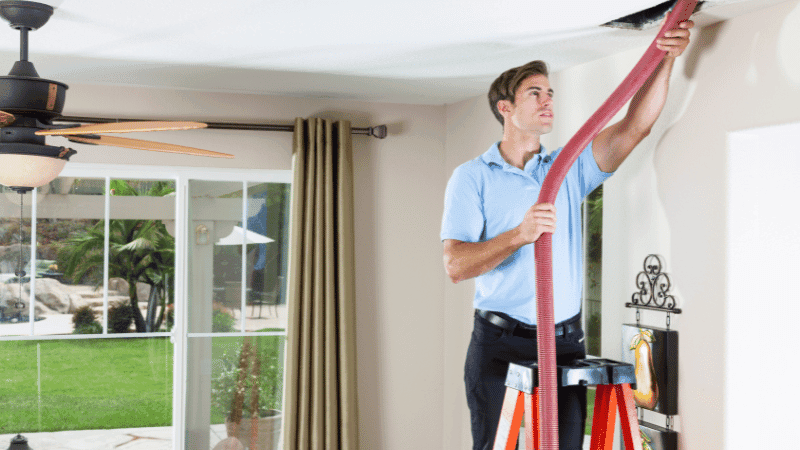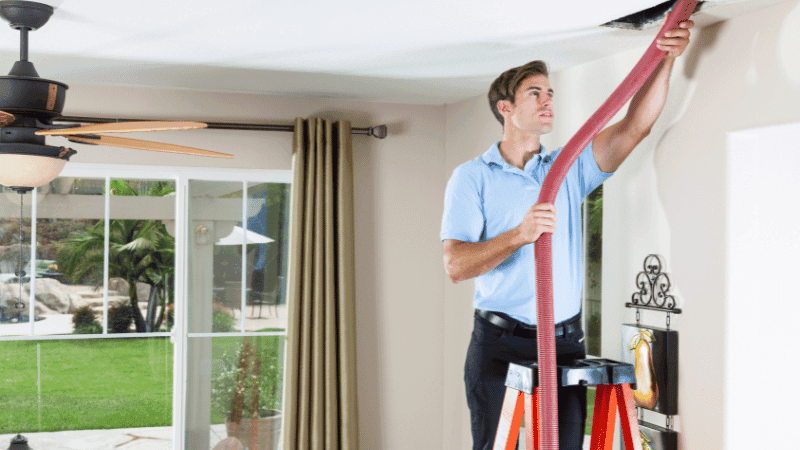 If you've recently scheduled an air duct cleaning appointment, or you're considering it, this info is for you. We'll give you the lowdown on how to prepare and what you'll experience when a local air duct cleaning expert arrives at your home.
What is air duct cleaning?
Air duct cleaning is the thorough cleaning of various components of forced air systems that heat and cool your home. Most duct cleaning companies clean the supply and return ducts and registers, diffusers and grilles, system coils, condensate drain pan, fan motor, and the cabinetry that houses the system.
Each service provider tailors their offering, so ask for a detailed list of what's included before hiring a technician. It's recommended you have your ducts cleaned as needed. For most homes, that's once every three to five years.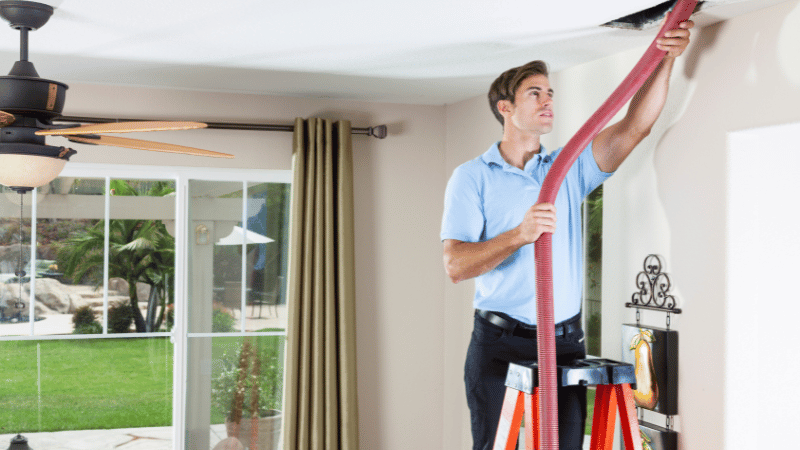 Do your ducts need cleaning?
The United States Environmental Protection Agency recommends scheduling air duct cleaning if: 
Pests have damaged the ducts
Debris and dust clog the ducts
Mold growth is visible in the ducts or on any part of the heating and cooling system
Your home environment may be causing unusual sickness or allergies for those in your home
Book a local pro for air duct cleaning
Getting your home ready for air duct cleaning
You don't need to do a major deep clean to prepare for your cleaning technician's visit, but it is helpful to tidy up so they can easily access your HVAC equipment and vents. Consider these tips.
| | |
| --- | --- |
| 🛋️ Move furniture and clutter | Your duct cleaning tech will need to access all vents in your home. Make sure they are easy to get to. |
| 🪜 Know where to find your core HVAC system | Duct cleaning involves your air handler and plenums, which are usually next to your furnace. Clear a path to this equipment, whether it's in your attic, basement, garage, or utility closet. |
| ⏰ Choose a convenient time | Duct cleaners will make some noise and need to visit all rooms of your home. So don't schedule your appointment during baby's naptime or your important Zoom meeting. |
| 🐈 Secure pets | Keep pets in their crate or arrange for daycare the day of the appointment. The loud noise might freak them out, and your technician may open the front door frequently. |
| 🏠 Give a home tour | Make sure to show your technician all rooms of your home when they arrive. You don't want them to miss any vents. |
| 👉 Note areas of concern | If your child's bed or another sensitive item is directly under an air vent, consider moving it and covering it with a tarp. Tell your technician about areas you'd like them to avoid or pay special attention to. |
What to expect during duct cleaning
Make sure you're home to greet your air duct cleaner when they arrive. If you're comfortable having them work in your home alone, it's usually fine for you to leave.
If you prefer to stay, you can watch the process from a safe distance or wait in a spot out of the way. Here are a few things that will happen during the cleaning:
| | |
| --- | --- |
| ❓ They will ask questions | Be ready to show them around your home, point out vents, and direct them to your HVAC equipment. Feel free to ask any questions you have, as well. |
| 👂 There will be noise | Your technician will use a special vacuum for cleaning. You also might hear light banging as they use mechanical brushes in the ductwork. |
| 🪛 They will remove your vent grates | Your cleaner will take all of your vent grates off to access the ductwork. They will also clean the vent grates – they have tools to remove and put them back safely. |
| 🩹 They will fix small leaks | If your duct cleaner locates any visible air leaks in your ducts, they fix them if possible. If the repair is severe, they may need to return, or you may need to hire an HVAC contractor for specialized help. |
| 📋 They will test your system | Before leaving, your technician should test your HVAC system to ensure everything is dust-free and running correctly. |
Other things to know before air duct cleaning
How much does air duct cleaning cost?
There are different types of cleaning techniques. Your duct cleaning cost will vary depending on the recommended cleaning method, size of your home, and labor fees set by the service provider. On average, air duct cleaning costs around $500, but pricing generally ranges from $285 to $1,000.
Will my technician spray cleaning products?
Your technician should not spray any chemical cleaning products in your ducts without your prior approval.
According to the Environmental Protection Agency, cleaning sprays are unnecessary in your ductwork unless you have mold issues. Even then, the organization is skeptical about using chemical biocides in ductwork. 
If your duct cleaning technician tells you there's mold in your ducts, ask for them to show it to you. Once you've confirmed it's there, ask about the product they intend to use to clean it. You can decide whether or not you're comfortable moving forward with the cleaning.
It's essential to address the root cause of mold growth in your ducts in addition to cleaning it. An HVAC technician can take a look at your system to determine the reason behind the mold growth.
Schedule an appointment with a local HVAC specialist
How long does an air duct cleaning appointment take?
It depends on the size of your home, but an air duct cleaning appointment usually takes four hours or less. Ask your technician how long they expect to take based on the square footage of your home.
Will my home be dusty after an air duct cleaning?
Air duct cleaning can be messy, but your technician should use drop cloths and plastic guards to keep the dust and debris from entering your home.
You will not have to clean your home after your technician leaves. They should leave your home as it was when they entered (if not a bit cleaner!)
Should I tip my air duct cleaning technician?
It's not necessary to tip your air duct cleaner. You can show appreciation in other ways, like offering a cold bottled water.
If you're happy with the job, leaving a positive online review for the company is always nice. You can also share referrals with friends and neighbors looking to have their air ducts cleaned.