Cool Mist Humidifiers are extremely easy to clean, since they use a filter to capture impurities, before releasing a cool vapor into the air.  These emit a soothing cool mist into the air, which is beneficial for the use in warmer climates and warmer months.  If they are not cleaned often they can be prone to bacterial contamination and mineral dust accumulation.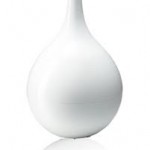 Pros:
Cons: 

Easy to clean
Reduces risk of burns
Medical inhalants can be added to some
Good for treating cold/flu

(if inhalants can be added)

Good for treating asthma/allergies
Energy efficient
Recommended around young children
Low maintenance
Affordable

Prone to bacterial contamination
Prone to mineral dust accumulation
Noisy
An ultrasonic humidifier utilizes a metallic diaphragm which vibrates at a very high frequency to form water droplets. The major advantage is that it is highly energy-efficient and requires low energy costs. Furthermore, ultrasonic humidifiers make no noise and thus do not impede sleep. Lastly, the danger of burns is also eliminated in ultrasonic humidifiers.  Ultrasonic Humidifiers are highly energy-efficient and resulting in low energy costs. They are very quiet. There is no risk of burns from steam or hot surfaces.  Typical with cool air humidifiers, the major disadvantage associated with ultrasonic humidifiers is bacterial contamination. The use of mineralized water also frequently causes accumulation and inhalation of mineral dust. The major disadvantage is the potential for bacterial contamination if the unit is not cleaned regularly.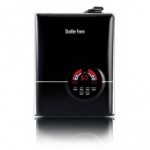 Pros:
Cons: 

Produces zero noise
Reduces risk of burns
Recommended around young children
Good for treating asthma / allergies
Low maintenance
Easy to clean

Prone to mineral dust accumulation
More expensive
Not for treating croup
An evaporative humidifier is based on a cool mist system which simply means that no heating mechanism is required for its operation. Since there's no heating involved, it can be used in the home without the fear of spillage which can result in burns and is particularly recommended for homes with kids.  Due to their simple format, evaporative humidifiers are also very affordable and can be easily fitted into a tight budget.  A wick humidifier is also self-regulating, adjusting itself to the prevailing environmental humidity. This feature makes it easy to use.  The major disadvantage associated with wick humidifiers is the noise generated by the fans. Furthermore, since the water used is stagnant and not boiled, there's the risk of bacterial infection.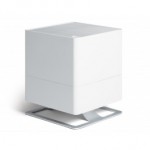 Pros:
Cons: 

Affordable
Ease to use
Recommended around young children
Good for treating asthma / allergies
Low maintenance
Easy to clean

Prone to bacterial contamination
Prone to mineral dust accumulation
Warm mist humidifiers are similar in operation to steam vaporizers but the steam is cooled before being released. Thus, they have the advantage of reducing the risk of burns. Since the water is boiled, there is also very little risk of bacterial contamination. They share the same utility cost disadvantage with steam humidifiers.

Pros:
Cons: 

Reduces risk of burns
Reduces mineral dust accumulation
Medical inhalants can be added
Quiet
Good for treating cold / flu

Not energy efficient
Not for children's rooms
Vaporizer humidifiers can either emit warm or cool mist. Medical inhalants can also be used with vaporizers to alleviate coughs.  Many vaporizer humidifiers are very affordable. Vaporizer humidifiers consume a large amount of energy and can increase electrical bills. Also, there's always the danger of spillage of boiling water which can cause serious burn injuries.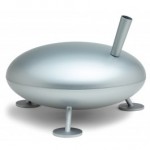 Pros:
Cons: 

Reduces mineral dust accumulation
Medical inhalants can be added
Quiet
Good for treating cold / flu

Can be difficult to clean
Can cause burns
Not for children's rooms