At HVAC.com, our writers create solutions that put you in control of your HVAC system. Our product reviews and recommendations are researched and backed by real buyers and industry experts, not dictated by our partners.
Founded over 100 years ago, Trane is a well-known provider of HVAC products and systems. When it comes to furnaces, they offer a range of options, from oil powered to gas powered, with differentiated models in each category. Each Trane furnace is categorized based on a few different features including the number of heating stages, Annual Fuel Utilization Efficiency Rating (AFUE), and type of fuel converted.
When choosing a Trane gas furnace, consider your local climate. If you live in a hot and arid region, for example, you likely wouldn't need an extremely efficient furnace. On the other hand, if you live in a cold region, a more efficient furnace could lead to significant savings.
Types of Trane furnaces
All of Trane's furnaces use natural gas, which is one of themost affordable fuel options. The company offers one-stage, two-stage and variable-speed models. A one-stage furnace has only one setting, while a two-stage furnace uses less energy until the weather requires it to use its full output. A variable-speed furnace has a modulating fan motor that provides efficient, precise heating.
Single-speed units are the least efficient and have the lowest up-front cost. Moderately priced models are typically more energy efficient and may be one-stage or two-stage. Trane's variable-speed furnaces are the most efficient, and several are Energy Star qualified.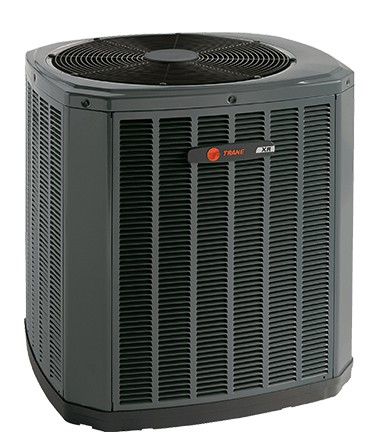 Trane gas furnaces
A Trane gas furnace is powered by natural gas. Trane offers a wide selection of gas furnaces which come in three different heating stage options.
Modulating Furnace: A Modulating furnace brings the most versatility energy-efficiency, and comfort but usually at a higher cost than other models. Its blower and flame alternate up-to-the-minute to reflect your heating needs. One downside is that the unit runs more often.
Two-Stage/ Dual-Stage Furnace: Dual-stage furnaces provide more flexibility when it comes to comfort levels and incremental temperature changes. Unlike single-stage furnaces, two-stage furnaces feature two different operating options: high or low depending on your needs – making it a smart, energy efficient choice.
Single-Stage Furnace: A single-stage furnace is one of the most affordable options among Trane gas furnaces. This type of furnace is more traditional, turning on when your home becomes too cold and turning off when it gets warm enough. Though the initial cost will be less than dual-stage or modulating furnaces, single-stage furnaces are either all on or off – which means they aren't as energy efficient and energy costs over time will be more.
Trane oil furnaces
Trane oil furnaces produce heat by converting oil. They're common for households in colder regions, particularly in older homes in the Northeastern United States. While oil furnaces may be more affordable than gas furnaces initially, the upkeep is costlier and they are also less efficient than gas furnaces.
Trane furnace models
Trane Furnace
This model of Trane gas furnace is the most energy-efficient option available, bringing you increased energy savings throughout the year.
Type
Gas, fully modulating
Features: ComfortLink™ II communicating capability; variable-speed blower motor; modulating gas heat furnace provides increased fuel efficiency and optimal comfort control; durable, two-tone powder-painted cabinet; better dehumidification with Comfort-R™
Trane Furnace
The quietest of all Trane gas furnace options, the S9V2-VS couples top-rated efficiency and noise-reducing technology to deliver the ultimate in comfort.
Features: Uses less energy to heat your home; variable speed Vortica™ II blower helps save on electricity during the summer; durable and reliable stainless steel heat exchangers; even distribution of heat.
Trane Furnace
The XB90 Trane gas furnace model is their best value option, combining efficiency and cost. This unit is perfect for those looking to save on energy consumption and upfront costs.
Trane Furnace
Gas furnace popular for its high-efficiency, which is great for those looking to lower monthly heating bills and save money over the long-term. However, the unit only features one stage of heating.
Features: High-efficiency, Constant Torque ECM blower motor
Trane Furnace
The S9X2 offers two heating stages, making it a more responsive and efficient alternative.
Features: Electrically efficient, with ECM blower motor; exclusive, quiet design; durable stainless steel heat exchangers
Trane Furnace
This model provides even heating as needed but operates at only one heating stage. It includes a high-efficiency blower motor.
Need help finalizing your decision?
Features: Durable construction and design, Self-diagnostic microelectronic controller; one-piece heat exchanger
Trane Furnace
Among Trane gas furnace models, the XR95 is the most efficient single-stage unit available. It's a viable option for those looking for efficiency and affordability.
Features: Aluminized steel heat exchanger; three-row secondary heat exchanger; multi-speed blower motor; self-diagnostic microelectronic controller
Trane Furnace
Though this model offers dual-stage heating at variable speeds, it is not as energy efficient as some other Trane gas furnace options.
Type
Gas, dual-stage, variable speed
Features:
Insulated cabinet for quieter operating; variable-speed blower motor; better dehumidification with Comfort-R™
4-speed blower motor; self-diagnostic microelectronic controller; durable steel cabinet; silicon carbide hot surface Igniter; compatible with Trane CleanEffects™ advanced whole-home air cleaner
Trane Furnace
This Trane Oil Furnace is energy-efficient and utilizes clean-burning oil to fuel the heating system. This unit is cheaper upfront but may need more upkeep and rely on more expensive fuel.
Features: Durable, hot-rolled steel wrap-around heat exchanger; ceramic fiber combustion chamber that heats up quickly to provide more complete combustion; Beckett flame retention burner for clean ignition; 4-speed blower motor
Trane Furnace
The XV80 offers an affordable oil-fired option that also delivers efficient heating solutions.
Features: Variable-speed blower; durable 13 gauge hot-rolled steel heat exchanger; ceramic fiber combustion chamber that heats up quickly and provides more complete combustion; Beckett flame retention burner for smooth, quiet and cleaner ignition; durable, 2-tone powder-painted cabinet; better dehumidification with Comfort-R™
Trane furnace pricing
Trane furnace prices can vary for a number of reasons, including installation fees, the size of the unit, and the type of home. For the most accurate pricing information, contact a local HVAC professional.
Typical Product and Installation Prices by Trane Furnace Model
Trane furnace warranties
Base Warranty: All Trane residential units are covered by a Base Warranty at no additional cost. This warranty covers Trane furnace parts that are damaged or broken due to manufacturer defect and can last between one and 20 years, depending on which product you purchase.
Registered Limited Warranty: The Registered Limited Warranty takes the base warranty one step further, and it simply requires you to register your unit within 60 days of installation. For no additional cost, the period for which your unit is covered is extended and can range from five years to the lifetime of the product. You can register your Trane unit by telephone or online.
Optional Extended Warranty: Unlike the base warranty and registered limited warranty, the Optional Extended Warranty covers Trane furnace parts and labor, in addition to damaged Trane furnace parts due to manufacturer defect. Contact a local Trane dealer to inquire about pricing in your area.
Trane furnace reviews
One of the best ways to determine which furnace is best for your circumstances is by reading Trane furnace reviews. To discover more about Trane furnaces and the attributes homeowners enjoy most about them, read Trane furnace reviews on HVAC.com.
Frequently asked questions
How much does a Trane furnace cost?
Trane furnace prices can vary based on the type and size of the unit, whether it is a gas or oil model, and installation fees. In general, prices start for Trane gas furnaces can be as low as $1,800 for single-stage units all the way up to $6,000 for two-stage units.
Where can I buy a Trane furnace?
Trane products are sold nationwide. Visit the Trane website to find a Trane Comfort Specialist™ in your local area. Read online reviews for local Trane dealers to determine which HVAC company best fits your needs.
How long will a Trane furnace last?
The lifetime of a furnace depends on a range of factors, including the degree of upkeep/how often it's been serviced, the amount of use, and the climate where you live. Trane recommends replacing your furnace if it is 15 years or older.