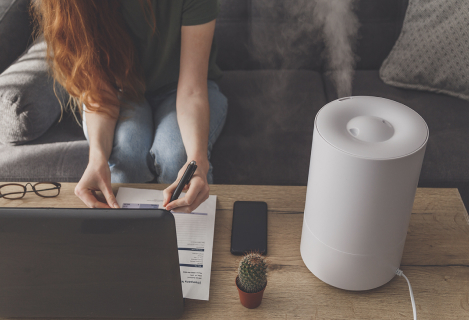 Understanding how humidity levels affect your home allows you to invest in the proper devices to create the most comfortable environment. Our in-depth articles explain how humidity can affect your health, sleep, and respiratory response.
Using our transparent product recommendations, you'll explore portable and whole-home dehumidifiers and humidifying systems. Learn why the ideal indoor humidity level changes with the season and how to monitor it in your home. Whether you're watching your budget closely or ready to invest in a unit that will last for years to come, this is your hub for simple humidity solutions.
Dry air inside the home can create discomfort and health problems throughout the year. A whole-home…

Do you have an old Aprilaire humidifier that is over warranty and beyond repair? Companies come out…
If a whole-home humidification system isn't in the cards, you don't have to sacrifice the comfort an…

Keeping the relative humidity levels in your home balanced between 35 to 50 percent is ideal for you…
There are three types of whole-house humidifiers to consider when you're shopping for one. Learn about your options here.

Creating a space with the ideal indoor humidity level means your family is more comfortable and you'…

Bedroom humidifiers improve your home air quality in the winter. Check out our picks for the best bedroom humidifiers.
Attic furnaces are something more homeowners have been considering in both residential and commercia…

Is there a spacious unfinished basement lurking below your home while your family lives upstairs in…