Best smart thermostats of 2022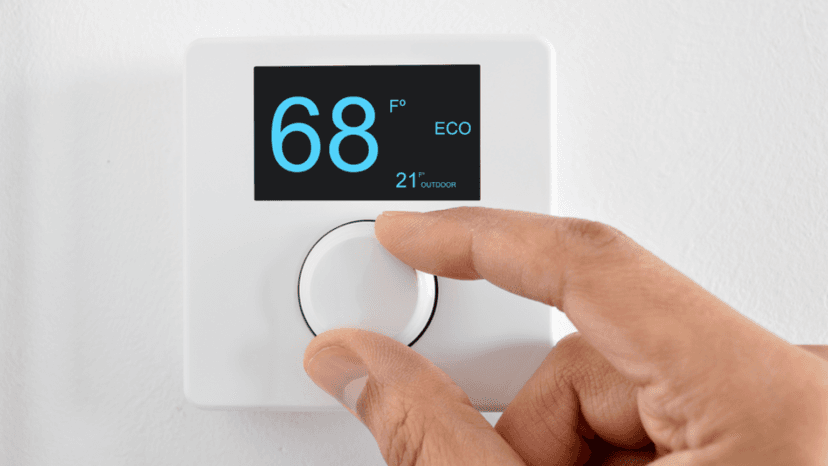 Smart thermostats put the power of controlled comfort in your hands. With a smart thermostat, managing your whole home's temperature and humidity is stress-free all year.
We've gathered a lineup of the best smart thermostats on the market. Check out our smart thermostat reviews below to find the best comfort solution for your needs.
What is a smart thermostat?
A smart thermostat is a thermostat equipped with Wi-Fi. Smart thermostats are compatible with devices that connect to the internet, from smartphones and tablets to digital assistants.
Your device acts as a remote control for your smart thermostat. This perk allows you to control your home's heating and cooling from anywhere with a Wi-Fi connection.
Premium smart thermostats "learn" about your home's energy usage, gathering information about your heating and cooling patterns. They can automatically adjust the thermostat to match your family's lifestyle, helping everyone stay comfortable while saving you money on utility bills.
Smart thermostat reviews
Say goodbye to the boxy, unattractive thermostats of years past. Smart thermostats are usually compact and touchscreen, offering serious comfort customization while looking sleek on your wall.
We've broken down our top smart thermostats, from underrated value picks to top-of-the-line learning models.
All prices are valid at the time of publication. As the market and seasonal demand fluctuate, prices are subject to change.
Best smart thermostat overall
Google Nest Learning Thermostat | $221.
Our top pick combines a user-friendly design with technology that outshines the competition. The Nest Learning Thermostat offers six finish options, so it looks great on almost any wall.
The display can show the temperature, time, or weather and is visible from up to 20 feet away. You can check your settings without getting off the couch.
After about a week of use, this thermostat will learn your family's heating and cooling preferences. It takes over, automatically adjusting to your preferences and patterns. Effortless comfort is the biggest perk of this model.
Bundle with up to six temperature sensors. These optional additions extend the thermostat's reach, so it can sense temperatures in other spaces and keep consistent airflow from room to room.
With Google Assistant and Amazon Alexa compatibility, you can control the Nest with your voice. This thermostat does not pair with Apple HomeKit, which means users of that smart home management system will have to find another option.
Buy on Amazon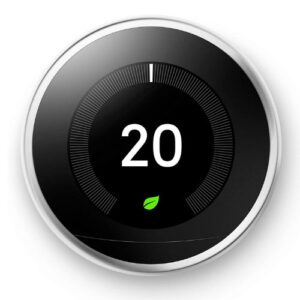 Best smart thermostat design
Google Nest Thermostat | $99.
This No. 1 Amazon best-seller didn't get there by chance. The Google Nest Thermostat is not learning, but the smart programmable thermostat has a sleek and modern circular design.
The Nest comes in four colors: snow, charcoal, fog, and sand. The sand color is a salmony pink, offering a creative option that's hard to find elsewhere.
The Nest's sleek display puts your temperature setting front and center for high visibility. This model suggests energy-saving tweaks for your HVAC system, potentially lowering your utility bills.
Pair this thermostat with an Amazon Echo for voice control. Although it lacks remote sensors and is not compatible with digital assistants, this aesthetically pleasing option works as well as it looks.
Buy on Amazon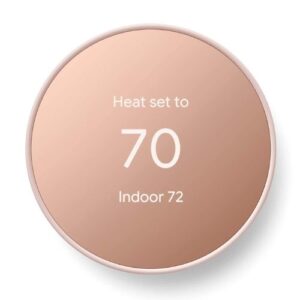 Best smart thermostat on a budget
Amazon Smart Thermostat | $59.99
This budget option doesn't skimp on style. The Amazon Smart Thermostat is made with Honeywell, a brand with a long-standing reputation for great thermostats.
The easy, DIY installation is a major plus. The Alexa app includes detailed step-by-step instructions for setup. Note that you'll either need a C-wire or a power adapter kit.
This budget model has one major shortcoming: it does not pair with smart sensors. It's also not compatible with any of Amazon's competitors. Apple Homekit, SmartThings, or Google Assistant users will need a different option.
Alexa can adjust the temperature settings if she senses your family is away or asleep, which is great for budget-conscious homeowners. Note that voice control for this model requires an Echo Dot or Echo Show.
Buy on Amazon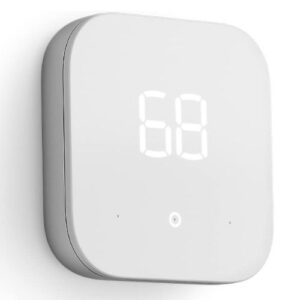 Best smart thermostat for compatibility
Ecobee Smart Thermostat | $249.
The Ecobee Smart Thermostat is a versatile, top-performing pick. This model comes with a power adapter kit, making it more compatible with older systems.
This glossy thermostat comes with one smart sensor. The Ecobee can pair with up to 32 sensors, making it the best smart thermostat for larger homes and drafty spaces.
The sensor goes in rooms that don't get enough TLC from your heating system. It communicates with the Ecobee, which automatically adjusts to keep indoor temperatures consistent throughout the home.
Its smart speaker separates this thermostat from the pack. With built-in Alexa compatibility, this Ecobee thermostat allows for voice controls without having to buy an Echo speaker.
This versatile pick also pairs with Apple HomeKit, Google Assistant, SmartThings, and IFTTT. The Ecobee even plays music, making it an attractive option for homeowners who like to entertain.
Buy on Amazon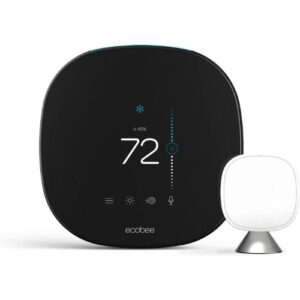 Best smart thermostat without a C-wire
Emerson Sensi Smart Thermostat | $116.15
For hassle-free installation and wide compatibility, try the Emerson Sensi. This is far from the most attractive option on our list, but it doesn't require a C-wire in most applications.
This pick looks like a traditional thermostat, but it packs in more advanced features. The on-screen humidity display and Sensi app controls put you in the driver's seat of your home comfort. Emerson even offers a video tutorial for DIY setup.
Another perk? This option is compatible with Alexa, Google Assistant, Apple HomeKit, and SmartThings. The Sensi doesn't have remote sensors, but it's a solid option that won't tank your energy ratings or break the bank.
Buy on Amazon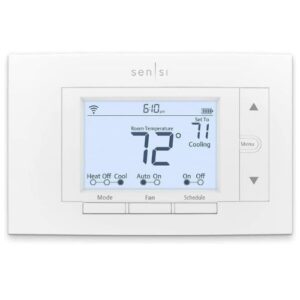 Comparing the best smart thermostats
Home automation compatibility
Requires C-wire
Uses room sensors
Price
Google Nest Learning Thermostat
Amazon Alexa
Google Assistant
✅
✅
$221.
Google Nest Thermostat
❌
✅
❌
$99.
Amazon Smart Thermostat
Amazon Alexa
Apple HomeKit
Google Assistant
SmartThings
✅
❌
$59.99
Ecobee Smart Thermostat
Apple HomeKit
Google Assistant
SmartThings
❌
✅
$249.
Emerson Sensi Smart Thermostat
Amazon Alexa
Apple HomeKit
Google Assistant
SmartThings
✅
❌
$116.15
Smart thermostat installation
DIY installation is possible with most smart thermostats. Many brands include step-by-step guides or video tutorials for easy installation. You usually need a power drill, a drill bit, and a level.
However, we wouldn't call smart thermostat installation a foolproof process. Improper installation can damage your thermostat or your entire system.
If you're concerned about adding or connecting thermostat wires, connect with a local HVAC professional. It's a quick and easy project that's on the less expensive side.
Professional installation usually takes less than 2 hours. Labor rates for smart thermostat installation range $65-100 per hour, according to Angi.
Help me install my new thermostat!
What is a smart thermostat C-wire?
A C-wire, short for a common wire, supplies the additional power needed for a smart thermostat's advanced functions, including Wi-Fi connectivity and LED displays.
What if I don't have a C-wire?
Not all HVAC systems have an outlet for the C-wire. Older heating and cooling systems don't usually have one, as older thermostat models needed less power to operate.
If you can't find a C-wire outlet on your furnace or air conditioner, don't fret. Some smart thermostats ship with a power extender kit or allow you to bypass wiring altogether for wider compatibility.
It's important to note that forgoing a C-wire is not always the most reliable option. Advanced smart thermostats, like the Nest Learning Thermostat, can drain your power supply and lower your system's energy efficiency.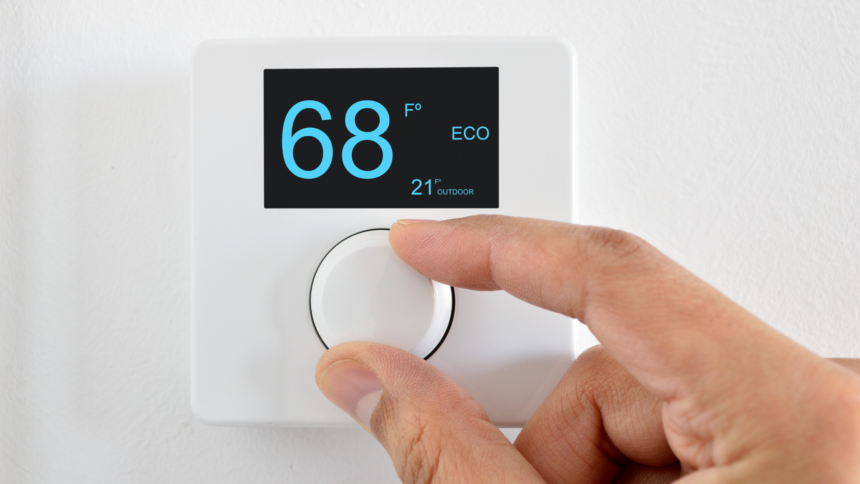 Testing a smart thermostat
Every smart thermostat has slightly different setup, testing, and troubleshooting instructions. We've included the testing guides for every product on our best-of list below.
Smart thermostats: the final word
Smart thermostats keep you tuned in to your home comfort via Wi-Fi. They can self-adjust to your temperature preferences, connect to voice controls, and help you save energy.
The convenience and ease of smart thermostats explain why they've exploded in popularity. If you're on the fence, double-check with an HVAC professional to make sure your smart thermostat is compatible with your existing HVAC system.
Connect me with an HVAC pro now!