4 best casement window air conditioners and installation steps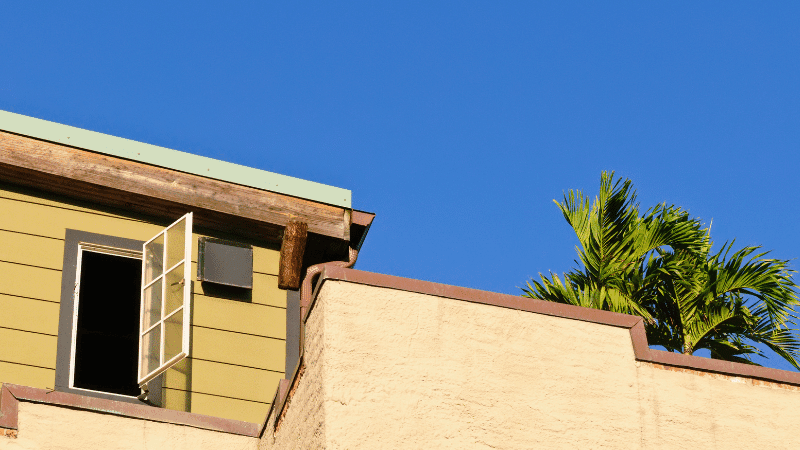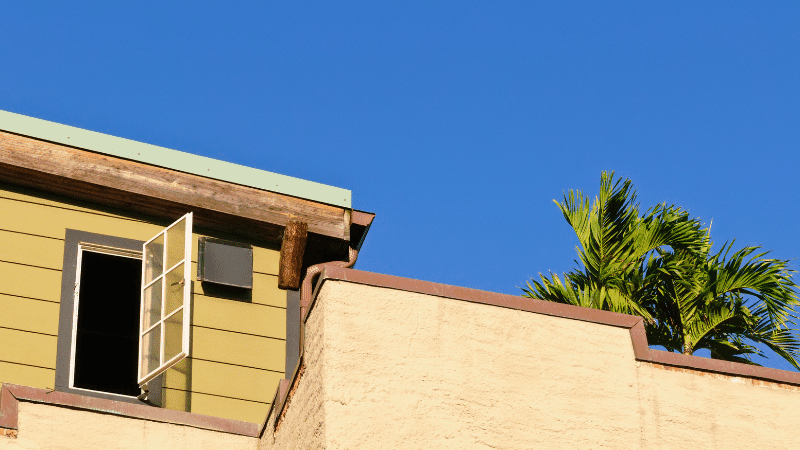 If you need to cool a space that has casement windows, this list is for you! Our vetted list of best casement window air conditioners will bring a breeze of fresh air.
Many reputable brands manufacture casement window air conditioners designed especially for hinged windows. In general, these specialized ACs stand vertically (as opposed to traditional window ACs that are horizontal in design).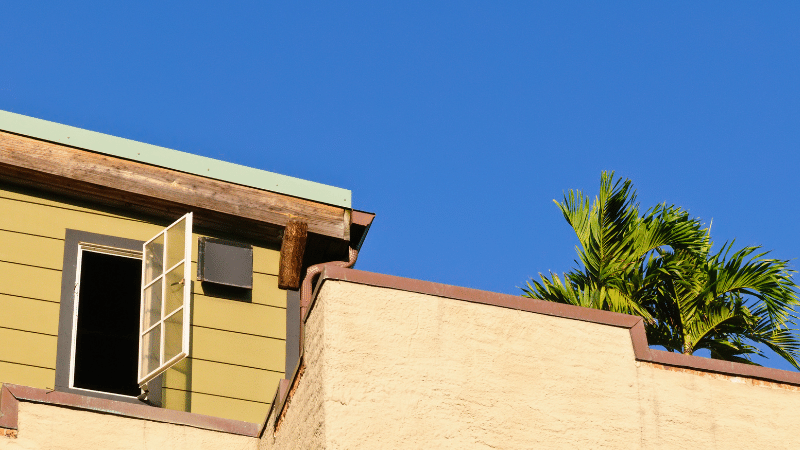 What is a casement window?
A casement window opens to the right or left via a hinge, similar to a door. They are occasionally called crank windows, because you must turn a handle that cranks the window open.
Casement window ACs usually come equipped with a window air conditioner installation kit that enables mounting. Traditional window ACs use the window sash for stability. Since casement windows don't have a sash, they require a more involved installation process.
Following, we'll share our top casement window air conditioner picks. After that, we'll detail the steps for installation.
Best casement window air conditioners
The best casement window air conditioners
Before you start shopping for a casement window air conditioner, calculate what size you need. ACs use the measurement British Thermal Units (BTUs) to signify a unit's power. 
A good rule of thumb is to multiply the square footage of your space by 20 to determine how many BTUs your AC requires. For example, a 400-square-foot room needs an AC with at least 8,000 BTUs to cool it.
| Space size | Size AC required |
| --- | --- |
| Up to 250 square feet | 5,000 BTU casement window air conditioner |
| Up to 400 square feet | 8,000 BTU casement window air conditioner |
| Up to 500 square feet | 10,000 BTU casement window air conditioner |
| Up to 600 square feet | 12,000 BTU casement window air conditioner |
| Up to 700 square feet | 14,000 BTU casement window air conditioner |
Many of our top picks come with varied options for BTU. Make sure you select the correct BTU output when you place your order. 
Best overall casement window air conditioner
Frigidaire FFRS line
The Frigidaire FFRS casement window AC is not only our favorite but the most affordable of our picks. We love that it has adjustable side panels so you can make it fit your window perfectly. 
It operates quietly at 48.4 decibels – about the volume of a soft conversation in a library. And you can control it via remote. So, this window AC is perfect for literally chilling out at home!
We also like the cooling options the Frigidaire FFRS line offers. You can use its 24-hour timer and sleep mode to automatically change the temperature. These features also help conserve energy.
The washable air filter is another plus. You can maintain healthy air quality and save money on filter replacements.
This Frigidaire casement window air conditioner is available on Amazon in 6,000-, 8,000-, 25,000-, and 28,000-BTU models. It's ideal for both small and large spaces.
Buy on Amazon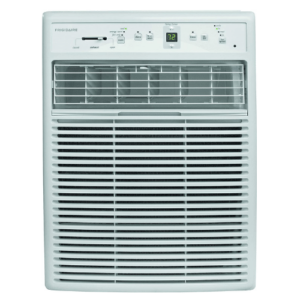 Easiest installation
Keystone slider casement window AC
Keystone's casement window air conditioner weights about half of the other models on our list at 34 lbs. If you'll be installing the AC yourself or have concerns about your window supporting 70-ish pounds, this model is for you. 
We like that this Keystone allows you to control the airflow direction for ultimate comfort. Additionally, it has three fan speeds plus dehumidifier and sleep settings. Its dust filter is helpful for allergy sufferers.
This model only comes in a 10,000 BTU version. So, if your room is significantly larger or smaller than 500 square feet, the Keystone casement window air conditioner won't work for you.
Buy on Amazon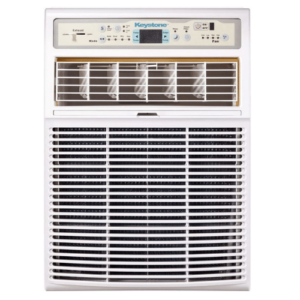 Best features
Koldfront CAC line 
The Koldfront CAC line of air conditioners comes with an impressive array of features to enhance your comfort. We appreciate the built-in dehumidifier and three fan modes for the perfect breeze. 
Though many casement ACs require you to purchase a separate window air conditioner installation kit, the Koldfront CAC has everything you need. This includes a weatherproof cover to seal any open portions of your window.
Koldfront's CAC models are decently energy-efficient. They feature a digital temperature display and remote control. We think this is a solid AC, but many users report it runs louder than expected.
The Koldfront CAC line is available on Amazon in 8,000- and 10,000-BTU models, ideal for spaces between 250 and 500 square feet.
Buy on Amazon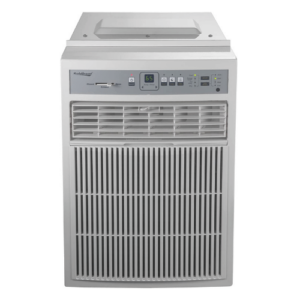 Best energy efficiency
Perfectaire PASC 
Perfectaire offers many window AC options, but this is its sole model designed specifically for casement windows. It's only available in a 10,000 BTU version.
What we like best about this system is its Seasonal Energy Efficiency (SEER) rating of 13, higher than the other casement window air conditioners on our list. Its Eco Mode automatically turns the AC on when the temperature exceeds your set limit.
If you live in an extremely hot climate (e.g., the Arizona desert), the Perfectaire PASC may not be powerful enough to cool your space. In more temperate regions, it will get the job done. 
This is not the quietest window AC we've reviewed, so choose another option if you're cooling your bedroom.
Buy on Amazon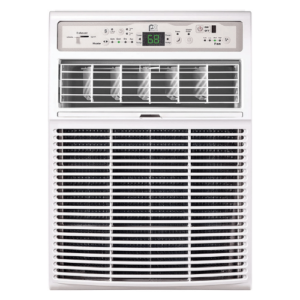 Another AC option for casement windows
If having to lift and install a casement window air conditioner seems like too much work for you, there's another option: purchase a portable air conditioner and a venting kit for vertical windows (this one's our favorite). 
Most portable ACs come pre-assembled and easily roll into place right out of the box. Window venting kits are simple to install and customize for your window size. This solution obscures less of your window and is more aesthetically pleasing from the outside of your home.
If this sounds like a better match for you, check out our full guide to the best portable air conditioners. 
How to install a casement window air conditioner
Note that except for the Keystone AC we reviewed above, most casement window air conditioners weigh about 70 lbs. You'll probably need to enlist the help of a friend to lift your AC into your window. 
If your unit doesn't come with a window air conditioner installation kit, make sure you purchase one separately. These typically include a mounting bracket and window seals.
Review the instructions before you get started. Gather all the necessary tools beforehand, which may include a screwdriver, measuring tape, and a ladder.
Step 1: Install a support
Seventy pounds is a lot of weight for your window sill to carry. A bracketed mount will help distribute the load.
Follow the instructions for your support bracket. It will screw into the side of your home. You may have to set up a ladder outdoors if you can't reach from inside the window.
If your crank mechanism or hinge is in the way, take it apart and remove it. Put it somewhere safe to reinstall it once the weather cools down, and you want to take the AC out.
Step 2 : Position the AC
Once the support is ready, lift the air conditioner into place, resting it on the bracketed mount. Make sure the AC is flush with the window frame.
Close the window on the other side of the AC as far as you can. If you have a sliding window, position the window sash in the slot for it on the side of the AC.
Step 3: Seal the window
Follow the directions on your window AC installation kit to cover the gaps left in your window. The panels used to do this usually match the color of the AC unit.
Alternatively, visit a hardware store and have a piece of plexiglass cut to size. This will fit above the casement window air conditioner, so you keep some visibility from the top of your window.
Though installing a casement window air conditioner is generally a DIY job, you can pay an HVAC expert to help set you up. The job should be fairly inexpensive compared to the cost of installing a central AC. 
Help me install my new air conditioner!
The bottom line on casement window air conditioners
Casement window air conditioners can help you cool rooms with narrow windows, whether they crank open or slide. Using our chart above, choose one with the right BTU for your square footage. 
There are some effective and affordable casement window air conditioning units on Amazon. Our favorites have good energy efficiency and run quietly.
Casement window AC installation is something you can do yourself if you choose a smaller device. For units that way around 70 pounds, we recommend you ask a friend to help you lift the unit into your window. 
Connect me with a local AC expert!