Goodman AC troubleshooting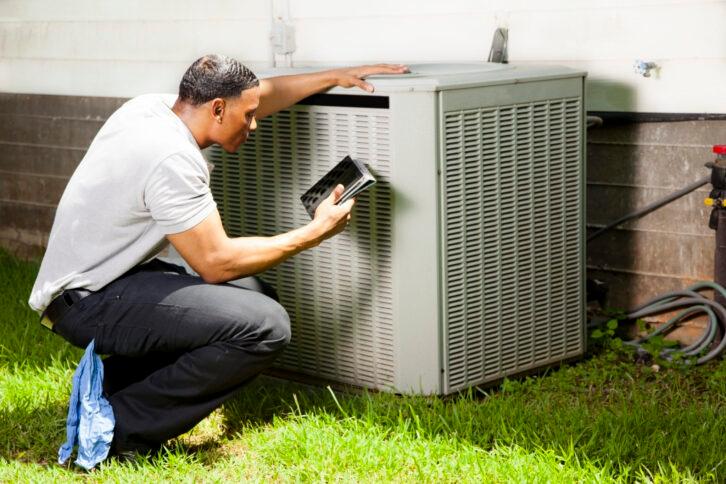 Having Goodman air conditioner problems? Before you call in a pro, give these tips a try. You may be able to solve the issue with some Goodman AC troubleshooting.
Goodman air conditioner isn't turning on
If your Goodman air conditioner isn't turning on, check your fuse box or circuit breaker. Reset the circuit or fix the blown fuse if warranted.
Next, try resetting your AC. Your unit should have a reset button in a visible location. If you can't find it, refer to your owner's manual.
If those things don't work, call a local HVAC pro or click on the banner below. Your issue may have to do with the power running to your AC or thermostat.
Book an inspection with a local HVAC pro
Goodman air conditioner has weak airflow
First, change your air filter. This is the solution to many Goodman air conditioner problems. You should change your air filters regularly so they don't get clogged with dust and dirt. Check out our video explaining how to do this yourself.
Next, make sure your air registers are open. The louvers should be in the open position. They shouldn't be blocked by furniture or household clutter.
If that doesn't improve the airflow, check for clogged or leaky ducts. You can do this by removing the vent covers and looking inside the ducts with a flashlight. Remove any debris you can reach. You may consider contacting a company that specializes in air duct cleaning and maintenance.
Finally, check for a frozen evaporator coil. Turn the power off and remove the cover of your compressor. You may see frozen components or water dripping within the unit. This isn't a DIY fix, but at least you've pinpointed the issue for your HVAC technician.
Goodman air conditioner isn't blowing cold air
Take a look at your thermostat. It should be on "cool" and "auto." If you choose "on" instead of "auto," your fan will run even when it's not actively cooling.
Check your air filter. If it's dirty and dusty, replace it with a new one.
Make sure your vents are clear and open. Move furniture, decor, or other items that are in the way. Ensure most of the louvers are open.
If these tips don't solve your Goodman air conditioner problem, you may need to call a pro. You could have a broken evaporator coil or condenser, or a refrigerant leak. These issues should be addressed by a certified technician.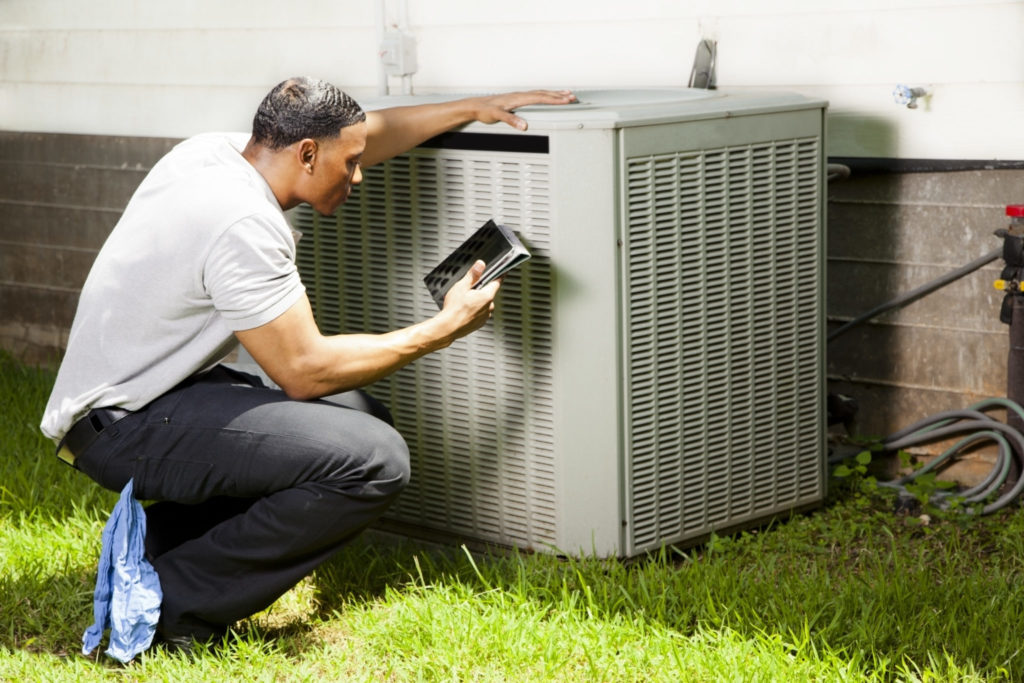 Goodman air conditioner is leaking
It's normal for your air conditioner to create some condensation. In fact, your condenser likely has a drain pan underneath to collect droplets. But if your drain pan is overflowing and you notice water around the unit, you may have a problem.
First, check your air filter. Dirt and dust from the filter may be causing a blockage. Replace it if necessary.
If you see water around your AC, turn off the power to the unit. Electricity plus water is a bad combo. Use an old towel or a shop vac to clean the drain pan.
You may have a clog in your drain line. If you're able to open your drain line, you can use a garden hose to flush it out. Let the water run through for a few minutes. Alternatively, you can connect a shop vac to the drain line and try to suck out any mold or debris blockages.
If these Goodman AC troubleshooting tips don't do the trick, you'll need to contact a local HVAC tech.
Goodman AC error codes and documentation
Your Goodman AC may display an error code to give you a clue about what's wrong. If you own a gas furnace and AC combination, then the LED will be on the furnace board inside the home. If your system is a package unit, then the LED will be on a board in the electrical compartment.
Goodman has an AC error code tool on its site where you can look up error codes for your specific model. Even if it's not something you can fix yourself, knowing the meaning of an error code is important.
Jot down the error code before you restart the system. When you schedule an appointment with a technician, share the code with them. That way, they can bring the right equipment and allot the correct amount of time for a fix.
We've provided links below to the owner's manuals for Goodman's current line of furnaces. These may provide more Goodman furnace troubleshooting ideas. They may also help you identify parts while you're troubleshooting.
Contact a local Goodman pro for help
Goodman air conditioner owner's manual
If you need help identifying a part, check out this roundup of product documentation for Goodman ACs. They may also give you additional troubleshooting ideas.
If you don't see your model listed below, you can find product information here.
When to call a pro for Goodman air conditioner problems
Call a professional if you've tried our Goodman AC troubleshooting tips and your system still isn't working. Or, if you're uncomfortable conducting any of the tasks above, a technician can do them for you.