When do I turn the heat on in Charlotte?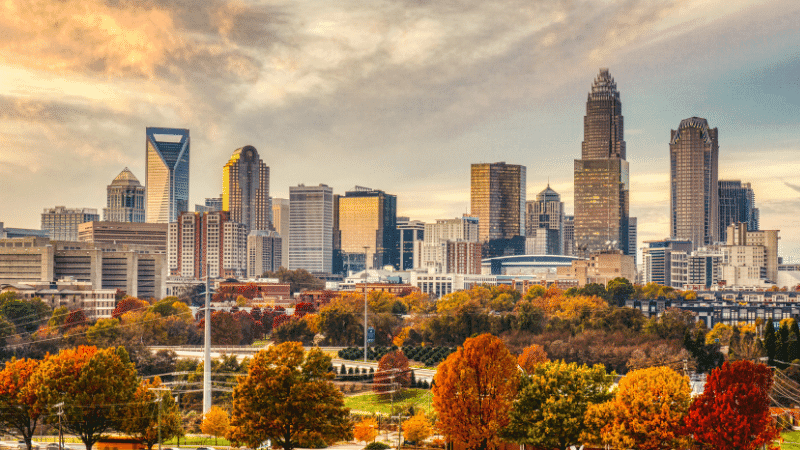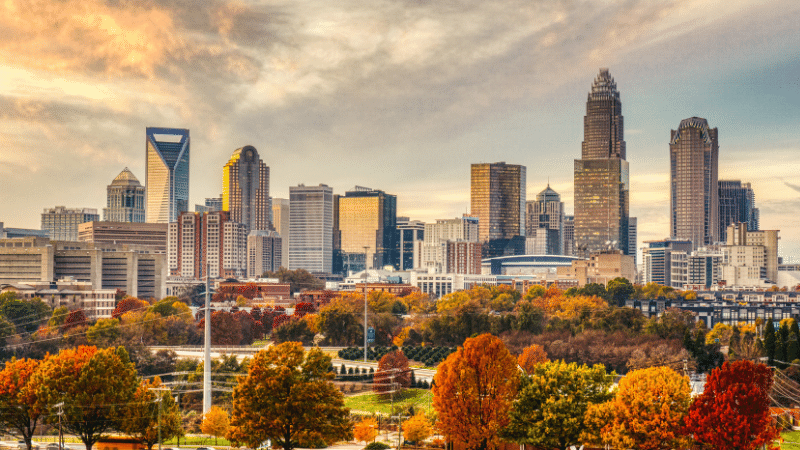 Wondering when to turn your heat on in Charlotte? We recommend turning it on before your indoor temperature drops below 68℉. Usually, this happens around October 15.
Want more heating tips to keep your Charlotte home cozy this winter? We've got you covered below!
Get heating advice from a pro. Schedule an appointment with one of our technicians.
The ideal indoor temperature
According to the World Health Organization (WHO), your indoor temperature should be 64-75℉. If your home includes infants, older adults, or individuals with health problems, you should keep the temperature above 68℉.
You can often set your thermostat to automatically switch to heat when the temperature is colder than 64℉.
When does it get cold in Charlotte?
Generally, your indoor temperature naturally ranges 10-15 degrees above the outdoor temperature in the fall and winter. That means it will be about 58℉ outside when your home gets to 68℉ inside.
According to the National Weather Service, low temperatures in Charlotte begin to reach the 50s in mid-October. We suggest turning your heat on around that time. 
Of course, in Charlotte, fall temperatures can vary widely. One day you're in a coat, and the next, a tank top. Plus, humidity can still be uncomfortable through October.
You may be tempted to switch back and forth between heat and AC as the weather changes.
Is it bad to alternate between heat and AC?
Switching between the heat and air conditioning is OK as long as you do it slowly.
You should always set your thermostat to "auto" rather than "on." If it is cycling (actively blowing hot or cold air), allow it to complete the cycle before making any adjustments.
When the cycle is complete, turn your thermostat to "off," and wait five minutes. Then turn it back on, and choose whichever setting you need: "heat" or "cool."
Set your thermostat to "auto" and choose the temperature at which you're most comfortable.
What temperature is too cold to run your AC?
While switching between heat and air conditioning in the early fall is safe, we don't recommend doing this once winter sets in.
When the outdoor temperature is below 60℉, running your AC might cause damage to the outdoor components.
However, if you have a heat pump designed to both heat and cool your home, you can safely run the unit throughout the winter. 
Recommended thermostat settings for fall and winter in Charlotte
We think 68℉ is the ideal indoor temperature for Charlotte winters. It strikes a good balance between comfort and energy efficiency. 
When you're asleep or away, we suggest lowering the temperature to 64℉ (as long as you don't have medically fragile individuals in your home). You can do this manually or automate this setting on a smart thermostat. 
How to prep your home for cold weather in Charlotte
Keep your home at a consistently comfortable temperature by following these steps.
| | |
| --- | --- |
| 🗓️ Schedule furnace maintenance | It's important to book an annual furnace tuneup to keep your heating system running efficiently.  |
| 🧹 Clean your ductwork | Ensure your ductwork is clean and free of blockages. Follow our DIY duct cleaning instructions.  |
| 🚪 Seal windows and doors | Air leaks can make your home colder. They cause your furnace to work overtime. Seal them with weatherstripping. |
| 🌡️ Turn on your heat before you're cold | If you wait until your home is uncomfortably cold to turn on the heat, it may have difficulty keeping up. |
| 🍁 Clear your furnace flue | Remove fallen leaves and other debris from your furnace flue.  |
| 🎄 Don't block your vents | Move seasonal decor, furniture, and other clutter away from your air vents. Open the louvers. |
Keep your heater working all winter long. Schedule routine annual maintenance now.
When to turn the heat on in Charlotte
Trust your gut when it comes to turning on the heat in your home. If you're cold, just do it!
If you need a guide to point the way, we recommend setting your thermostat to "auto," "heat," and 68℉ on or around October 15.