How much does it cost to install a heat pump?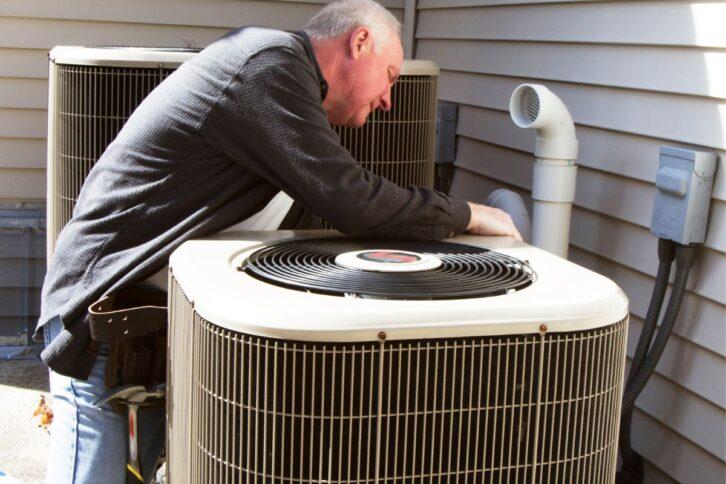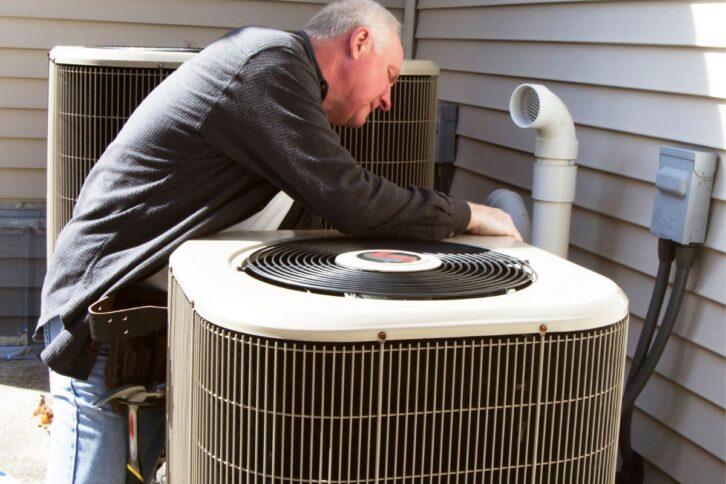 A heat pump is a flexible, customizable option for cooling and heating your home. While heat pump installation can be expensive, the system is energy-efficient enough to promote lower utility bills within months.
Explore how unit size, ductwork and other factors contribute to heat pump cost. Already sold on a heat pump? Learn what to expect from your HVAC contractor before, during and after heat pump installation.
What is a heat pump?
A heat pump is an energy-efficient heating and cooling system that uses a refrigerant cycle to transfer thermal energy from one space to another. Unlike furnaces and other traditional heating systems, and contrary to its name, a heat pump doesn't generate heat.
A heat pump system transfers warm thermal energy from one space to another, making indoor air more comfortable. Much like an air conditioner, a heat pump helps cool your home in the summer and add warmth in the winter.
Want more details on how heat pumps work? Browse our heat pump page .
Heat pump installation cost
The cost to install a heat pump depends on the type you want to install. The Inflation Reduction Act makes it possible for many homes to complete the heat pump installation process nearly cost-free. Heat pump pricing is below for the different models.
Air source heat pump installation cost
As the name suggests, air source heat pumps extract heat from outdoor air. Central heat pumps cost about $2,000 to $5,500 for the unit itself. Central air source heat pump installation starts at about $4,500 but can cost as much as $20,000 if your ductwork needs major repair.
A ductless heat pump is ideal for homes without ductwork. Ductless, or mini split, heat pump installation costs about $1,300-$2,000 per indoor unit. Multi-zone ductless units can cost $8,000 or more to install.
Geothermal heat pump installation cost
Geothermal heat pumps extract heat from the ground, about six feet below the Earth's surface. The unit itself costs about $3,000 for smaller central systems and up to $6,000 for units supporting larger spaces.
Geothermal heat pump installation starts at about $6,000, but may cost $20,000 or more. The intense installation process, which we describe below, factors into the high price.
Solar heat pump installation cost
Solar heat pumps turn the sun's energy into fuel. A solar heat pump costs about $18,000 to $34,000 to install, depending on the cost of solar panels and the unit size.
What factors impact heat pump cost?
Heat pumps are a great option for milder climates, but they aren't a one-size-fits-all heating and cooling solution. Some models will operate below expected efficiency or shut down when it's too cold outside.
Decide if a heat pump system is right for your home.
Climate
In areas with mild winters, air source heat pump systems can provide the heating you need. Backup heating systems generally aren't needed in regions like the Southeast U.S.
We don't recommend air source heat pumps as a standalone heat source in cold climates. Air source heat pumps only run efficiently when outdoor temperatures are above freezing.
Cold climate dwellers should consider installing a backup system, which takes over when temperatures reach freezing. Furnaces and hybrid dual-fuel systems are popular options.
Your heating technician can install controls that automatically shut down the heat pump when temperatures drop below freezing. The controls will call for the furnace to come on, providing efficient heat.
Geothermal heat pump systems are better suited for freezing winters. Even when air freezes, the ground retains enough heat to warm your home as desired.
Ductwork
If your home already has ductwork, you can likely reuse it for heat pump installation. We recommend checking your ductwork for leaks and cracks if you can safely do so.
Installing new ductwork costs about $4,000. If you do not already have ductwork installed in your home, the added expense may make a traditional heat pump cost-ineffective.
A ductless heat pump is a cost-effective alternative to traditional heat pumps. The indoor unit is mounted to the wall of one or more rooms and connects to an outdoor unit.
Ductless heat pumps are a great choice for customized, zoned cooling. Since each zone has a separate air handler, you can independently adjust the temperature and humidity of each room.
The customizable controls make ductless heat pumps a great fit in many applications.
🏠Homes with old ductwork (or none at all)
☀️Add-on spaces, such as sunrooms and bonus rooms
🌡️Housemates who disagree on thermostat settings
Unit size
Heat pump capacity is measured in tons. Most units range from 1 to 5 tons. When comparing two units from the same brand, high-capacity units tend to be more expensive than low-capacity units.
Always have a heating and cooling professional size your heat pump. Purchasing a unit based on square footage alone may leave you with an inefficient system. For example, a 1,600 square foot home in Tampa, FL may call for a 3.5 ton heat pump, but the same size home in Burlington, VT, may call for a less powerful unit.
Unit brand
Elite HVAC manufacturers, such as Trane, Carrier and Lennox, tend to charge the most for central heat pumps. Daikin and Mitsubishi are leaders in ductless heat pump technology.
Ultimately, the contractor you choose will have the biggest impact on the unit cost. Some contractors are affiliated with multiple manufacturers, while others have an exclusive deal to sell one HVAC manufacturer's products.
Ask for three or more quotes in writing before choosing a contractor for the heat pump installation.
Heat pump installation: what to expect
Before installing a new heat pump, a contractor will inspect your property. The contractor will note the size of your home and ductwork (if you have it) and discuss your heating needs to find the right heat pump type and capacity.
Some contractors will book the inspection and installation as two separate appointments. Others combine both into a single appointment, moving straight from the inspection into the installation.
Step 1️⃣: Disconnect the circuit breaker before disassembling the indoor unit (air handler).
Step 2️⃣: Cut the wires and lines attached to the indoor unit.
Step 3️⃣: The contractor will repeat the process with the outdoor unit (condensing unit). They may not disassemble the outdoor unit.
After removing the outdoor unit, they'll start the process of installing the new unit.
Air source heat pump installation
Contractors usually install the indoor unit first. If you're getting a ducted (central) system installed, the contractor will find your ductwork and connect the indoor unit to the ducts.
For ductless heat pump installation, the contractor will tack a mounting plate onto the wall and attach the indoor unit to the mounting plate. They'll repeat this step in other rooms if you chose a multi split, or zoned, system.
The contractor will have to drill a hole in your wall. The hole creates an access point, where the indoor and outdoor units connect through wires.
Next up is mounting the outdoor unit. Ducted outdoor units are usually placed on top of a level, concrete slab. Ductless units are smaller, so they often mount to the exterior of your home. If you live in a snowy climate, ask the installer to place the heat pump a few feet above ground.
Once both units are mounted, the contractor connects the two with refrigerant and condensate lines. Insulating the wires and attaching any loose wires to the exterior side of your home completes the installation.
Air source heat pumps are worth considering if you…
✅Have limited yard space
✅Don't mind noise outside
✅Value budget and efficiency
Geothermal heat pump installation
Geothermal heat pumps require digging a trench in your backyard. The trench should be at least six feet deep and away from buried water or electrical lines.
The contractor will mold plastic pipes into a series of horizontal loops, or rings. They chain the loops together with zip ties.
Next, they lay the loops into the trench. The contractor connects the loops to a manifold, a plastic bar that's connected directly to the heat pump unit.
The heat pump unit is installed inside the home, usually in a basement or garage.Geothermal heat pumps are worth considering if you…
✅Have a big backyard or a large plot of land
✅Value energy-efficiency
✅Don't plan to move or want to increase your home's value
Solar heat pump installation
Solar panels can integrate into an air source or geothermal heat pump system. The process of installing the heat pump itself is the same. It just adds an extra step, where the contractor attaches solar panels to your roof.
Flat plate collectors are most commonly used for this application. The 4' X 8' slabs collect heat and transfer it to the outdoor unit. However, they work best in direct sunlight.
If you're in a gloomier climate, ask your installer about thermodynamic or hybrid solar panels. Both models perform better in cold and cloudy climates.
Solar heat pumps are worth considering if you…
✅Value renewable energy
✅Want lower utility bills
✅Don't mind having panels on your roof
Can I install a heat pump myself?
We suggest hiring a licensed HVAC contractor for any central heat pump installation. A heat pump will not perform at its expected energy-efficiency if it's not installed properly.
A heat pump should also be appropriately sized for your square footage, heating and cooling needs. An HVAC professional can complete an ACCA Manual J calculation and determine the right heat pump capacity for your space.
If you buy a ductless heat pump from a wholesale retailer like Amazon, you can mount the indoor and outdoor unit yourself. A contractor will still need to secure the refrigerant lines, since handling refrigerant requires an EPA certification.
Can I repair a heat pump myself?
Possibly, depending on which part needs repair. Our troubleshooting guide offers simple DIY solutions for common issues heat pump owners face.