Levoit Humidifiers – Reviews and Ratings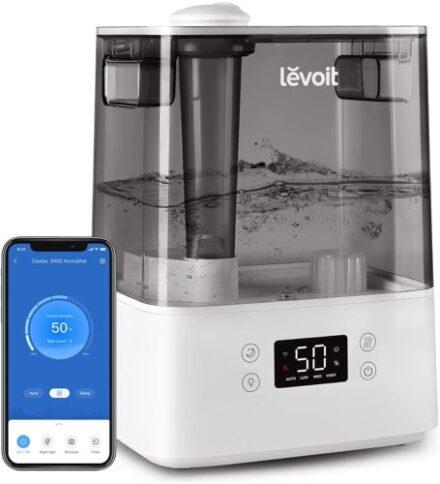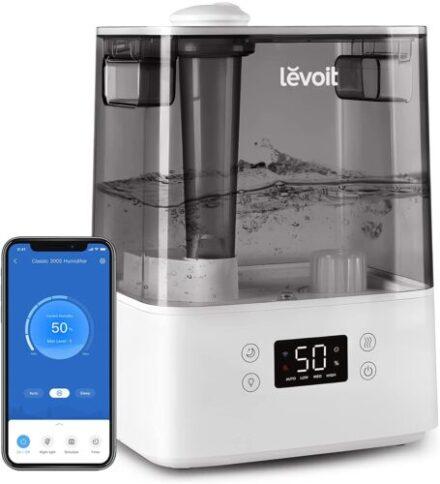 Dry indoor air can take a toll on you and your home. Whether you've got cracked hands or cracks in your walls, a Levoit humidifier can bring moisture back into your space.
Let's dive into our review of Levoit humidifiers. Read more to learn which of its most popular products are worth the money.
Does Levoit make good humidifiers?
Levoit is a California-based air treatment brand founded in 2017. Despite its newcomer status, it's become a top-selling brand with a solid reputation to match.
Levoit specializes in air purifiers and humidifiers. Some competing brands take a jack-of-all-trades approach to their product lineup, but Levoit values quality over quantity.
As of publication, all of Levoit's humidifier options are portable. Levoit may have limited offerings, but each model's high quality holds its own against the competition.
Levoit humidifier series
Choosing the best humidifier for your space will largely depend on the size of the room and your preferred budget. Levoit offers a range of products, classified below:
| Series | Price | Max. Square footage |
| --- | --- | --- |
| Classic | $24.99-69.99 | 32-505 |
| Dual | $54.99-59.99 | 250-290 |
| LV | $89.99 | 753 |
The Classic series has the widest selection, ranging from a personal humidifier to one made for a 505 square foot room. All the Classic Levoit humidifiers are ultrasonic cool mist models.
Ultrasonic models are filterless. Because they have no filter, they catch more bacteria and minerals than evaporative humidifiers.
One potential challenge with ultrasonic humidifiers is the distribution of white dust. The minerals in normal tap water are dispersed into the air during the humidifying process. When those water droplets dry, the minerals can leave behind a white substance.
White dust from an ultrasonic humidifier is normal, but may create problems for those who battle asthma or allergies. To avoid the white dust problem:
Fill your humidifier with filtered or distilled water.
Clean your device with distilled vinegar and water at least once a week.
The Dual models double as humidifiers and diffusers. You can put essential oils directly in the water tank for a boost of fresh scent. Other Levoit humidifiers are aromatherapy-friendly, but they have separate oil trays and aroma pads.
The lone LV model is a hybrid. This tech-heavy Levoit humidifier can give you cool or warm mist at a sub-$100 price tag.
Levoit's models have a sleek look and top-notch features for the price. At first glance, you may be surprised that it's a value brand.
Finally, Levoit values silence. Even on the highest settings, the brand's humidifiers max out at 30 dB. This means your humidifier won't get louder than background noise in a library.
Levoit humidifier reviews
Let's look at the pros and cons behind four of Levoit's most popular humidifiers. We'll help you decide which Levoit humidifier is the best fit for you.
All prices are valid at the time of publication.
Best-Selling Hybrid Humidifier
LV600HH Hybrid Ultrasonic Humidifier | $89.99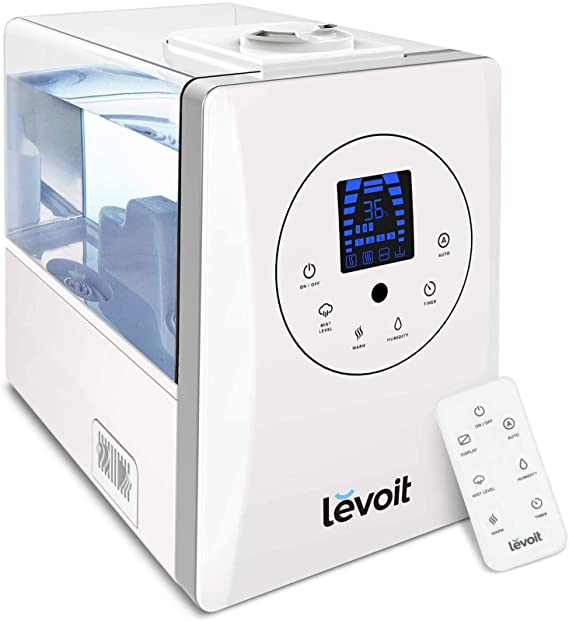 Enhance your large space with a Levoit ultrasonic humidifier that offers cool and warm mist. The LV600HH is the best of both worlds, properly humidifying up to 753 square feet.
At 11 inches tall, the LV600HH will be seen but can be easily pushed into an indiscreet spot. It can be purchased in black or white and is in a rectangular shape with a clear water tank.
This model brings you two products in one for less than $100. Its bells and whistles seal the deal, offering you unmatched customizability for the price.
The LV600HH comes with a remote control. Change the settings without having to get out of bed or off the couch.
The 1.5-gallon tank can run up to 36 hours between refills. With a wide tank opening and an included brush, cleaning the LV600HH won't swallow up your free time.
You can set your humidifier's run time for 1 to 12 hours. With auto mode, the LV600HH's built-in sensor can detect humidity levels and adjust in real time.
In an hour, this humidifier can fill a 24-by-30 foot room with:
300 mL of cool mist
500 mL of warm mist
If allergies throw a dent in your sleep schedule, you needed this humidifier yesterday. The LCD display can be turned off, helping you sleep soundly. Plus, the sub-30 dB volume level means no whirring or bubbling sounds will keep you awake.
Though the LV600HH is convenient and chock full of features, this model has some drawbacks. For one, you have to flip over the water tank to mount it on the base. Not a deal breaker, but we prefer a top fill to prevent spills and leaks.
As with any ultrasonic model, it's ideal to use distilled or filtered water to prevent white dust in your living area.
This humidifier has a high electricity output at 280 Watts. Most humidifiers put out 30 to 50 Watts by comparison. If you're concerned with long-term costs, there are more affordable options on the market.
No humidifier is perfect, but the LV600HH is a standout in its price range. It gives you hot and cold mist, with cutting-edge features that serve a functional purpose.
Plus, its attractive look means it'll fit right into the swankiest of spaces. If you've got a big room, the LV600HH is your best bet.
Best-selling Smart Humidifier
Classic 300S Smart Ultrasonic Top Fill Cool Mist Humidifier | $58.06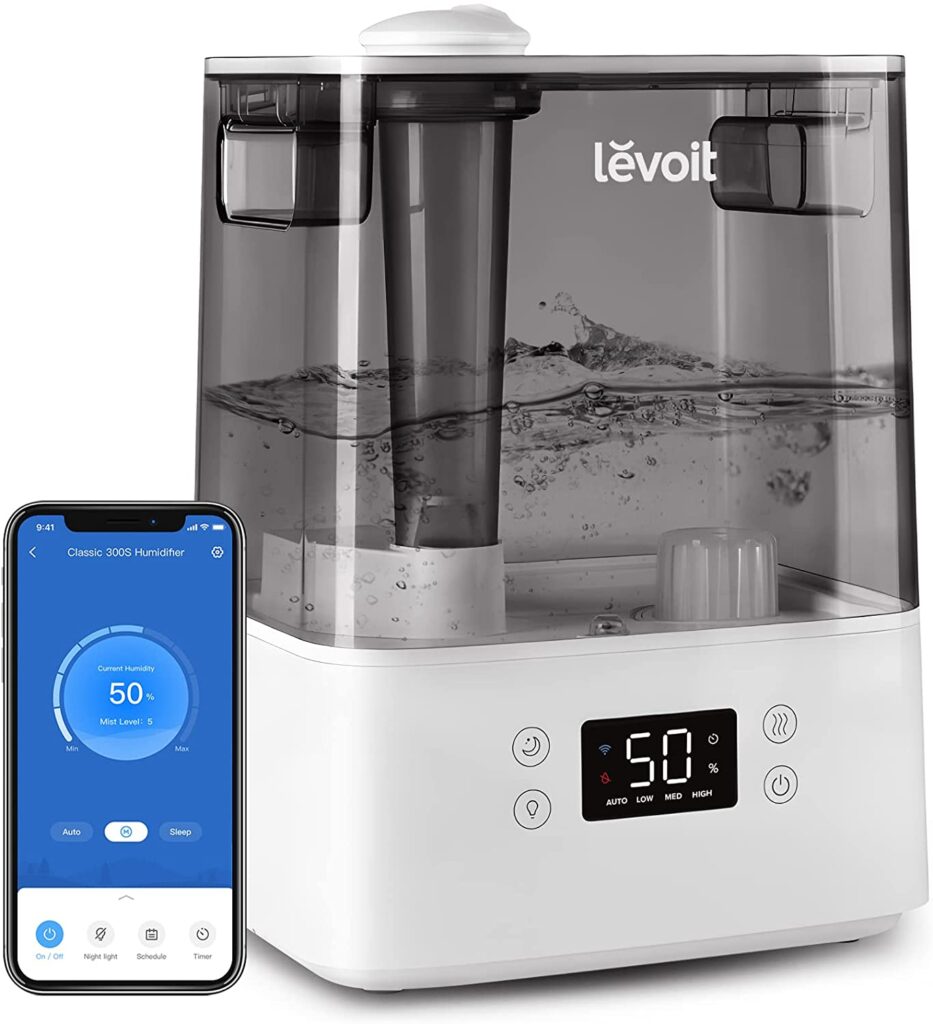 For a tech-friendly pick at an affordable price, look no further than the Levoit Classic 300S. It works with the VeSync Smart Home app, turning your smartphone into a remote control.
With VeSync, you can set schedules and timers for your humidifier. You can also sync up voice control with Amazon Alexa or Google Assistant.
The Classic 300S has three mist levels (high, medium, or low). The 360-degree nozzle is adjustable, so you can change the direction of the mist.
This humidifier's 1.5-gallon tank can last an impressive 60 hours between refills.
The top fill design makes refills easy with the Classic 300S. Plus, the included cleaning brush makes weekly cleaning less headache-inducing.
The night light settings make this humidifier ideal for a child's room or nursery. You can set the LCD display to 50%, 100%, or off. Plus, the backside of the humidifier base has a built-in aroma pad. You can drop essential oils onto the pad for a boost of comfort.
Comparatively, other aromatherapy-friendly humidifiers start upwards of $100, and offer unpadded essential oil trays that quickly build up bacteria. When you order the Classic 300S, you'll get one pre-installed aroma pad and two replacements. Levoit doesn't sell replacement pads, but you can get them through <a href="http://<a target="_blank" href="https://www.amazon.com/gp/product/B07D6TQKPL/ref=as_li_tl?ie=UTF8&camp=1789&creative=9325&creativeASIN=B07D6TQKPL&linkCode=as2&tag=hvacfc21-20&linkId=d1c6f80c941e08944a1fb043c5b884e3">Air Innovations Aroma Humid Pad Lvdr 12p, levender, 12 Countthird-party retailers. 
Any challenges we note with the Levoit 300S focus on the VeSync app rather than the humidifier. The app crashes occasionally, which is more an annoyance than an operational problem.
Overall, the Classic 300S is a top-fill humidifier with technology far above its price point. Its convenience, portability, and ease of use make it a great pick for large rooms of any kind.
Best-selling Standard Humidifier
Classic 200 Ultrasonic Cool Mist Humidifier | $33.99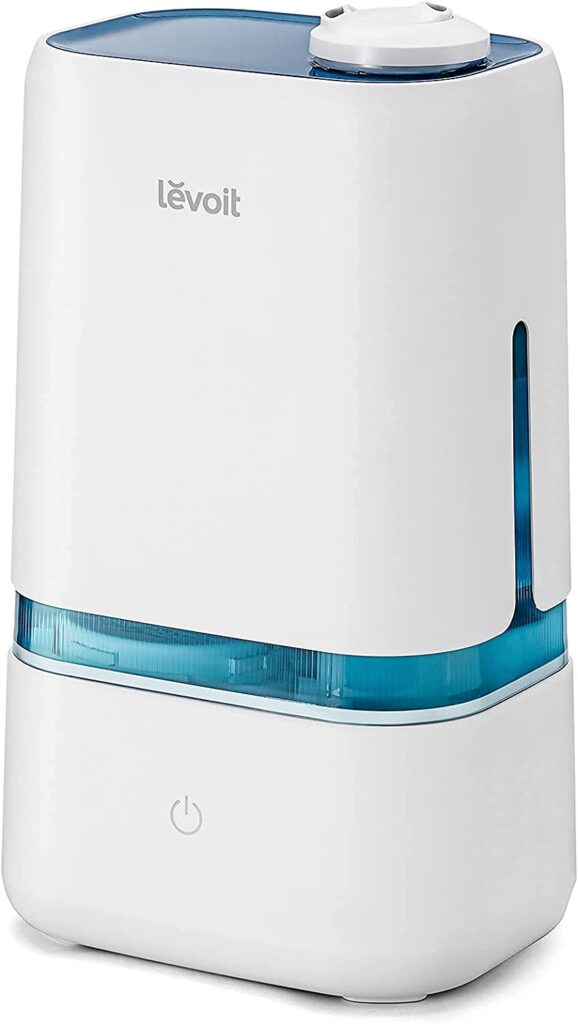 This Levoit cool mist humidifier is for anyone who needs a simple device without all the bells and whistles. The Classic 200 can add moisture to rooms up to 376 square feet.
At 3.5 pounds, it weighs about as much as a laptop. When it's time to refill, you don't have to haul a bulky box to your water source. The device is about 14 inches tall and in a rectangular shape.
Levoit's impressive run times stay consistent with the Classic 200. The 1.05-gallon water tank can spurt out water for up to 40 hours.
We also like this model's low energy usage. It runs at a maximum of 30 Watts, much lower than other Levoit options like the LV600HH.
Another energy-friendly feature is the auto shut-off. This humidifier will turn off if the water tank is separated from the base or if the water supply is low.
Two 360-degree mist nozzles give you control over the direction of the cool mist. Like the Classic 300S, this model comes with an aromatherapy pad and two replacements.
While this model covers the fundamental bases, there are some functional features missing. There's no smart sensor or auto mode, so this device can't adjust its humidity level in real time.
We wish the Classic 200 was a top fill model, but you have to tip the water tank over to refill it. Plus, the relatively narrow tank opening means there are more nooks and crannies where bacteria can hide.
For additional features like VeSync compatibility and auto mode, we think it's worth paying up for the Classic 200S.
Still, there's nothing wrong with wanting a no-frills machine to get the job done. With a long run time and strong airflow, the Classic 200 fits that bill perfectly.
Best-Selling Personal Humidifier
Classic 150-RWH Mini Ultrasonic Cool Mist Humidifier | $24.99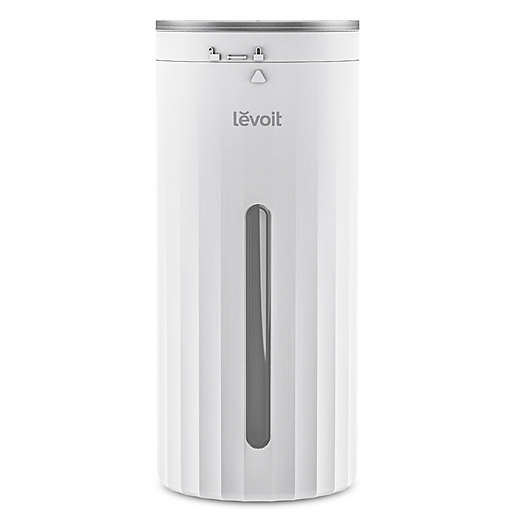 Offices and hotel rooms are known to blast the AC, leaving your hands and eyes dry. This Levoit humidifier is proof that good things come in small packages.
The Classic Mini model humidifies up to 32 square feet. It's perfect for a desk or car, and it can even fit in your cup holder. It looks like a flashlight base, with a 6-inch height and 3-inch diameter.
It weighs 0.33 pounds, about as much as a Granny Smith apple. The Classic Mini's light weight makes it extra portable, so you can bring it to your next getaway.
To turn it on, just plug the included USB cable into an outlet. The 1.5-cup tank offers six hours of continuous cool mist or 17 hours of intermittent misting.
This Levoit cool mist humidifier doubles as an LED nightlight, making travel even more comfortable. You can choose a single color or watch it cycle through a rainbow of soft colors.
While this handy humidifier has some cool features, there are some notable drawbacks. For starters, you have to keep it plugged into the USB cable. We'd give it extra points for wireless or battery-powered capability.
We give Levoit props for including a USB cable with this humidifier. Still, it's short and you may need to buy a longer one to suit your needs.
Cleaning will need to be more regular with this device. You'll need to take it apart and clean it with a cotton swab once every three days, which may be cumbersome if you're road-tripping or regularly use the device.
There's also no way to turn off the colors. If you'd prefer to sleep in total darkness, you may be out of luck.
The Classic Mini humidifier may be cute, but don't let its small stature lead you astray. This model packs a punch, helping moisturize your personal air in a matter of minutes.
Whether you're a frequent traveler or just have a small space to moisturize, you've met your match in the Classic Mini.
Our take on Levoit
All Levoit humidifiers combine high performance, functionality, and value. Its lineup may be less extensive than competing brands, but each product is designed with intention and care.
We love Levoit's focus on features. Premium touches, like aromatherapy and auto mode, are typically only found on humidifiers two to three times more expensive than Levoit's offerings.
Another point in Levoit's favor is its long run times compared to its tank sizes. Its humidifiers also cover a wide range of square footage, so you can find the right device for almost any size room.
Levoit humidifiers look more expensive than they are. They have sleek and attractive hardware, but they're quiet enough to add moisture without adding noise.
The lineup is high-quality, but we do wish the selection was wider. Levoit offers no evaporative or solely warm mist models. If you're not a fan of ultrasonic humidifiers, you'll need to look at another brand.
We also wish Levoit carried a whole-home option. Most competing brands have at least one drum or flow-through model available.
Levoit's limited warranty is also less-than-stellar. Its humidifiers all come with a one-year warranty, but comparable brands offer three years or more. Still, in exchange for the lower price point, it's a reasonably fair trade.
Note that if you buy directly through Levoit, you can get an extra year tacked onto your warranty. Just register your humidifier online within 14 days of purchase.
Some Levoit humidifiers catch occasional flak for leaking water. Thankfully, Levoit has a California-based customer service line that is willing to help if your humidifier malfunctions.
We recommend Levoit humidifiers to anyone struggling with a dry living space. If you can commit to regular cleaning and don't mind an ultrasonic model, Levoit's are some of the best on the market.
Few value brands can combine high quality, a sleek look, and a low price tag into one product. Levoit's entire lineup of humidifiers accomplishes that tough feat.