Pure Enrichment humidifiers: Reviews and Ratings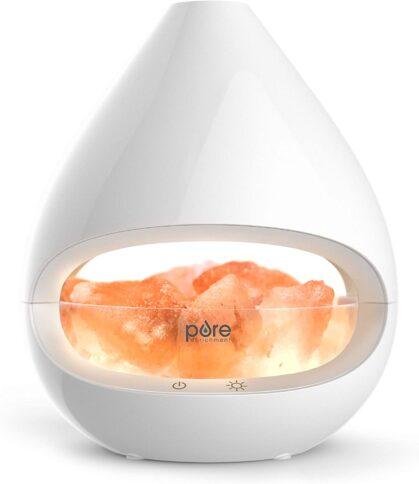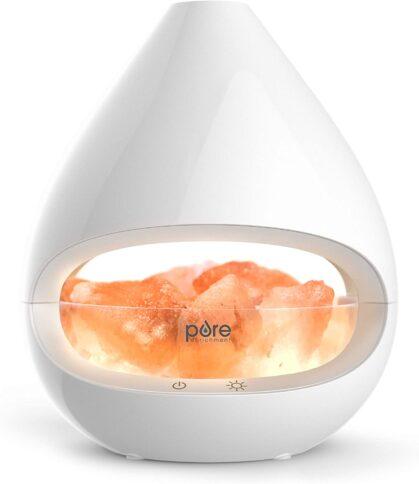 If you have chronic allergies or dry skin, over-the-counter solutions may not be enough. A Pure Enrichment humidifier could add moisture to your air, giving you lasting reprieve.
Our Pure Enrichment brand review will serve as your crash course in the benefits of a humidifier. We walk through the brand's most popular products and evaluate how they compare to other options on the market.
Does Pure Enrichment make good humidifiers?
Pure Enrichment was founded in 2010 in Santa Ana, California. The brand specializes in personal care, selling everything from air purifiers to manicure tools and sound machines.
The brand uses its newness as an asset to sell modern and forward-thinking products. Items like this Himalayan salt rock lamp showcase how Pure Enrichment balances beauty and functionality.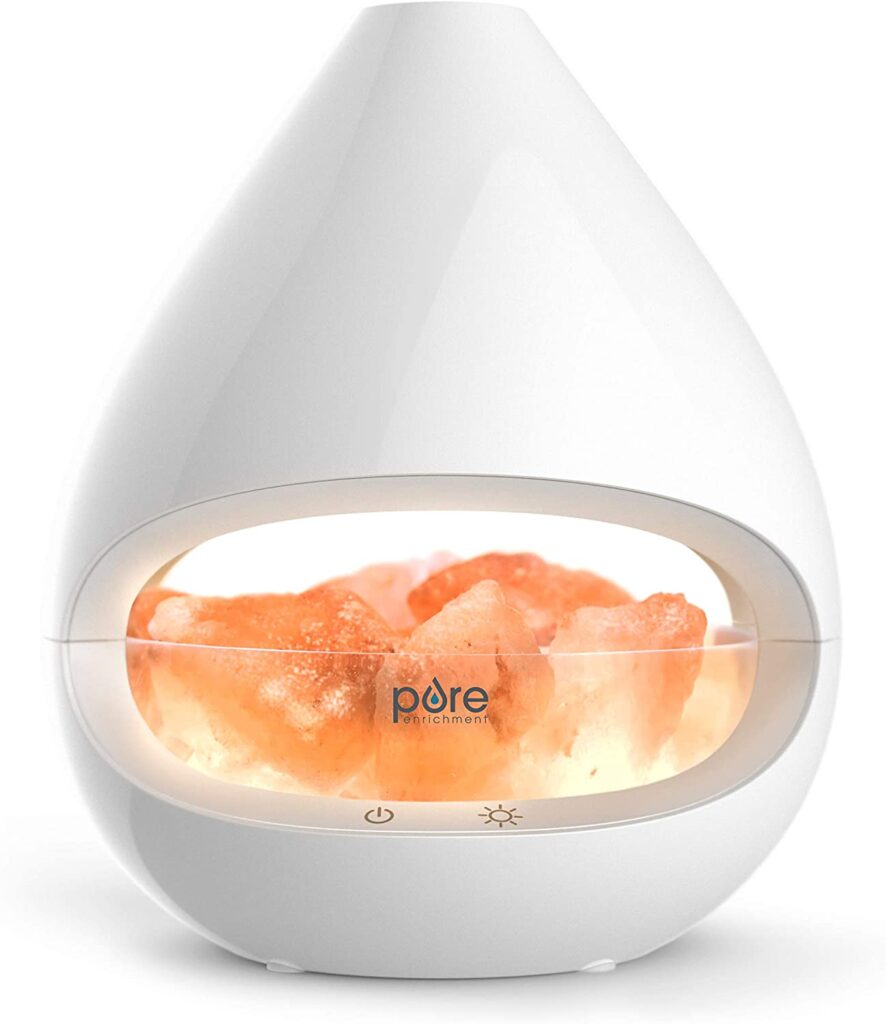 Our reviews found that most Pure Enrichment humidifiers are high-quality and offer an element of modern aesthetics. What we like even more is the company's industry-leading customer service.
Pure Enrichment humidifier features
Pure Enrichment sells both ultrasonic and evaporative portable humidifiers. All of the humidifiers emit cool mist, but one hybrid model can also make warm mist. The brand's humidifier series lineup is listed below.
| Series | Price Range | Square Footage |
| --- | --- | --- |
| MistAire | $29.99-59.99 | 160-500 |
| HUME | $49.99-99.99 | 270-430 |
| PureSpa | $39.99 | 350 |
The MistAire line has the widest range of square footage, and the models are basic. The HUME series boasts more tech features, and the single PureSpa model is a 3-in-1 humidifier, diffuser, and mood light.
Appearance
Most Pure Enrichment models don't look like humidifiers. These modern and sleek gadgets tend to look like speakers or lighting fixtures. They're sure to blend in nicely with your home decor.
Some humidifiers in the lineup have a colorful flair. One fan-powered model has a backlight that rotates through seven color options. This model or the PureSpa series would be great for anyone seeking out some mood lighting.
Noise level
Pure Enrichment humidifiers are marketed as near-silent devices. Still, the brand only lists decibel levels for a few models. Those humidifiers are quieter than normal rainfall, but we wish Pure Enrichment would share decibel ranges for all its products.
Coverage area
Pure Enrichment humidifiers vary in the amount of space for which they can add moisture to the indoor air. Depending on the model you choose, your device will humidify the air for rooms 160 to 500 square feet.
None of the Pure Enrichment humidifiers are built for a whole home. If you're looking for a device that attaches to your ductwork, check out our best home humidifiers.
Pure Enrichment humidifier warranty
All Pure Enrichment humidifiers are protected by a generous five-year limited warranty. Most competing warranties fizzle out after one to three years.
This generous warranty sets Pure Enrichment apart. The company stands behind its products and values customer satisfaction long after the initial purchase is made.
Customer support
Pure Enrichment has a 24/7 customer service line. Unlike some competitors, this brand won't try to find every loophole possible to avoid honoring your warranty.
Your humidifier purchase is covered for five years. If disaster strikes, Pure Enrichment is happy to send replacement pieces or even a brand new device for qualifying devices.
Pure Enrichment humidifier reviews
Best-selling Humidifier
MistAire Ultrasonic Cool Mist Humidifier | $39.99
Simple, yet effective. The Pure Enrichment MistAire Ultrasonic Cool Mist Humidifier is an Amazon's Choice pick, bringing you a strong stream of mist with an affordable price tag.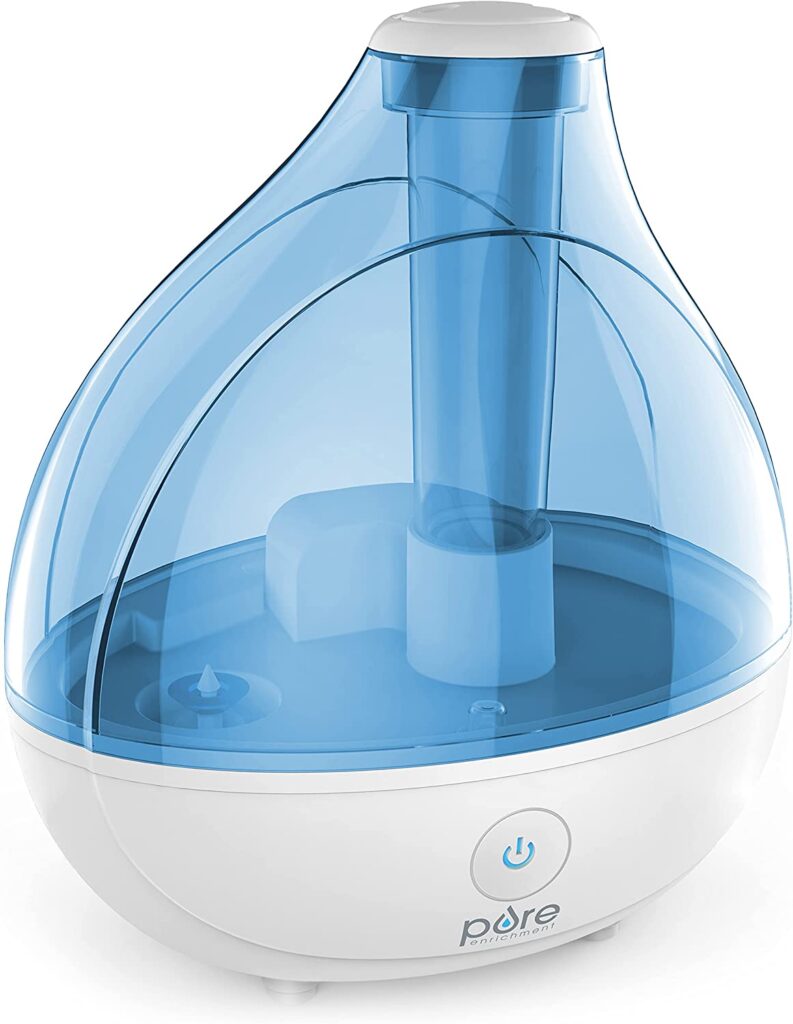 This humidifier looks like a blue teardrop and has a 1.5-liter water tank. It's a traditional fill model, so you'll have to flip over the water tank to mount it on the base.
Two mist settings and a 360-degree nozzle offer customization. In an hour, the MistAire Ultrasonic Cool Mist humidifier can fill a 245 square foot room with:
120 mL of mist on high
60 mL of mist on low
This 9-inch tall humidifier lasts up to 25 hours on low, and about half that run time on the highest setting.
The MistAire Ultrasonic Cool Mist Humidifier works at a near-silent hum, so it's even a hit with light sleepers. The optional blue night light sets a peaceful ambience.
The device turns off if the water supply gets too low or if the water tank is removed from the base. Plus, the device is BPA-free, so you'll feel good about adding it to the nursery or playroom.
There are a couple drawbacks to this humidifier. For one, cleaning this device can be hard because many of the inner pieces aren't detachable.
The simple design of this device doesn't include a timer. Plan to manually turn the unit on and off when desired.
The tank is also smaller than other brands' options in the same price range. You may find yourself refilling your humidifier more frequently than with other models.
If the smaller tank will give you grief, Pure Enrichment offers an XL version of the MistAire Ultrasonic Cool Mist Humidifier. It costs an extra $20, but the tank is three times bigger and it can humidify a larger space. 
This humidifier is great for anyone looking to treat a small-to-medium room. If you want more bells and whistles or a bigger tank, read on.
Best-selling Kids Humidifier
MistAire Cloud Ultrasonic Cool Mist Humidifier | $49.99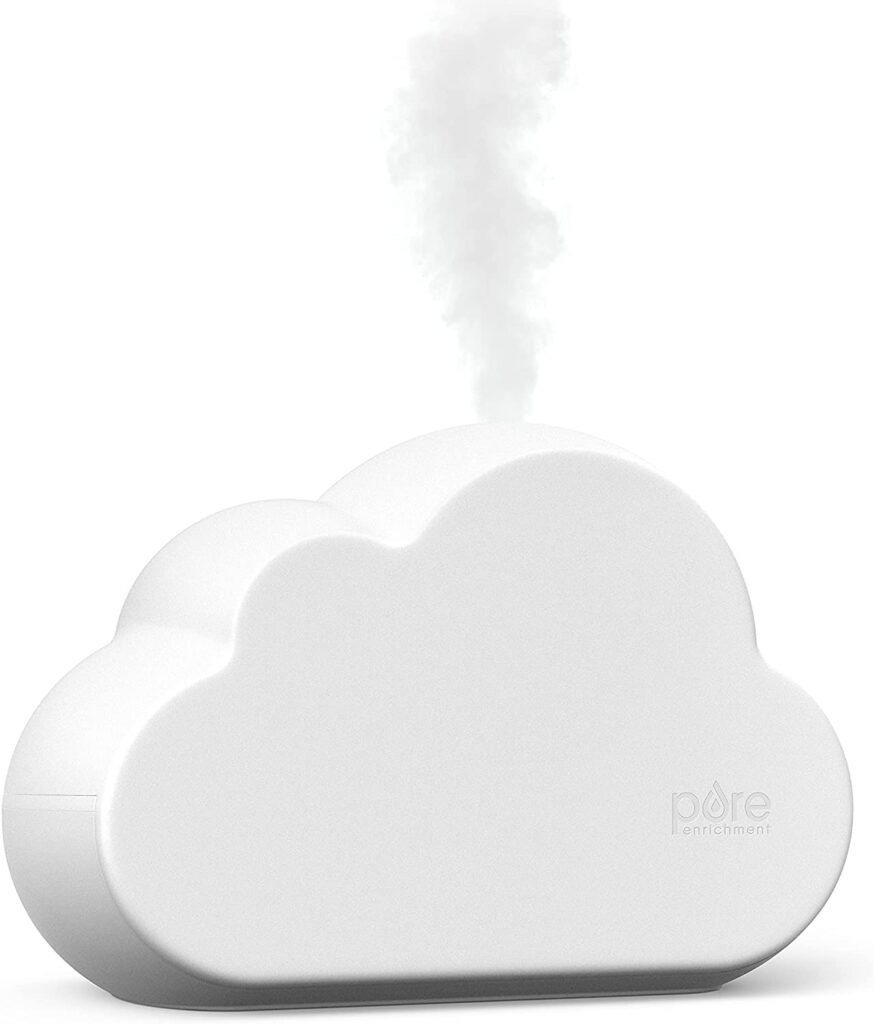 You may not be able to sleep on a cloud, but now you can sleep next to one. The MistAire Cloud Ultrasonic Cool Mist Humidifier makes for a cute addition to a baby's nursery (or an adult's room, we don't judge).
The 1.8-liter water tank has a large opening, making for easy cleaning. This humidifier is shaped like a 9.8-inch tall cloud, and it weighs only two pounds.
This model can cycle between eight soft, glowing colors. It covers up to 250 square feet, and you can change the speed of the mist with a variable control knob.
The MistAire Cloud comes with a cleaning brush. It can run up to 15 hours on high, but it'll last closer to 24 hours on low.
While this humidifier is undeniably adorable, we've got to dock points for the stream of mist itself. Even on high, the mist is somewhat weak.
The buttons also beep when you press them, and there's no way to disable the sound. If your baby or toddler is a light sleeper, you may want to opt for another humidifier.
Some customers find that if the rubber gasket inside the humidifier gets stretched out, the device may leak. Thankfully, Pure Enrichment's five-year warranty will help mitigate this issue.
We like the MistAire Cloud's cute and discreet design. Still, you may want to look elsewhere if you need a heavy-duty humidifier.
Best-selling Top Fill Humidifier
Hume Max Top Fill Humidifier | $69.99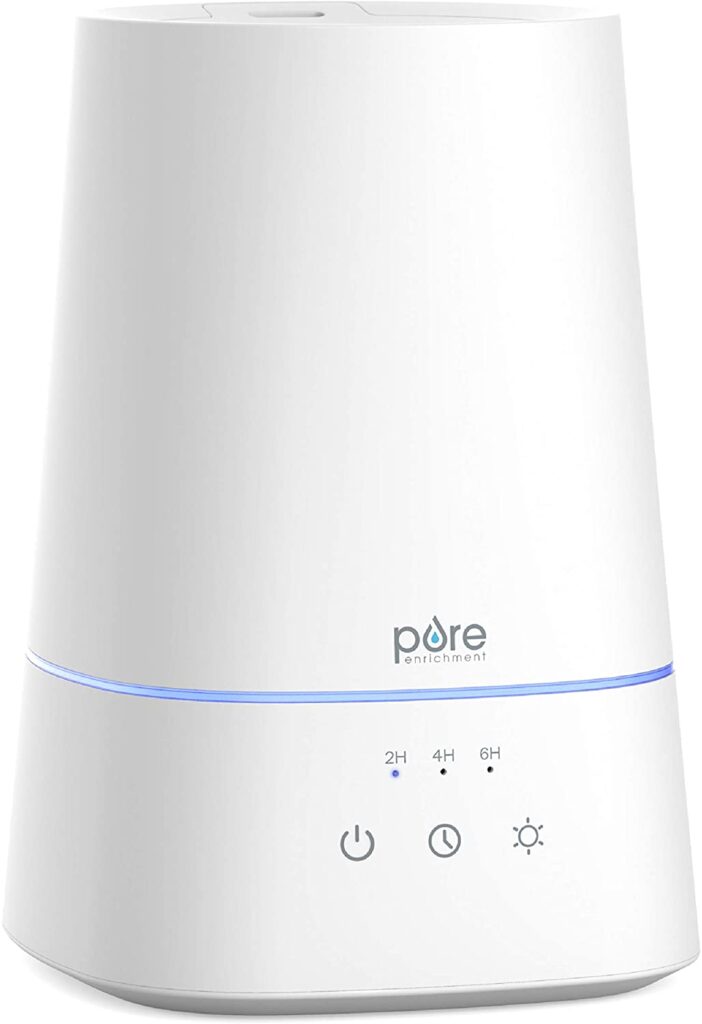 Humidifiers with detachable water tanks can lead to spillage and frustration. Box up your old humidifier for the next garage sale, and check out a top fill humidifier like the Hume Max. 
With a top fill design, you can pour water directly into your humidifier. It's as easy as watering a plant, especially with the Hume Max's built-in water window.
This water window has a sink-like valley, helping prevent overfilling. The Hume Max is an 11-inch tall, seven-inch wide trapezoid that looks more like a home smart speaker than a humidifier.
This ultrasonic humidifier is opaque, and it comes in black or white. Although it's not fully transparent, the water indicator on the side helps you know when it's time for a refill.
The Hume Max has more customizability than most Pure Enrichment models. You can set the timer to two, four, or six hours of continuous misting.
There are also three settings for moisture output. In an hour, the Hume Max can cover a 300 square foot room with:
300 mL of mist on high
200 mL of mist on medium
120 mL of mist on low
On the lowest setting, this Pure Enrichment humidifier lasts up to 30 hours. You can run it for up to 18 hours on medium or 12 on high.
While the Hume Max is a modern and sleek-looking humidifier, we wish it had more bells and whistles to justify the price tag.
For the same price, the Levoit Classic300S comes with an aromatherapy pad, smart app configuration, and covers 200 more square feet than the Pure Enrichment Hume Max.
We love how the Hume Max looks, but if you want your $70 going toward features rather than design, you may need to opt for a different brand.
Best-selling evaporative humidifier
MistAire Eva 4-Speed Evaporative Humidifier | $79.99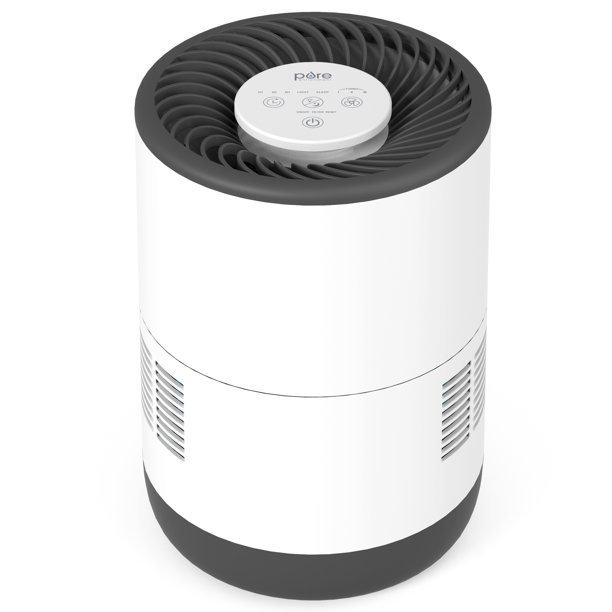 Ultrasonic humidifiers may be the most popular models, but they can harbor gunk like bacteria and minerals. A filtered option like the MistAire Eva 4-Speed Evaporative Humidifier could be a great alternative.
This hot-button humidifier is hard to come by, thanks to its high quality. It's often sold out on the Pure Enrichment website, and even third-party retailers struggle to keep it in stock.
The MistAire Eva is a 13-inch tall, thick white cylinder with vents on either side. The control buttons and the fan (covered, of course) are on the top of the humidifier.
The 2.8-liter water tank can keep your air moisturized for up to 25 hours. It's ideal for medium- to large-sized rooms, offering moisture for up to 500 square feet of space.
This humidifier is powered by a four-speed fan, ranging from Level I to Turbo. You can time the fan to run for two, four, six, or eight hours at a time.
Allergy sufferers will love the antimicrobial filter. This powerhouse filter tackles harmful allergens like tobacco smoke, pet dander, and pollen to help you breathe easier.
The night mode is a helpful touch on the MistAire Eva. You can turn off the glowing display and still keep your humidifier running or use the optional nightlight for a soft glow. If you want a burst of color, the fan's backlight has seven hues to choose from.
The MistAire Eva is an evaporative humidifier, so the fan creates a small amount of noise. It's not a deal-breaker by any means, but if you're looking for a silent unit, you may want to pass on this one.
At 14 inches tall, it's bulkier than the other units we review, but it also serves a much larger space. Ultimately, it's hard to find too many faults with the popular MistAire Eva. This is a powerhouse machine that we think is well worth the money.
Our Take on Pure Enrichment
Pure Enrichment is just over a decade old, but it's quickly becoming a popular and high-demand humidifier brand. These humidifiers are known for their attractive appearance and, generally speaking, high level of quality.
Gone are the bulky, bubbling humidifiers of yesteryear. Pure Enrichment humidifiers are sleek and discrete, so it won't stick out like a sore thumb in your room.
Both evaporative and ultrasonic options are available. We like the wide variety of square footage covered, and Pure Enrichment has something for every sized space.
The colorful lights on some models are a breath of fresh air in an industry where many brands offer ho-hum hardware.
We do wish Pure Enrichment offered more warm mist options. This type of humidifier may not be ideal for children or pets, but it kills more airborne bacteria and is more soothing for allergy sufferers.
Pure Enrichment products are in the value-to-medium price range. None of these humidifiers climb to premium costs. Still, most competing brands offer a few more added touches for the same rate.
No Pure Enrichment models have auto mode, which adjusts the humidifier's speed in real time to match the humidity in your room. Plus, most other humidifiers in this price range have aromatherapy trays and more mist settings.
There aren't any options for smartphone capability or voice activation. If you're a fan of smart integration, you may be disappointed in this product lineup.
Overall, Pure Enrichment humidifier models are both attractive and functional. The brand's quality control is strong, and its varied product lineup would serve most shoppers well for the price.
Pure Enrichment humidifiers may look more tech-forward than they actually are. Still, we think they're high-quality humidifiers that can add moisture to your room without breaking the bank.