Homeowner survey: Charlotte, NC HVAC repair and cost
The HVAC.com team surveyed 100 Charlotte-area homeowners to learn about their heating and cooling needs. What we found is that HVAC Charlotte, NC service providers generally respond quickly and homeowners are satisfied with the work quality.
When it comes to Charlotte, NC AC repair or furnace inspection, technicians have varying diagnostic fees. Our research suggests there are common AC repair needs that the majority of Charlotte homeowners face.
As you search for the best HVAC companies in Charlotte, NC, take a deep dive into our data. Know what to expect before you hire a technician and how your AC maintenance routine compares to your neighbors.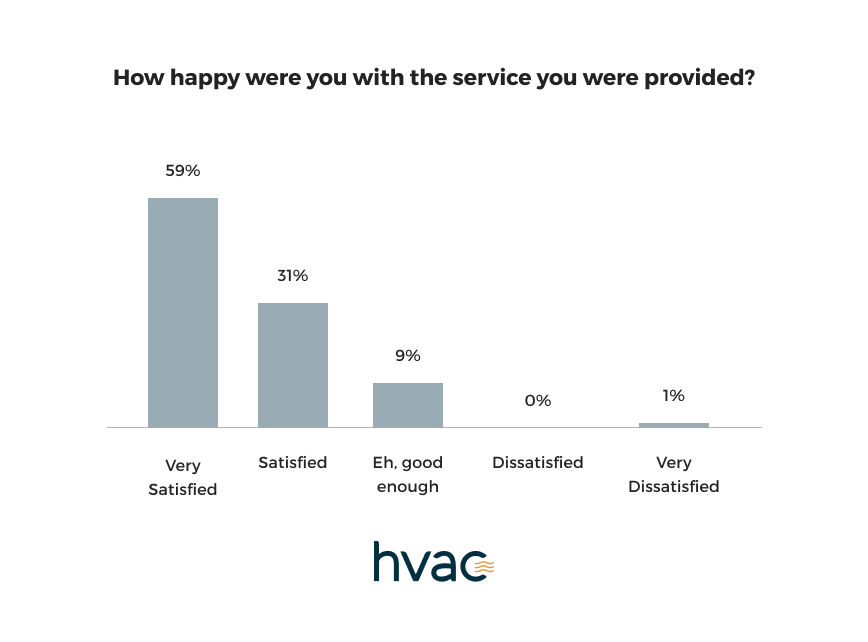 Charlotte NC AC repair
Searching for "AC repair near me" is one of the most popular ways to find a local technician. About 46% of the Charlotte homeowners we spoke with rely on a search engine, like Google, to find HVAC help.
The second most common method for finding heating and cooling repair is word of mouth. An estimated 38% of participants rely on a family member or friend for a company referral.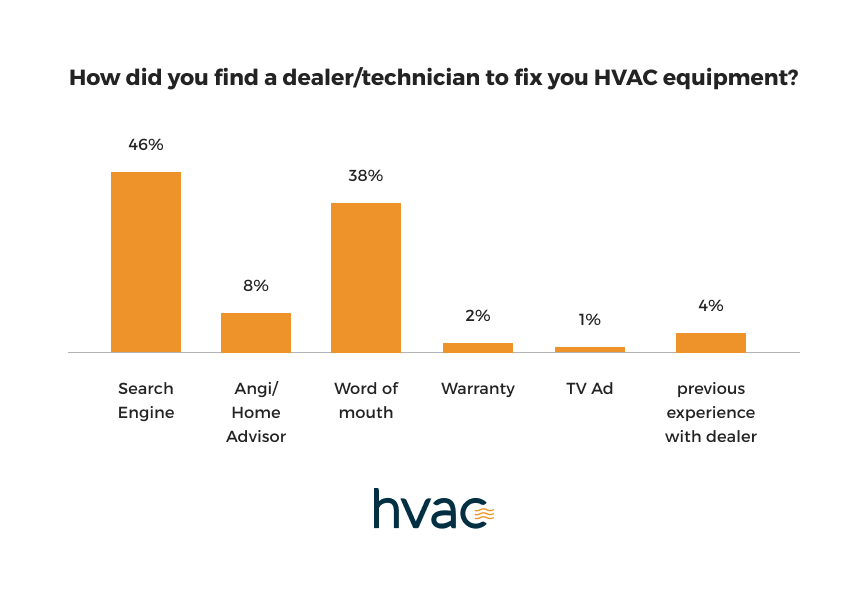 AC technician questions
Whether you use an internet search or a friend's recommendation, there are four questions to ask the Charlotte AC repair technician before hiring them.
| Ask your technician | Why it matters |
| --- | --- |
| Are you licensed and insured? | Protecting your family and home is the top priority. Ensure the repair company is licensed to complete the work and insured in the event something goes wrong to cover the expense. |
| Do you offer a written, itemized quote? | A verbal estimate can quickly change once the work begins. Request a written quote that itemizes the work and parts. |
| What is your labor warranty? | Ask how long the company is willing to back the technician's work. You'll want a copy of the labor warranty in writing. |
| How much is your diagnostic fee? | Some Charlotte AC repair companies do not charge a diagnostic fee. However, you'll want to be prepared by asking for the cost to inspect the air conditioner or furnace. |
Fast AC repair in Charlotte
While finding a trustworthy AC and furnace repair company is the goal, response time is also important. The large majority (84%) of Charlotte homeowners who spoke with us say a technician was at their home within 24 hours of them making the phone call. Of those, 37% report the technician arrived within 12 hours of their call.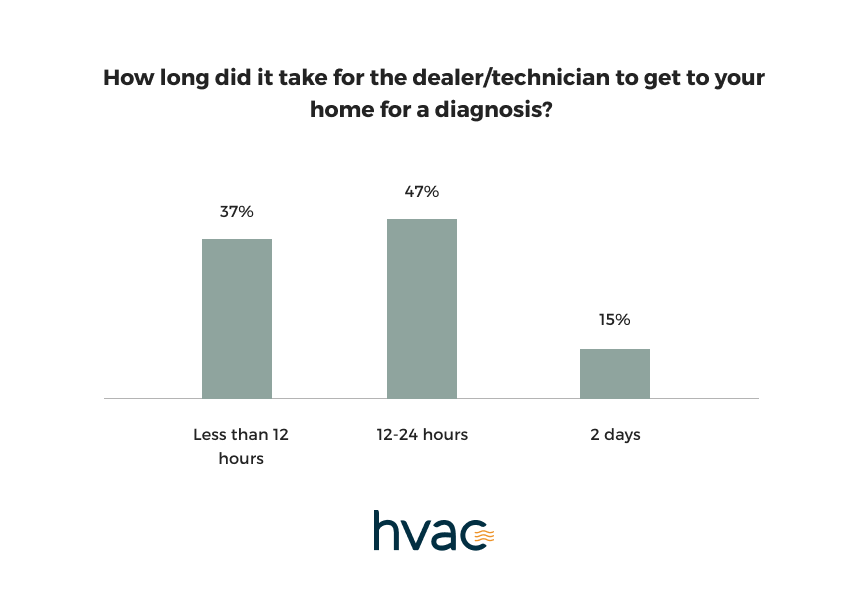 In addition, most homeowners opt for the first-available Charlotte dealer who can restore comfort. An estimated 65% of our respondents collected just one quote from Charlotte HVAC contractors. There are a few reasons getting a single quote may not be in your favor.
Get three AC repair quotes
The average temperature in Charlotte during the summer is near 90 degrees, so we understand prioritizing the speed of an AC repair tech. The challenge with collecting only one quote is the risk of being overcharged for parts or labor.
The supply chain for some AC repair companies may be more restricted than others. The strained access to parts may be reason for some technicians to increase costs. Plus, while the average AC repair labor cost falls between $75 and $150 per hour, companies have the ability to charge outside that average.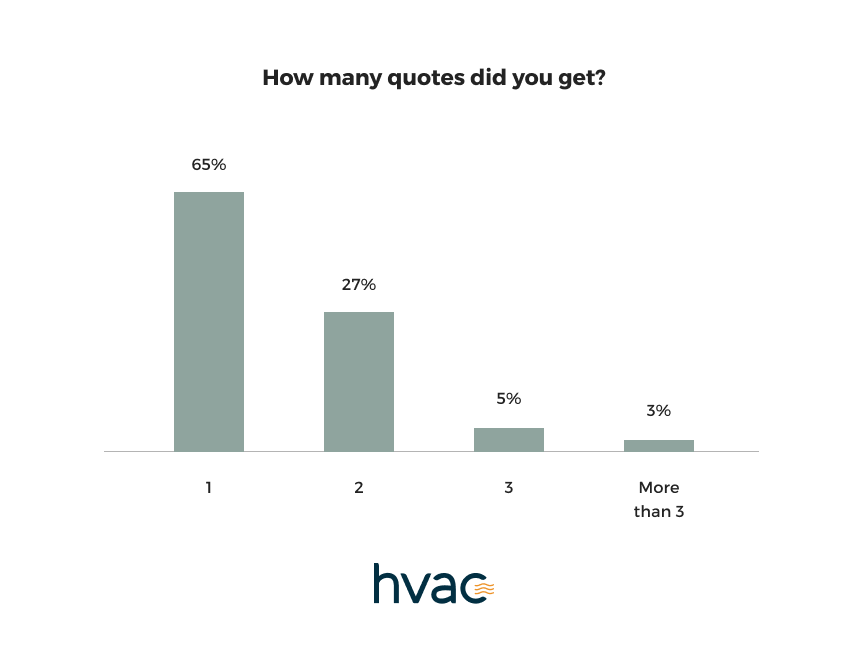 AC repair diagnostic fee
Diagnostic costs are optional and included at the discretion of the company. Diagnostic fees are sometimes referred to as a service call fee. It's the price you'll pay for the technician to come to your home and inspect the unit. In some cases, the diagnostic, or service fee, is reduced from the repair quote if you opt to hire the company.
Just over one-third of our Charlotte homeowners reported their HVAC technician did not charge a diagnostic fee. The majority (27%) of those who were charged a fee paid between $51 and $100.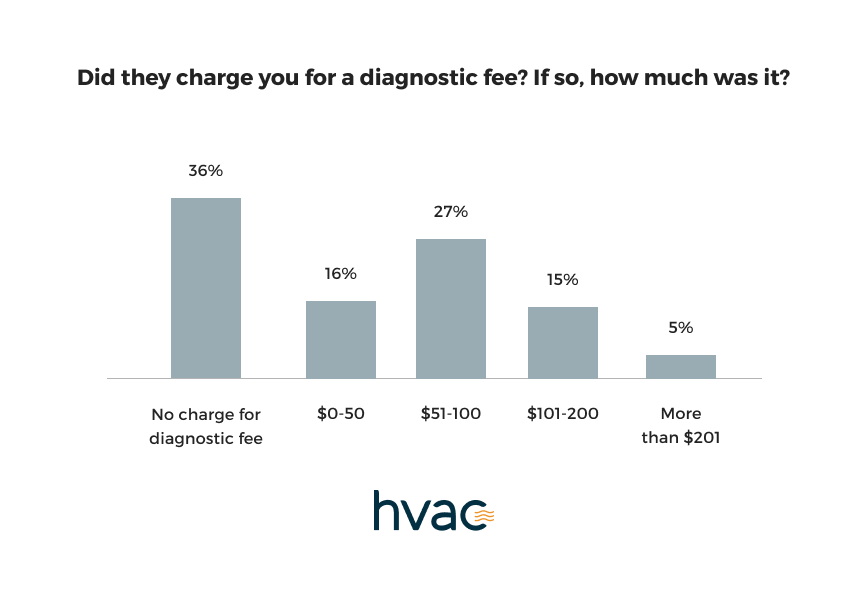 Most common air conditioner problems
There's certainly a theme to Charlotte AC repair needs. Amongst the 100 homeowners we surveyed, 46% report the diagnosis was a broken AC capacitor. Not far behind was a "low refrigerant" diagnosis for 31% of homeowners.
Depending on the age and brand of your AC, costs to make those repairs will fluctuate. It's worth noting that roughly 20% of Charlotte homeowners report their technician's recommendation was a full AC replacement.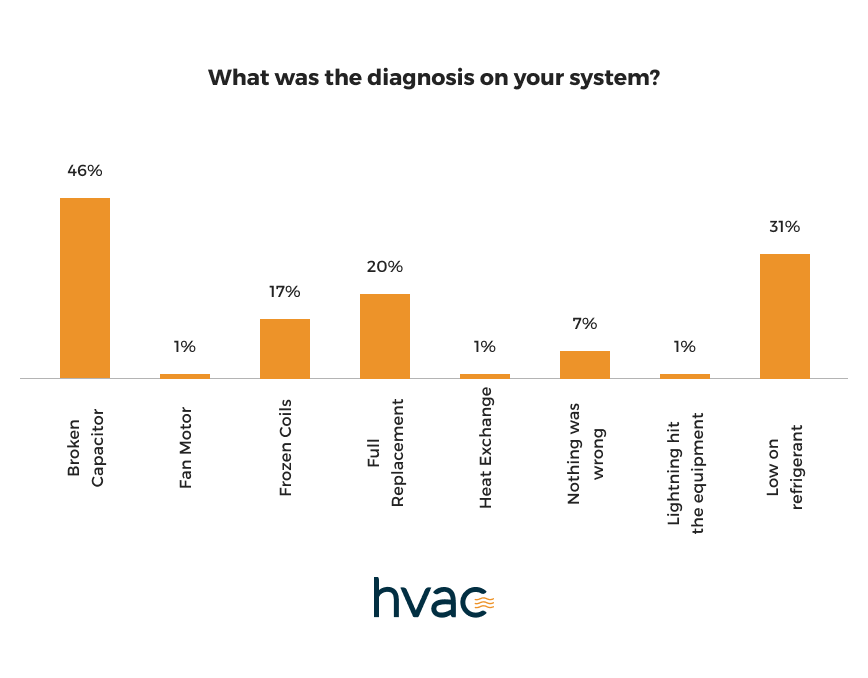 HVAC maintenance service
The best way to prevent a heating and cooling breakdown in your home is routine HVAC maintenance. Most Charlotte homeowners agree. Nearly 43% of our participants say they have their system serviced twice a year.
A seasonal inspection – once in the spring and again in the fall – is the most popular recommendation from HVAC.com dealers. Paying a one-time fee or signing up for a maintenance plan can be much kinder to your budget than a large payout for a repair or to replace your system.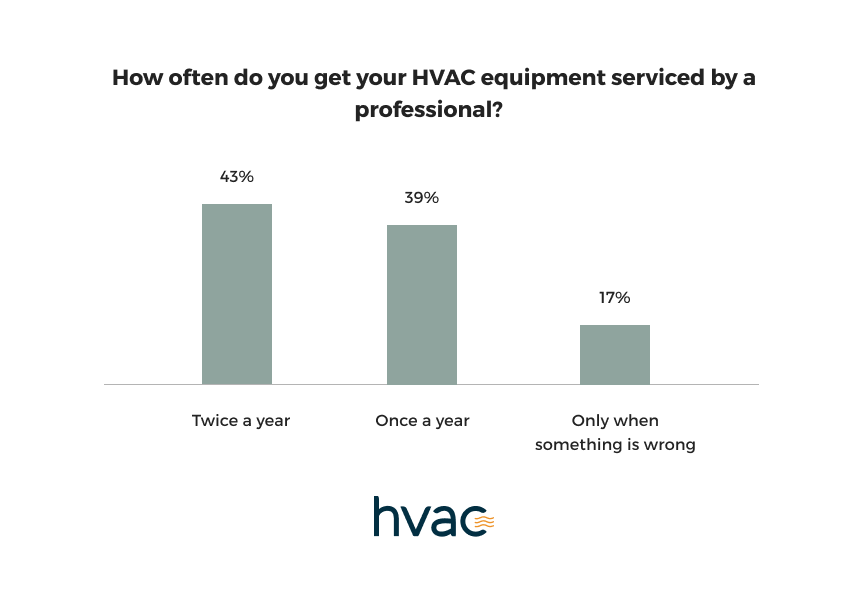 New HVAC regulations
As the heating and cooling industry moves toward a more eco-friendly approach to home comfort, energy requirements will change in 2023. Homeowners will not only benefit from a required higher SEER rating for new units, but the Inflation Reduction Act also allows for a large discount for many on heat pump installation in Charlotte.
Review a list of preferred pros in Charlotte available for heating and cooling help.