How to protect your AC from hurricanes
By Tom Moor
•
August 1, 2023
Introducing
QuoteScore™Beta
---
Are you getting a fair deal?
Our independent team of HVAC industry insiders can score your quote
Learn More
Sharing your quote takes less than a minute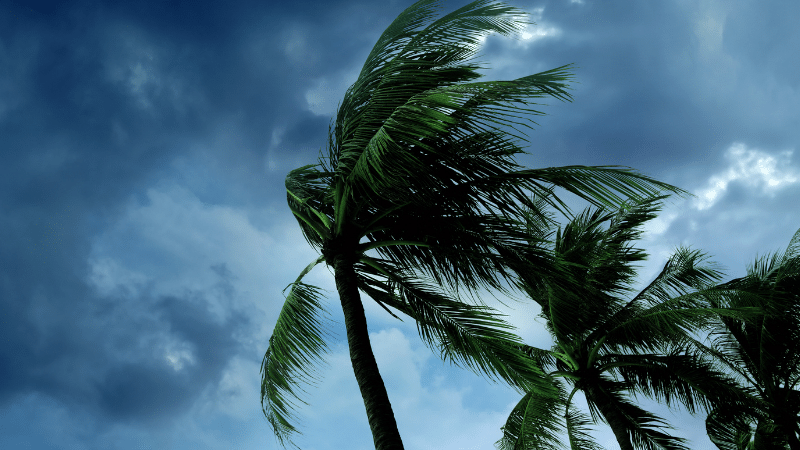 Hurricane season lasts June 1 to November 30, with September as the most active month for hurricanes in the Atlantic. The National Oceanic and Atmospheric Association (NOAA) forecasted an above-average hurricane season this year. 
NOAA predicts 14-21 tropical storms in the 2022 season, most of which will occur between mid-August and mid-October. Typically, there are 14 tropical storms per season, which peaks around September 10.
With tropical cyclones becoming more frequent and intense due to climate change, consider adding a few steps to your hurricane prep to protect your HVAC equipment. 
How to prepare your AC for a hurricane
Window AC
If you have a window air conditioner, it's best to unplug it and remove it as a hurricane approaches. Strong winds can blow a window AC out of place, damaging the unit, your window, and anything in and around your home.
If removing your window air conditioner isn't possible, purchase a cover with straps like this one to protect it during extreme weather. 
Portable AC
If you have a portable AC inside your home, we recommend running it until the storm arrives. This will cool your home as much as possible before a potential power outage. When the storm hits, unplug the AC to avoid damage due to power surges.
Central AC
Defending your central AC against a hurricane is a little more complex. Follow these steps to keep your AC safe and your home comfortable.
| | |
| --- | --- |
| ☂️ Put on a waterproof cover | Purchase a waterproof cover to protect your AC compressor from the elements. Make sure it's the right size to cover the whole unit.  |
| 🌊 Elevate the slab | In hurricane-prone areas, you should mount your AC on a concrete slab. If yours is not high enough to protect from potential flood waters, engage a contractor to make it taller. |
| 🔩 Check the anchor bolts | Tighten the bolts that anchor your compressor to the concrete slab. Yours should be able to withstand 160 MPH winds at a minimum. |
| ❄️ Cool your home | Drop the temperature on your thermostat to cool your home before the storm arrives. Close all windows and doors. This will help keep you comfortable if the power goes out. |
| ⚡ Shut the power off | Turn your AC off at the breaker box as the storm approaches. This will protect it from power surges. |
| 🔌 Consider a surge protector | An HVAC pro can install a surge protector designed to protect your compressor if you live in an area prone to power outages or lightning strikes. |
| 🔒 Secure outdoor objects | Put away patio furniture and other large items that may blow into your AC compressor, causing damage. Make sure to trim large tree branches. |
Once the storm passes and power restored, go outside and check your compressor for visible damage. Clean out any debris that's become stuck in the unit. If everything looks OK, turn the power back on and start your AC.
Contact an HVAC professional if you need help getting your AC prepped for hurricane season, or if you suspect a hurricane has damaged your AC. 
Contact an HVAC expert now!
Book an appointment
Best air conditioners for coastal homes
Several manufacturers make HVAC equipment specially designed to withstand the unique challenges of coastal climates. When you're ready to upgrade your system, consider one of these options.
Carrier coastal ACs
Carrier's Comfort and Infinity lines of central AC compressors and heat pumps have coastal-specific models. These units feature the company's WeatherShield protection, which eliminates corrosion from salt air. 
Since most coastal areas experience more temperate climates, we recommend installing a heat pump rather than an AC compressor. Heat pumps have a number of advantages, including improved energy efficiency, cost savings, and the ability to provide both heating and cooling. 
Carrier recommends its coastal systems for homeowners who live within 10 miles of the shoreline.
Bryant coastal ACs
Bryant is a sister brand of Carrier. Many of its models are the same as Carrier's, but they're often priced more affordably.
Bryant's Legacy and Evolution lines of air conditioners and heat pumps have coastal models designed to withstand corrosion from salt air. They also have DuraGuard Plus protection, including a steel coil guard and baked-on powder coating. 
Trane coastal ACs
Trane doesn't offer coastal-specific models. However, its ACs and heat pumps include aluminum coils and a painted finish that resist corrosion and rust. 
I need a coastal AC!
Connect with a dealer
Though you should still perform the prep tips above when a hurricane is on its way, purchasing an AC or heat pump intended for coastal environments can extend the life of your investment.
Introducing
QuoteScore™Beta
---
Are you getting a fair deal?
Our independent team of HVAC industry insiders can score your quote
Learn More
Sharing your quote takes less than a minute