Keeping cool in CA amidst potential rolling blackouts

By Tom Moor
•
August 1, 2023
Introducing
QuoteScore™Beta
---
Are you getting a fair deal?
Our independent team of HVAC industry insiders can score your quote
Learn More
Sharing your quote takes less than a minute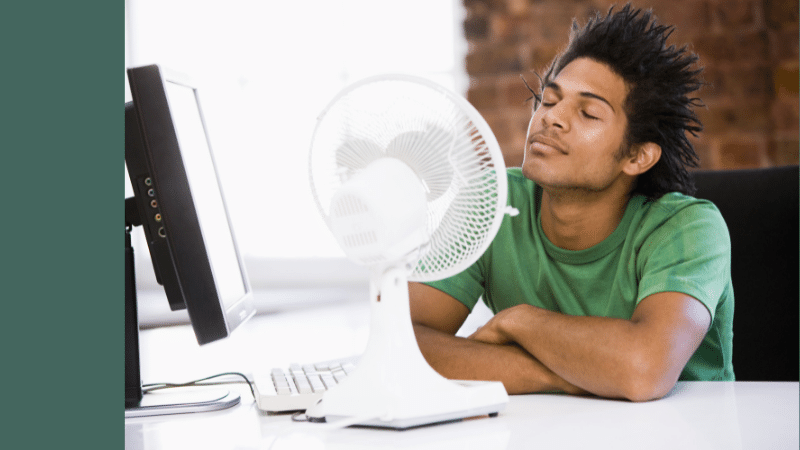 Though Labor Day signals the end of summer for many, California weather shows no signs of cooling. Meteorologists expect temperatures to hit triple digits across the state throughout the holiday weekend and into next week.
On Wednesday, temperatures reached 112℉ in the San Fernando Valley and 123℉ in Death Valley. Anaheim sizzled at 106℉, breaking a record for August heat.
The National Weather Service issued an excessive heat watch for coastal areas and an excessive heat warning for inland regions through Wednesday, September 7. This prompted Governor Newsom to declare a State of Emergency in California.
Flex Alert solicits conservation
What's expected to be a record heat wave will likely cause a surge in power use as Californians turn up their air conditioning for some relief. The California Independent System Operator (ISO), which oversees electric utilities across the state, issued a Flex Alert this week requesting voluntary energy conservation to avoid potential blackouts as the system bears a heavy load.
In an interview with NBC, Elliot Mainzer, president and CEO of the California ISO, said rolling blackouts "are a possibility but not an inevitability" in the days ahead. Still, many fear a repeat of the 2020 heatwave that prompted multiple days of rolling blackouts across the state, impairing businesses and inconveniencing residents.
How to cut back on energy consumption
To help support the Flex Alert and avoid overtaxing the power grid this weekend, consider taking the following measures:
🔥 Avoid using major appliances like your stove, dishwasher, or clothes dryer
🌡️ Keep your thermostat at 78℉
🔌 Unplug electrical devices you're not using
💨 Use fans instead of your air conditioner if possible (this is one of our favorites)
☀️ Close window treatments to keep the sun out
💡 Turn off lights in rooms you're not using
Prep for California blackouts
Even if you cut back on energy use, it's a smart idea to prepare for rolling blackouts.
Typically, rolling blackouts last for 1-2 hours. Your electricity provider will likely notify you via text or phone just before the outage.
You can check the status of outages here for Southern California Edison and here for Los Angeles Water and Power. It's a good idea to bookmark these pages on your phone.
We recommend spending some time preparing for these power outages by doing the following:
📱 Charge your phone, medical devices, and other essential electronics
🔋 Buy a portable charger to make emergency calls if your phone dies
🔦 Have flashlights ready (and backup batteries)
🛍️ Stock up on essentials like ice, water, snacks, and medications; local businesses will likely close
⚡ Unplug appliances to prevent damage from power surges
🎽 Wear lightweight clothing and plan to rest during the hottest hours of the day
🐱 Look out for pets and vulnerable family members
If it simply gets too hot to take, visit a nearby cooling center for relief. Bookmark this map of California cooling centers on your phone.
Do generators work in rolling blackouts?
Generators are an option to keep your power on during California blackouts. You can invest in a pricey generator to keep your central AC pumping. Or you may choose a smaller one to power a portable AC and a few appliances (like your fridge, so your food doesn't go bad!)
If you opt for a smaller generator, we recommend this Generac model. It's quiet and durable. Plus, it includes USB charging ports for your phone.
To keep your central AC running, we like this heavy-duty DuroMax generator. It rolls for easy movement and packs significant power.
Note that you'll need to keep fuel on hand (usually propane or gasoline, depending on the generator) to power your generator during a rolling blackout.
Reducing strain on the electrical grid
While these solutions will keep you cool in the short term, it's evident that more sustainable solutions are necessary for the future.
As Governor Newsom stated on Wednesday, "All of us have been trying to outrun Mother Nature, but it's pretty clear Mother Nature has outrun us. The reality is we're living in an era of extremes: extreme heat, extreme drought – and with the flooding we're experiencing around the globe."
Several studies recently underscored this sentiment, suggesting that global warming has caused record-breaking nighttime temperatures and the development of an extreme heat belt in the central U.S.
Solar AC and other green air conditioning technologies will be imperative to staying healthy and comfortable while caring for the Earth. Consider these or other more energy-efficient AC options if you're in the market for a new air conditioner.
☀️ Learn more about solar AC ☀️
Get a quote
Introducing
QuoteScore™Beta
---
Are you getting a fair deal?
Our independent team of HVAC industry insiders can score your quote
Learn More
Sharing your quote takes less than a minute