Why is my heat bill so high in 2022?

By Tom Moor
•
August 1, 2023
Introducing
QuoteScore™Beta
---
Are you getting a fair deal?
Our independent team of HVAC industry insiders can score your quote
Learn More
Sharing your quote takes less than a minute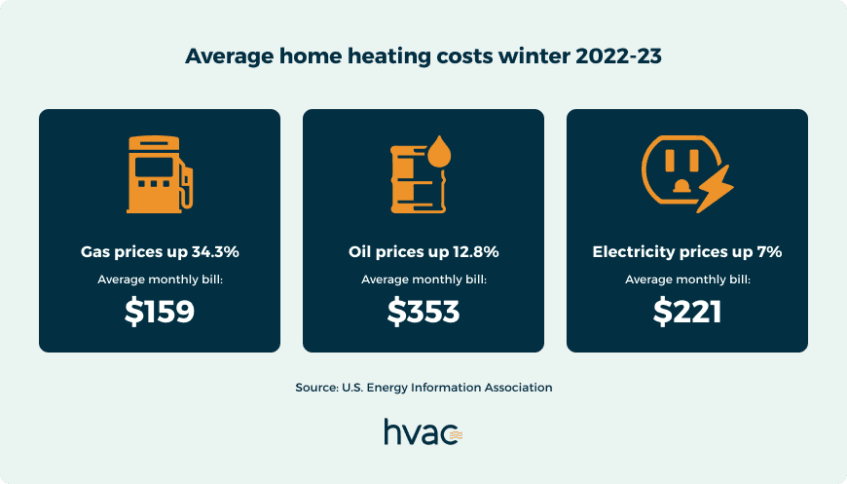 As temperatures drop and Americans turn on the heat, many are wondering, "Why is my heat bill so high?" The U.S. Energy Information Administration (EIA) predicts heating bills in winter 2022-2023 will be about 11-25% more expensive than last year.
This jump in heating costs is due to several factors, including:
Below normal winter temperatures in some regions
Higher than normal summer temperatures
Inflation
The war in Ukraine
Rising demand for electricity
Get a furnace tuneup and save on energy costs.
Yes, please!
How much are heat bills increasing in 2023?
In an interview with Washington, D.C.'s CBS television station, Mark Wolfe, executive director of the National Energy Assistance Directors Association, explained, "The average family is spending about $200 to $300 more to heat their home this winter, on top of $200 more last year. Overall, families are spending about $400 to $500 more to heat their home than they did a few years ago."
No matter what heating fuel you use, you'll likely see an increase in your heat bill this winter. Electricity prices are up 7%, oil prices are up 12.8%, and gas prices are up 34.3%. Data from the EIA suggests the average monthly bill for each this winter will be $221, $353, and $159, respectively.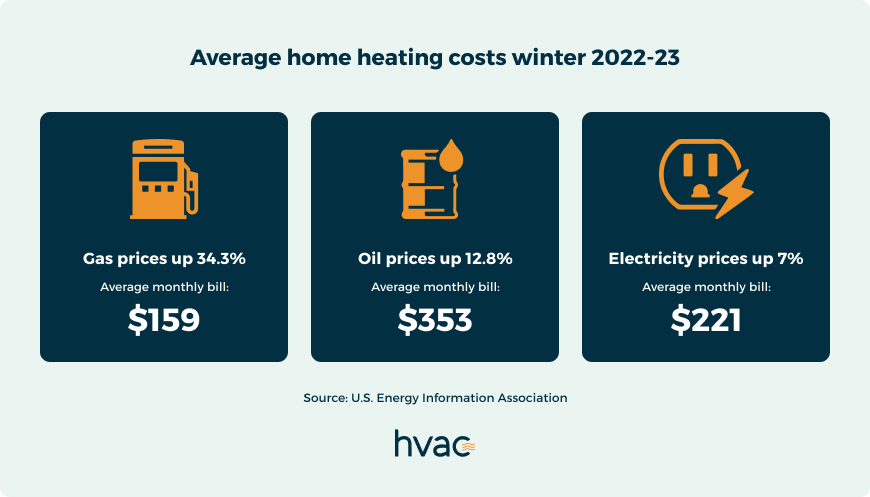 Why is my heat bill so high?
Several national and global issues contribute to high heating costs in the U.S. this winter. This includes gas, electric, and oil prices to varying degrees.
Across the board, the National Weather Service predicts a colder-than-typical winter in areas across the northern U.S. resulting from La Niña weather patterns. This will increase the demand for heating fuel.
Inflation is also causing all consumer goods prices to grow.
Why is my gas bill so high in the winter?
The core issue contributing to high gas prices is the war in Ukraine. Russia cut off supplies of natural gas to Western Europe. So, the U.S. has been exporting 20% of its natural gas supply to that region. With less supply and more demand, prices naturally go up.
Additionally, summer heatwaves caused consumers to use their air conditioners more than usual, depleting even more of the U.S. gas supply.
Why is my electric bill suddenly so high?
The unbalanced supply and demand for gas is impacting electricity prices as well. This, plus inflation, causes wholesale power prices to rise for utilities. In turn, they must charge customers more.
Why is my home heating bill for oil so high?
Heating oil is currently at the highest price ever. Prices usually surge in the winter when demand is high. The overall increase in wholesale power prices plays a role, as well.
Your heating bill for oil is also heavily influenced by regional conditions. The number of local providers and extreme weather events can cause the price of oil to fluctuate.
Schedule furnace maintenance to ensure your system is running efficiently.
Book an appointment
Assistance for high heat bills in 2022
The federal government recognizes that many American families may strain to pay their home heat bills this winter. The Biden-Harris Administration is providing extra funding for the Low Income Home Energy Assistance Program (LIHEAP) to lessen the burden.
This year, LIHEAP includes its regular congressional appropriations, $100 million from the Bipartisan Infrastructure Law, and additional emergency funding from Congress.
How to get help with high heat bills
LIHEAP funds are issued at the state level. Each state has different requirements for eligibility. For more information on your state's programs, visit this page.
Your local utility company may also have programs to help with high heat bills this winter, including deferred payment plans. Call them directly to inquire.
How to lower your home heat bill
Though you don't have control over the big-picture issues impacting utility costs, there are some things you can do in your home to help lower your heat bill.
| | |
| --- | --- |
| 🌡️ Set your thermostat to 68℉ during the day | 68℉ is the ideal indoor winter temperature for cost-savings. |
| ⬇️ Lower your thermostat to 64℉ when you're away or asleep | A smart thermostat can adjust automatically and make energy-saving suggestions. |
| 🪟 Check windows and doors for air leaks | Follow these instructions. Seal with caulk and weatherstripping if needed. |
| 💨 Change your air filters regularly | Your heater can't run efficiently with a dirty air filter. Change your filter quarterly. |
| 📅 Schedule furnace maintenance | A preventative furnace tuneup ensures your HVAC system runs smoothly all winter. |
| 🧹 Clean your air ducts | Dust and debris in your ductwork make your heater work harder than necessary. |
| 🚪 Seal off rooms you're not using | Close the doors to unoccupied rooms. Consider using a space heater in the room you're using. |
| ☀️ Let the light in | Open window coverings so the sun can naturally warm your home. Close them once the sun goes down to insulate. |
Your heat bill in 2023
If you're still thinking, "Why is my heat bill so high?" consider scheduling a consultation with a local HVAC expert. A heating specialist can survey your home and ensure your heater is working properly.
Click below to connect with one of our technicians.
🔥 I need heating help! 🔥
Yes, please!
Introducing
QuoteScore™Beta
---
Are you getting a fair deal?
Our independent team of HVAC industry insiders can score your quote
Learn More
Sharing your quote takes less than a minute