What does a hygrometer measure?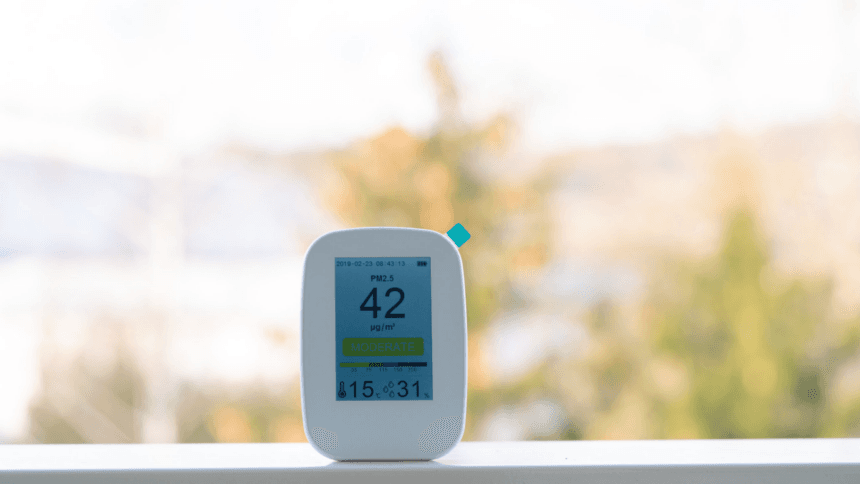 A hygrometer is used to measure indoor humidity levels. It's an inexpensive way to stay ahead of the moisture level in your home and stay comfortable.
If your home feels too humid or too dry, you'll know for sure with a hygrometer. Learn how this weather tool can keep your space feeling comfortable and well-balanced.
What is a hygrometer?
Originally designed as a weather instrument, a hygrometer is used to measure humidity. The device detects the amount of water vapor in your home's air or other specified spaces.
Hygrometers report the humidity level as a percentage (relative humidity or RH). The original dial-based hygrometers were once used as forecasting tools, but now, modern models display the humidity level on an LED screen.
Maintaining a healthy indoor humidity level has a range of perks, from preventing mold growth to reducing asthma and allergy symptoms. A hygrometer takes the guesswork out of managing your home's humidity.
Ideal indoor humidity level
The ideal indoor humidity level for home comfort is 30 to 50%. The Environmental Protection Agency recommends keeping relative humidity under 60% to prevent mold and mildew buildup.
💡 Tip: Keeping a room over 60% RH can lead to mold growth and condensation on walls. Store cigars in a humidor.
If you have moisture-sensitive items like plants and musical instruments, veer on the more humid end of the range. The table below outlines the ideal relative humidity level for various household items.
| Item | Ideal RH |
| --- | --- |
| Pianos | 45-60% |
| Guitars | 35-45% |
| Wood furniture | 35-45% |
| House plants | 40-60% |
| Cigars | 65-70% |
How to increase indoor humidity
A humidifier is a reliable tool to increase indoor humidity. Portable models control humidity in a single room, and whole-home models are also available. Because a hygrometer is used to measure the humidity in a designated space, it's best to keep the device away from a humidifier to get a more accurate reading.
How to decrease indoor humidity
Running a central heater or AC will remove moisture from the air. In addition, changing your air filter regularly (at least every 90 days) can lower humidity levels and prevent mold buildup.
Lastly, a dehumidifier is best for tackling chronic humidity issues, especially in basements and other moist areas.
Best indoor hygrometer
Our top indoor hygrometers give quick and accurate results. We gathered our picks from online customer reviews. All prices are valid at the time of publication.
Best value
ThermoPro TP50 | $9.99
Large display
Comfort indicator (smiley face)
Built-in thermometer
Stands upright
Shop on Amazon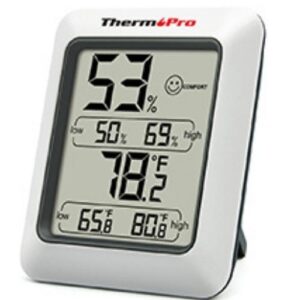 Best digital hygrometer
Govee H5075 | $14.99
Pairs with Bluetooth
Quick response time
Large display
Stores data for two years
Shop on Amazon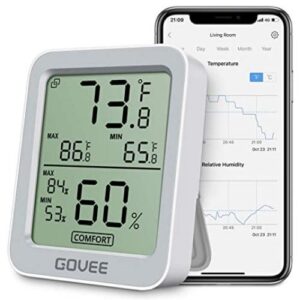 Hygrometer tips
Get an accurate hygrometer reading every time with our tips below.
Place the hygrometer at least five feet above the ground.
Keep the hygrometer out of direct sunlight.
Calibrate the hygrometer once a year.
Don't keep the hygrometer in a room with temperature swings.
Avoid moving the hygrometer between rooms.