Wireless thermostats: what are they, and which is the best?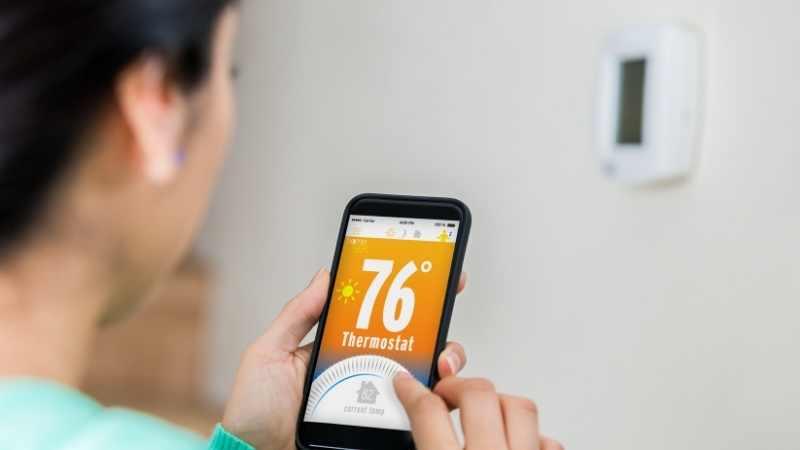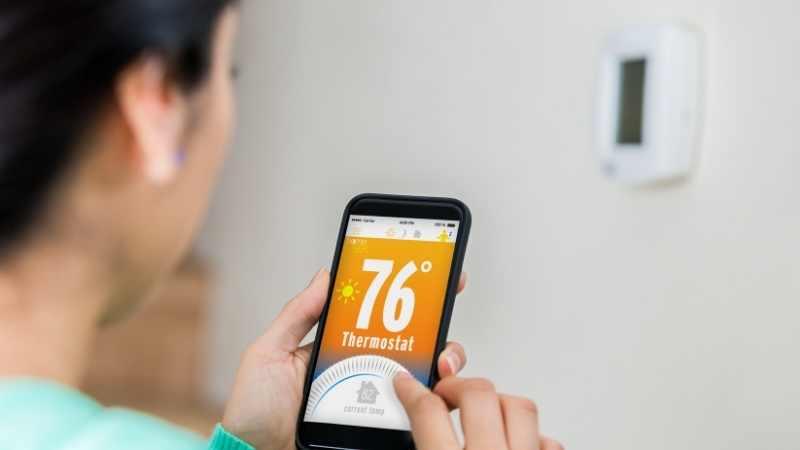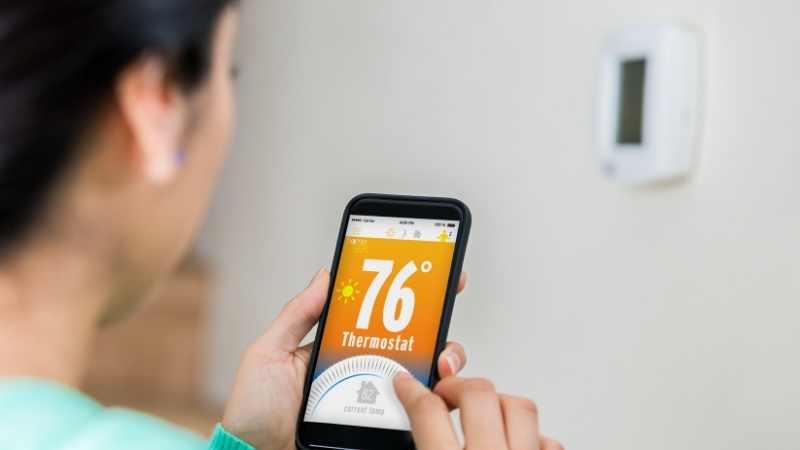 Wireless thermostats allow you to control your home heating and cooling system via Wi-Fi.
The name is slightly misleading because wireless thermostats are still wired to your HVAC system. But they enable you to control the system wirelessly, usually via an app on your smartphone. 
Wireless thermostat shopping checklist
It's easy to get confused between wireless, Wi-Fi, and smart thermostats. We define them as follows:
| Term | Definition |
| --- | --- |
| Wireless thermostat | A thermostat you can control remotely, usually via Wi-Fi. |
| Wi-Fi thermostat | A thermostat you can control remotely via Wi-Fi. |
| Smart thermostat | A thermostat that learns your habits and can adjust itself accordingly. Most are also wireless. |
| Programmable thermostat | Any thermostat that lets you set a schedule. For example, you can program the heat to start when you get out of bed at 6:30 a.m. Most wireless thermostats are programmable. |
So, one thermostat can actually be wireless, Wi-Fi, smart, and programmable.
If you're in the market for a new wireless thermostat, consider the following elements:
| | |
| --- | --- |
| 💰 Cost | Wireless thermostats range in price from about $60 to $200+. You can get a high-quality system for around $100. |
| 🚨 Room sensors | Some wireless thermostats use room sensors to create HVAC zones within your home. This enables more precise temperature control. |
| 🤖 Home automation compatibility | Most wireless thermostats integrate with apps like Google Assistant and Apple Homekit. If you use one of these tools, ensure your thermostat supports it. |
| 📱 App | Thermostat manufacturers typically have a brand-specific app that lets you control your thermostat remotely and access its data and reports. |
| 💡 Smart capabilities | The most advanced Wi-Fi thermostats have learning capabilities. They can sense your habits and adjust themselves independently. |
| 🔌 C-wire | A C-wire (also known as a common wire) delivers supplemental power to your thermostat. Most wireless thermostats require one, but not all. Some older homes do not have a C-wire. Learn more here.  |
Which is the best wireless thermostat?
We've conducted extensive research, combing through expert reviews and real customer feedback. Below are our top pics for the best wireless thermostats. 
Best wireless thermostat overall
The Nest Learning Thermostat is our favorite smart and user-friendly option. Installation is simple, taking less than 30 minutes. After about a week in your home, the Nest Learning Thermostat essentially programs itself to reflect your family's habits. 
Of course, if you prefer to override the Nest's automatic settings, you can do that easily on the Nest app. The Nest app also lets you use your phone as an HVAC remote control, turning the temperature up and down as needed.
This Nest model reports your HVAC system's energy usage to your phone. You can use that information to alter its settings to be more eco-friendly and save money.
You can choose one of six available finishes that match your interior decor. The Nest Learning Thermostat pairs with up to six optional room sensors, which helps the device keep your home at a consistent temperature.
Buy on Amazon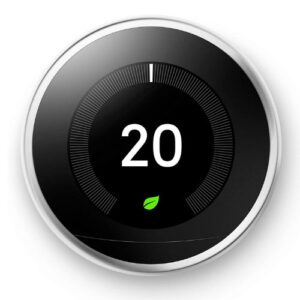 Best wireless thermostat design
The Nest Thermostat is a more basic version of the Nest Learning Thermostat. It's less expensive, coming in at just under $100. It doesn't have all of the Learning version's smart capabilities in exchange for the lower price. 
We love this Nest thermostat for its sleek and modern design. It has unique color options, like sand, a rose gold shade. The display shows only the information you need: your setting and the current indoor temperature.
Though it's not as smart as other Wi-Fi thermostat options, the Nest Thermostat creates reports and suggests energy-saving changes to help your HVAC system operate more efficiently.
It's not compatible with home automation platforms, but the Nest Thermostat pairs with Amazon Echo for voice control.
Buy on Amazon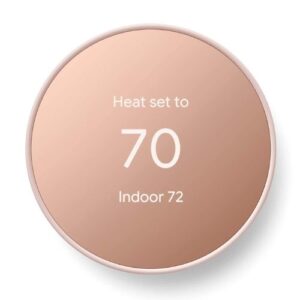 Most affordable wireless thermostat
Amazon makes its Smart Thermostat with Honeywell, one of the most popular thermostat manufacturers. It's reliable, less than $60, and great looking – win, win, win!
If you're not an Amazon Alexa user, this thermostat probably isn't for you. You need the Alexa app to control the thermostat remotely and utilize its voice command features. You can also review your HVAC system's energy usage via the Alexa app.
The Amazon Smart Thermostat can adjust itself to match your lifestyle. It senses when you leave home and when you're sleeping. However, it does not have separate room sensors for whole-home data.
This thermostat is easy to program and install with prompts from the Alexa app.
Buy on Amazon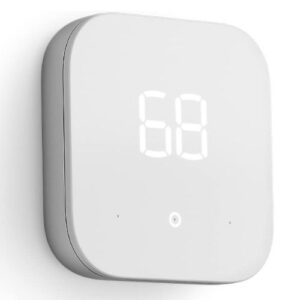 Most compatible wireless thermostat
The Ecobee Smart Thermostat is compatible with most home automation platforms and HVAC systems, new and old. Additionally, it pairs with up to 32 room sensors – ideal for a big house that needs precise temperature control. 
The Ecobee Smart Thermostat is so smart it can sense when your windows are open and pause your HVAC system's operation. It can also serve as a security system, monitoring windows and doors.
This programmable Wi-Fi thermostat has a built-in speaker that can answer voice commands and play music. The Ecobee Smart Thermostat is the only one on our list that can get your party jams pumpin'! You can even take a phone call on this super smart thermostat.
Buy on Amazon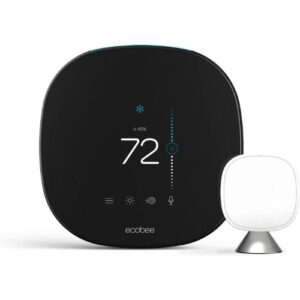 Best programmable Wi-Fi thermostat without a C-wire
The Emerson Sensi Smart Thermostat is a little dated looking. But it doesn't require a C-wire, which simplifies installation if you have an older home or an HVAC system without a C-wire. 
Its traditional-looking faceplate is helpful if you have loved ones at home who are more comfortable with a push-button thermostat. The Emerson Sensi offers a familiar interface with updated high-tech features.
This Wi-Fi thermostat is compatible with home automation systems by names like Apple, Amazon, and Google. However, integration isn't necessary for thermostat control or usage monitoring. This is ideal for individuals who prioritize privacy and don't wish for these big tech players to access their data.
The Sensi app provides system monitoring and energy-saving suggestions. It also delivers reminders about system maintenance, including alerts to change your air filter.
Buy on Amazon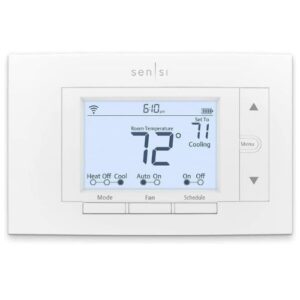 Can I install a wireless thermostat myself?
Wireless thermostat installation is a DIY-able job. Your thermostat comes with installation instructions.
First, remove your existing thermostat and mount the new one to the wall. Check out our helpful guide on thermostat wiring for more details. 
Next, connect your wireless thermostat to your home Wi-Fi network. If your signal isn't great, you may need to invest in a Wi-Fi extender. This portion of the set-up is usually automated via your thermostat's app. 
If you run into trouble along the way or prefer to steer clear of DIY projects, an HVAC professional can install your thermostat for you. HomeAdvisor says this costs about $175. 
Help me install my wireless thermostat now
Is a wireless thermostat worth it?
Wireless thermostats offer many benefits, including convenience and cost savings.
| | |
| --- | --- |
| 📱 Remote control | Whether you're on your couch or on vacation, you can adjust your thermostat from your phone or another device. |
| 💡 Energy savings | Smart thermostats report on energy usage and make suggestions to help you cut back. |
| 💵 Money savings | Cutting back on energy usage also reduces your utility bills. |
| 🤖 Automation | You can essentially "set it and forget it" with a smart thermostat. They learn your habits and adjust themselves accordingly. |
| 🏠 Whole-home comfort | Some wireless thermostats use room sensors to ensure your home is consistently comfortable. |
Wireless thermostats are ideal for:
Rental or vacation property owners who want to control the temperature when they're not there.
Environmentalists looking for tips on how to cut back on energy consumption.
Budget-savvy individuals who appreciate suggestions on how to lower utility bills.
People who use home automation platforms for other appliances.
Tech enthusiasts who love having the latest and greatest tools at their fingertips.
Since most wireless thermostats cost under $200, we think they're absolutely worth it – especially considering how much they'll help you save on energy. In many cases, a wireless thermostat will pay for itself in less than a year.
If you need help choosing a wireless thermostat or just have questions about them, click below to connect with one of our local HVAC experts. 
I want to talk to someone about wireless thermostats