At HVAC.com, our writers create solutions that put you in control of your HVAC system. Our product reviews and recommendations are researched and backed by real buyers and industry experts, not dictated by our partners.
The thermostat in your home lets you control the temperature by regulating your air conditioner or heater. Generally, these thermostats are wired directly to your HVAC system. A wireless thermostat, however, allows you to control the temperature in your home using your smartphone or other smart device with a wireless internet connection. Certain apps also allow you to remotely control your wireless thermostat even when you're not home.
Why choose a wireless thermostat?
One of the main reasons for choosing a wireless thermostat is that it allows you to program your home's temperature to match your schedule. Essentially, it allows you to use less energy cooling or heating your home when you're not there, or to adjust the temperature before you get home.
With wireless thermostat control , you can automatically regulate the temperature in your home to maximize efficiency and comfort. The thermostat will adjust the temperature setting for you, so you don't have to worry if you forgot to turn off the A/C before leaving, for instance. And making your home more energy-efficient saves you money every month.
A wireless thermostat can also adjust to the outside temperature, helping you regulate your energy usage during each season.
The remote features of a smart thermostat are also a huge plus. Want to turn the heat on before you arrive home so the house is warm and cozy when you arrive? It's easy with the right app and a thermostat connected to your home's WiFi.
Best wireless thermostats
Several models of wireless thermostats are available, each with different features so you can select the best option for your home's comfort control needs.
Ecobee
Shop or Learn More
Honeywell
Nest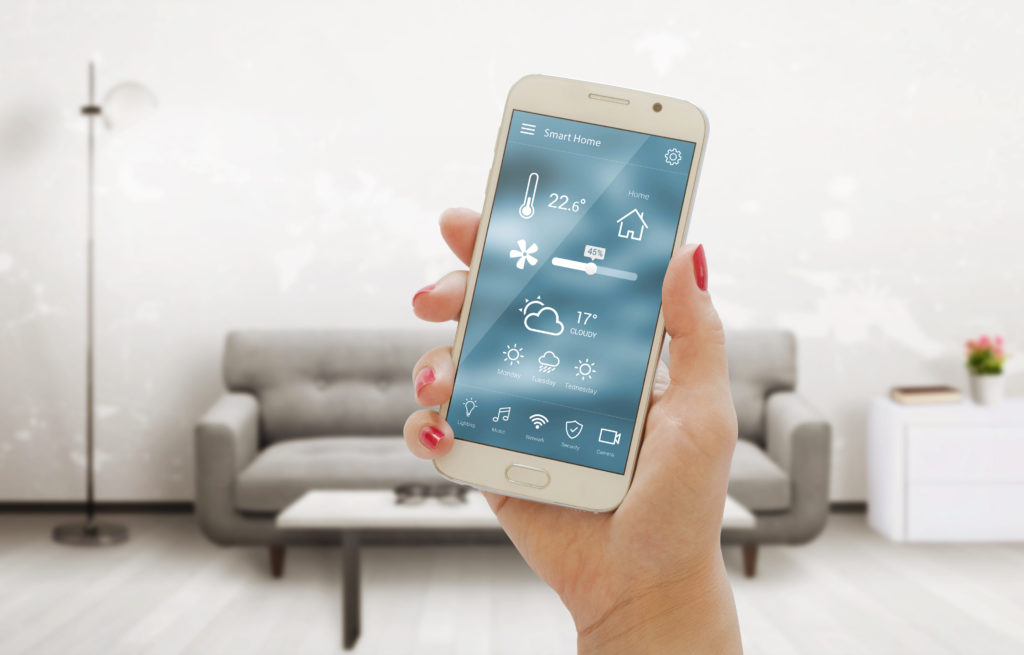 Enhanced features of wireless thermostats
Wireless smart thermostats go above and beyond the features of a programmable model to deliver an effortless indoor comfort experience. With a wireless thermostat, you'll get:
Effortless programming: A smart thermostat learns your schedule and preferences, keeping you comfortable without the need to adjust temperatures or set schedules on your part
Wireless connectivity: Control your thermostat from your smartphone, tablet or computer
Usage data: Your smart thermostat compiles data regarding your energy usage for your review, so you can further fine-tune your HVAC system usage to maximize your savings
Maintenance alerts and diagnostics: Smart thermostats help you stay on top of system maintenance, alerting you when it's time to change the filter or providing diagnostics to assist in system repair
Wireless thermostat savings
While actual savings will vary from home to home based on factors such as temperature preferences and energy costs, installing a smart thermostat offers the potential for significant savings. According to ENERGY STAR, correct use of a programmable thermostat will save you approximately $180 per year. The big IF with a programmable thermostat is whether or not you're using it correctly — since a smart thermostat eliminates the element of user error with a programmable thermostat, it's safe to say you'll have comparable savings.
Many smart thermostat manufacturers offer online savings calculators which can help you determine your potential savings based on the area in which you live. Check out savings calculators to get an idea of how much you could save.
It's no secret — a smart thermostat is going to cost you more than a programmable model. Some smart thermostats feature easy installation that a homeowner can complete on their own, while others require professional installation, further raising your costs. With the hefty price tag on a smart stat, many homeowners question if it's really worth the cost. Our answer is yes.
The energy savings achieved by smart thermostat usage will allow the equipment to pay for itself over time. If you currently have a manual thermostat, upgrading to a smart stat is certainly going to be worth it, because of the energy savings it will help you gain by taking system adjustments out of your hands (user errors and forgetfulness account for a great deal of energy waste). If you already have a programmable thermostat and are using it properly, a smart stat can still help you save. The data it provides and advanced features will help you fine-tune your energy use. Since you're already using a programmable stat, the payback period may be longer.
Frequently Asked Questions
How does a wireless thermostat work?
A wireless thermostat connects to the internet in your home so you can control it remotely using an app on your smartphone, computer, tablet or other smart device. The app allows you to remotely control the thermostat and the thermostat settings. 


How do I install a wireless thermostat?
You can install the thermostat yourself using the directions that come with the thermostat or contact an HVAC professional to install the wireless thermostat control system for you. 


Which wireless thermostat should I choose?
You should buy the wireless thermostat that best fits your needs and can connect easily with your home's HVAC system.