The 5 Best Honeywell Thermostat Models
By Tom Moor
•
August 1, 2023
Introducing
QuoteScore™Beta
---
Are you getting a fair deal?
Our independent team of HVAC industry insiders can score your quote
Learn More
Sharing your quote takes less than a minute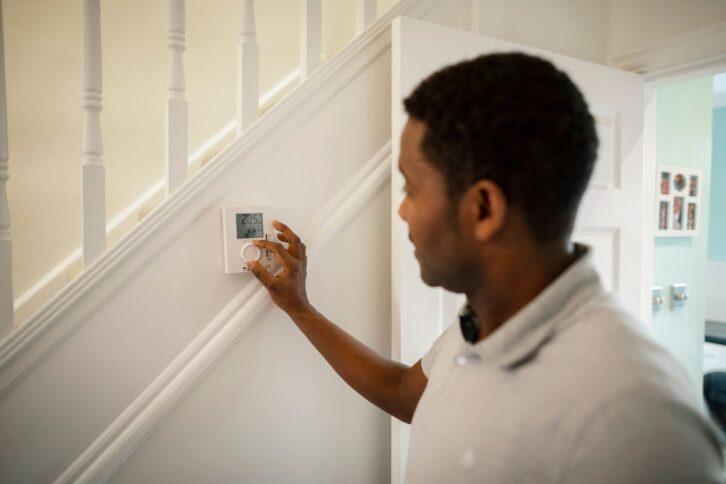 Honeywell thermostats are one of the most recognized brands in the heating and cooling industry. The company's been making temperature control products for more than 100 years.
No matter what type of thermostat you're shopping for, Honeywell likely makes a model that meets your needs. Below, you'll find our Honeywell thermostat reviews for some of the top models.
The Best Honeywell Thermostats
Types of Honeywell Thermostats
Before you select a thermostat, it's important to know what you're looking for. Do you want a no-frills model with minimal options? Or do you like to have the latest technology at your fingertips?
Non-Programmable Thermostats
A non-programmable thermostat has only basic features. You can turn your HVAC system on or off. You can turn the temperature up or down.
These thermostats have plastic faceplates with buttons to control the unit. A small digital display shows the temperature.
Non-programmable thermostats are inexpensive at about $20-40.
🏆 Our pick: Honeywell TH3110D1008
Non-programmable thermostats are ideal for:

• Bargain hunters
• Older family members
• Anyone averse to new technology
Programmable Thermostats
Programmable thermostats let you set an operating schedule for your heating and cooling systems. They automatically adjust the temperature in your home based on programmed settings.
For example, with a programmable thermostat, you could set your heat to kick on at 6:30 a.m. when you get out of bed.
Programmable thermostats help you save money by automatically turning your system off or down when nobody's home.
7-day programmable thermostats
These thermostats have the most programming flexibility. They allow you to create unique settings for each day of the week.
🏆 Our pick: Honeywell RTH6580WF
5/2-day programmable thermostats
5/2 thermostats let you create two different schedules: one for the weekdays and one for the weekends.
🏆 Our pick: Honeywell RTH2300B
Honeywell programmable thermostats without Wi-Fi or smart features usually retail for about $50-70.
Programmable thermostats are ideal for:

• Busy families
• Weekend warriors
• Energy-conscious individuals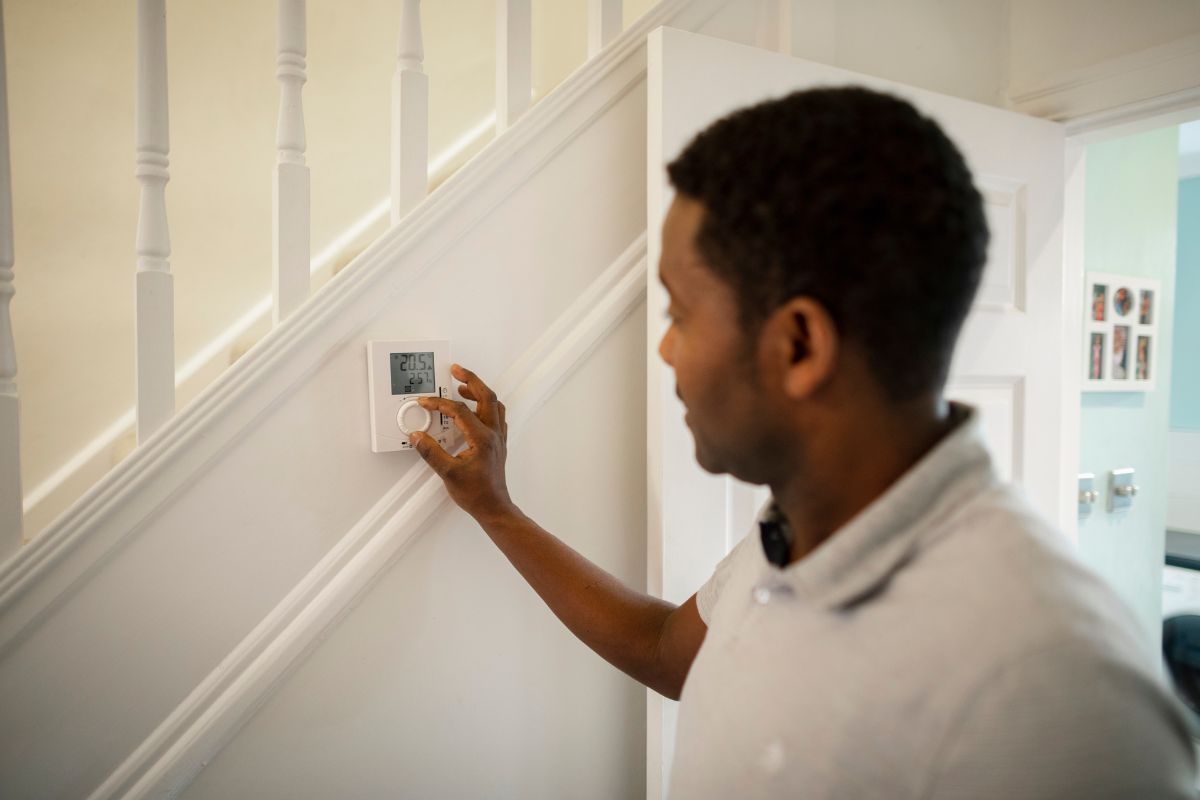 Wi-Fi Thermostats
Wi-Fi thermostats can be controlled remotely from your phone or another device. They're usually also programmable.
Honeywell has a Total Connect Comfort app that's compatible with most of its Wi-Fi thermostats. On the app, you can adjust the temperature and the schedules you've set. Additionally, you can check the weather forecast and current outdoor conditions.
The Honeywell Total Connect Comfort app lets you control multiple thermostats from the convenience of your phone or tablet. This is important if you have multiple HVAC zones in your home or if you own several properties you manage remotely.
Honeywell's Wi-Fi app allows you to control some of its home security devices alongside your thermostat. If you own Honeywell Evohome cameras or home alarms, a Honeywell thermostat with Wi-Fi compatibility can complement your system.
Honeywell Wi-Fi thermostats sell for about $50-150.
🏆 Our pick: Honeywell TH9320WF5003
Wi-Fi thermostats are ideal for:

• Owners of multiple homes or vacation properties
• Moderately tech-savvy individuals
• Heavy smartphone users
Smart Thermostats
Smart thermostats are usually programmable and Wi-Fi-enabled. Additionally, they have the ability to learn from your habits and self-adjust accordingly.
For example, a smart thermostat may automatically turn your air conditioner down when it senses your phone has been out of the house for more than 30 minutes. Smart thermostats can also deliver data to help you track and manage your HVAC usage.
Honeywell smart thermostats can be controlled through the Honeywell Home app. The app lets you control your thermostat, home security products, and water leak/freeze detectors. It also integrates with tools like Alexa and Hey Google so you can manage indoor temperature by voice.
Most smart thermostats are ENERGY STAR certified because they automatically adjust to save power when you're asleep or out of the house.
Honeywell smart thermostats sell for about $120-160.
🏆 Our pick: Honeywell T9
Smart thermostats are ideal for:

• Super tech-savvy individuals
• Energy-conscious environmentalists
• Someone who likes having the best and newest gadgets
Honeywell Thermostat Reviews
Best Non-Programmable Honeywell Thermostat Model
The TH3110D1008 is a minimalist Honeywell thermostat model with just a few simple buttons and functions. It lets you adjust the temperature, turn on the fan, and change the mode to heat or cool.
Installation is straightforward and it's easy to use. The TH3110D1008 is compatible with most HVAC systems – old or new, gas or electric.
Though it's affordable at less than $40, this Honeywell thermostat is dependable and well-built. It gets the job done without a lot of fuss.
If you can't be bothered with complicated functions and cumbersome installations, this is the Honeywell thermostat for you.
Buy on Amazon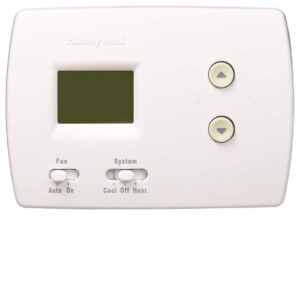 Best 5/2-Day Programmable Honeywell Thermostat Model
The Honeywell RTH2300B is an absolute steal at just over $20. Not only does it deliver the best value of the Honeywell thermostats we reviewed, but it's our favorite 5/2 programmable model.
The RTH2300B allows you to program separate schedules for the weekdays and weekends, including wake, sleep, leave, and arrive times. It's easy to install and compatible with almost all popular HVAC systems.
This Honeywell thermostat reminds you when it's time to change the batteries and your air filters. It also remembers your settings if your home loses power.
Overall, this is a solid thermostat with useful features and an attractive price.
Buy on Amazon
Best 7-Day Programmable Honeywell Thermostat Model
The Honeywell RTH6580WF has looks that are deceiving. Its basic appearance hides a range of impressive high-tech features.
Program a unique schedule for each day of the week with this Honeywell thermostat model. This includes four programmable periods a day.
The RTH6580WF is ENERGY STAR certified. It can help you decrease utility bills with advanced programming capabilities and smart features.
Though it's not as sleek as Honeywell's other Wi-Fi-enabled thermostats, you can control the RTH6580WF via Honeywell's Total Connect Comfort app. It's also compatible with tools like Alexa for voice commands. If you prefer the simplicity of pressing a button to operate your thermostat, you have that option, too.
This Honeywell programmable thermostat also has basic smart features. It can automatically adjust as it learns your temperature and schedule preferences.
We think this thermostat is ideal for a family whose tech knowledge varies.
Buy on Amazon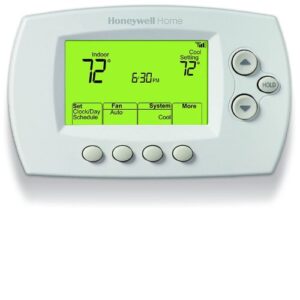 Best Honeywell Thermostat Model with Wi-Fi
The Honeywell TH9320WF5003 is a sleek touchscreen thermostat. You can customize its display, including the color to match your decor.
We like that this thermostat shows the temperature and humidity levels both inside and outside your home. It employs the latest technology and it's intuitive to use.
Connecting the TH9320WF5003 to your Wi-Fi network is straightforward. Once it's online, you must create an account to control it through the Total Connect Comfort app on your phone. Signing up is a bit cumbersome, but the app is easy to use once you get everything set up.
This thermostat is ideal for homeowners who enjoy having access to their home systems remotely. Without smart features, it's a good fit for users who don't want their devices making independent decisions.
Buy on Amazon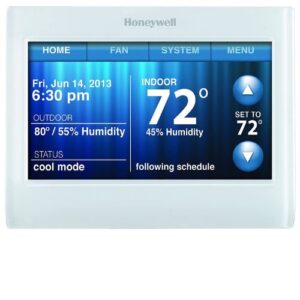 Best Honeywell Smart Thermostat
The T9 Smart Thermostat is Honeywell's most innovative model, incorporating Wi-Fi accessibility and smart technology. This thermostat is programmable – plus, it's capable of enhancing your schedule by learning the nuances of your daily routines.
The Honeywell T9 has a modern-looking minimalist touchscreen display. It can be controlled at the wall or remotely via the Honeywell Home app.
The most notable feature of this Honeywell thermostat is its integration with smart room sensors. These sensors (sold separately from the T9 for about $28) can be placed throughout your home. The T9 communicates with them to monitor and control the temperature in each room with a sensor.
Honeywell's T9 thermostat is ENERGY STAR certified. And it delivers monthly reports that track your heating and cooling trends, providing tips to help you save on utility bills.
Buy on Amazon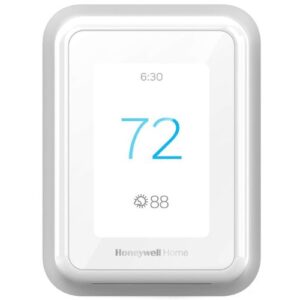 Size
3.7" x 4.92" x 0.94"
Honeywell Thermostat FAQs
Which is the best Honeywell thermostat?
The Honeywell T9 is the company's most advanced smart thermostat. However, that doesn't mean it's the best Honeywell thermostat for you. If you're looking for something inexpensive with straightforward features, we think the TH3110D1008 is the best Honeywell thermostat. Need something programmable and affordable? We like the Honeywell RTH2300B.
Does the Honeywell smart thermostat have good reviews?
The T9 is Honeywell's latest smart thermostat model. It has mostly positive reviews from users.
Which Honeywell thermostat has the best reviews?
Most Honeywell thermostats have positive reviews online. Our Honeywell thermostat reviews favored the Honeywell RTH2300B for value and the Honeywell T9 for tech-forward features.
Introducing
QuoteScore™Beta
---
Are you getting a fair deal?
Our independent team of HVAC industry insiders can score your quote
Learn More
Sharing your quote takes less than a minute