Best Whole Home Humidifiers
Constant dry air can affect your skin and respiratory health. A whole home humidifier offers a number of benefits, like relieving the discomfort of a dry throat and preventing cracks to your wood furniture or floors.
While the benefits of humidifiers for home are plenty, you need to know which one is built to meet your needs and your budget. In the following article, we will review the best whole house humidifiers on the market, focusing on their unique pros and cons.
Best Whole House Humidifiers
For arid climates
AprilAire 800
Easy maintenance
Multiple output levels
Humidifies 10,300 sq. ft.
For healthy air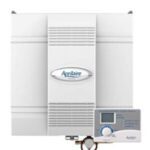 Aprilaire 700
Indoor/outdoor humidity monitoring
Works with furnace
Humidifies 5,300 sq. ft.
Most affordable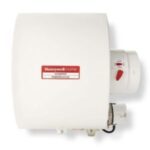 Honeywell H280
Simple installation
Water efficient
Humidifies 4,000 sq. ft.
What Is a Whole Home Humidifier?
When you need a humidifier for the whole house, you need a unit with more reach than a portable humidifier which is typically used to humidify just one room or area of a home. Complete home humidifying systems are integrated into your HVAC system and ductwork. The humidifier will release a set amount of moisture, which travels through the ductwork and into the rooms of your home.
Unlike portable humidifiers, there's no tank to refill on home humidifiers. Plus, each room in the house benefits from a consistent, healthy indoor humidity level.
Below are our top three picks for the best whole house humidifier.
Need expert help choosing a whole home humidifier?
Best Whole Home Humidifiers
Selecting the best whole home humidifier for your family depends on a variety of factors. From the size of your space to the desired moisture output level, selecting the ideal unit will create a comfortable environment that allows you to breathe easy.
Aprilaire 800 Steam Humidifier
The APRILAIRE 800 is a steam humidifier capable of delivering balanced humidity across areas up to 10,300 sq ft, making it the best whole home humidifier for large houses and other spaces. Customize the humidity level in your home with this unit's six output levels that can disperse up to 34.6 gallons of moisture into the air per day.
This AprilAire whole house humidifier is truly a set-it-and-forget-it unit, as it operates automatically for perfectly balanced humidity levels. This unit snagged the top spot for humidifying the whole house thanks to its minimal maintenance of CHANGING THE STEAM CANISTER, which typically needs to be done only once a year.
Learn more at AprilAire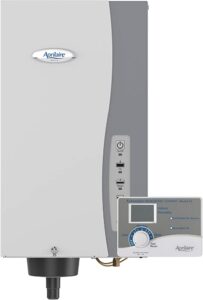 Honeywell H280 By-pass Humidifier
The HONEYWELL H280 BY-PASS HUMIDIFIER offers easier installation than most whole home humidifiers with fewer wire and ductwork connections. The unit is powerful enough to offer a consistent humidity level for homes up to 4,000 sq ft.
We like that this unit comes with a one-year warranty and the maintenance only requires yearly replacement of the central humidifier pad and cleaning out any mineral deposits (more frequently if your home has hard water).
Buy online
AprilAire 700 Power Humidifier
The APRILAIRE 700 POWER HUMIDIFIER is a fan-powered whole home humidifier system that is installed with your HVAC system. The unit can operate independently or with your furnace, delivering an 18 gallon per-day output that effectively humidifies homes up to 5,300 sq ft.
Our favorite feature is the dual sensors that monitor and respond to the outdoor temperature and your home's indoor relative humidity to deliver optimum humidity.
Buy on Amazon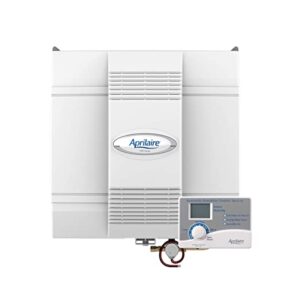 Ideal Indoor Humidity Level
The ideal indoor humidity level falls between 30-50%, according to the EPA. While you want relief from your dry indoor air, you don't want to add too much moisture to the environment. A humidity level above 55% can often feel sticky and hot. Plus, the added moisture can support mold and mildew growth, so keeping your home in the recommended indoor humidity level window keeps your family comfortable and your home and furniture in good condition. The best indoor humidity level for your home can also be skewed based on different climates.
A HYGROMETER is the simplest way to measure your indoor humidity level. The small device is relatively inexpensive and makes it easy for you to determine if your home needs more or less moisture in the air.
A home humidifier is not a device you want to rely on in place of medical recommendations from your doctor. Never swap a good device for necessary quality treatment.
As helpful as a humidifier is, it does need upkeep (even if it's minimal). Your humidifier is not a self-cleaning device. READ THE DIRECTIONS THOROUGHLY and, depending on the model you purchase, clean or change the filter as recommended.
Which Is the Best Whole Home Humidifier for Me?
Determine the best whole home humidifier based on your family's needs. For homes in extremely dry climates, a humidifier for the whole house will make a significant impact. To ensure you find the right whole house humidifier for your family's needs and budget, reach out to a reputable HVAC company.
Need help finding a new whole-home humidifier?
FAQs on the Best Whole House Humidifier
What is the life expectancy of a whole-house humidifier?
The average life expectancy of a whole-house humidifier is about 10-15 years. Once it reaches this age, it's more likely to break down and needs repairs.
Do whole-house humidifiers work well?
Whole house humidifiers work well at keeping indoor humidity levels in a balanced range of 30-50%. Unlike portable humidifiers that supply coverage to just one area or room of a home, whole-house humidifiers work alongside your HVAC system to provide coverage for the entire home.
How much do whole-house humidifiers cost?
The average cost of a whole-house humidifier, including professional installation, is between $397 and $753, according to Angi. Higher-end models can cost $1,000 or more.