Top 5 easy-to-clean humidifiers
By Kristen Jones
•
August 1, 2023
Introducing
QuoteScore™Beta
---
Are you getting a fair deal?
Our independent team of HVAC industry insiders can score your quote
Learn More
Sharing your quote takes less than a minute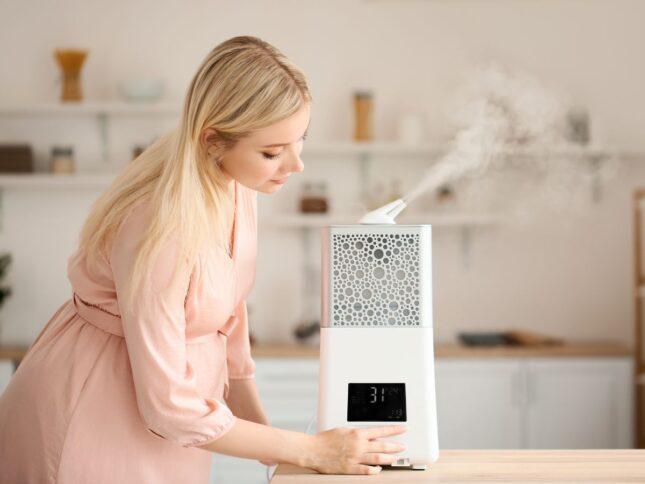 A dirty humidifier is an ineffective humidifier. The easiest humidifiers to clean will have wide tank openings and parts you can easily disassemble.
We've gathered the five best models for hassle-free, straightforward cleaning. Here's a sneak peek at our all-star lineup.
Easy-to-clean humidifiers
Easy-to-clean humidifier reviews
We gathered our top picks for easy-to-clean humidifiers based on real-world customer reviews and our Comfort Experts' personal experiences. All prices are valid as of the publication date.
Cleanest humidifier for whole-home use
Aprilaire 500M Whole Home Humidifier | $195.04
Our whole-home pick offers a moisture boost for up to 3,000 square feet. The Aprilaire 500M attaches to a central furnace and mists the air traveling through your return ducts.
This easy-to-clean humidifier allows for less frequent cleaning than a portable humidifier. For simple DIY setup, we recommend ordering the optional installation kit. Alternatively, a pro can install the humidifier for about $100-300. 
Smart thermostat enthusiasts are in luck. The 500M pairs with programmable thermostats for easy control and syncing with other home comfort devices. If you don't have one, the manual control humidistat helps you manage the settings by moving a dial.
Buy on Amazon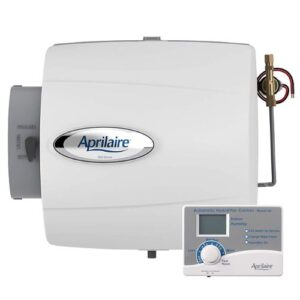 Best easy-to-clean humidifier for children
Pure Enrichment Cool Mist Cloud | $47.19
The cute, cloud-shaped Pure Enrichment humidifier is a hit with our HVAC.com staff. Comfort Expert Ashley Sweren says, "My kids have allergies and tend to get colds a lot. We've been through MANY humidifiers. Our Pure Enrichment humidifier has kept them comfortable and lasted the longest."
You can fit your whole hand inside the wide-mouthed, half-gallon tank to wipe away build-up. We appreciate that it also comes with a cleaning brush.
A color-changing night light and moisture control knob create a calming experience that your young one will love. Note that this is a bottom-fill humidifier, so you'll have to flip it upside down to refill the tank.
Buy on Amazon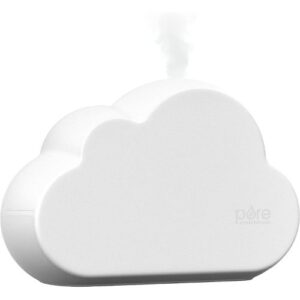 Best dishwasher-safe humidifier
Crane Cool Mist Humidifier | $51.48
Just pop the Crane Cool Mist humidifier cap, lid, and middle chamber in the top rack of your dishwasher for easy cleaning.
Refilling the 1.2-gallon tank is as simple as watering a plant, thanks to the top-fill design. Plus, essential oil enthusiasts will love how the Crane Cool Mist Humidifier doubles as an oil diffuser.
Its quiet operation and modern design are highlights of this easy-to-clean humidifier. Its cool mist is safe for children and pets, making the Crane Cool Mist Humidifier a versatile and affordable option.
Buy on Amazon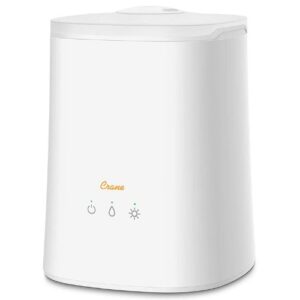 Easiest humidifier to clean for plants
Levoit LV600 Hybrid Ultrasonic Humidifier | $109.00
Plants can be surprisingly high-maintenance, but this hybrid humidifier is up for the challenge. No need to hire a plant sitter, even if you're away on vacation!
Most plants respond well to cool mist in the summer and warm mist in the winter. The Levoit LV600 offers both for year-round plant care.
The large, 1.59-gallon tank is easy to clean with its included brush. On-the-go plant parents will love the LV600's Wi-Fi compatibility, which allows you to control its settings via an iOS or Android smartphone.
Buy on Amazon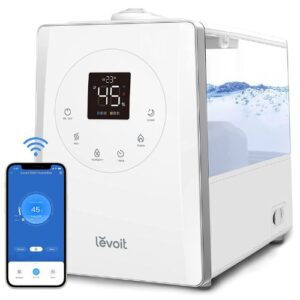 Most stylish easy-to-clean humidifier
MIRO NR08M | $159
The Miro NR08M looks more like an art piece than a humidifier. The teardrop-shaped device is circular within, leaving no hard-to-clean corners.
This humidifier has just three washable components, making it easy to take apart and clean the 1-gallon tank. With black and white base color options, the Miro NR08M will blend in with your other appliances.
This easy-to-clean humidifier has sleek, water-resistant touch panel controls. With a base that cycles different colored lights, this vibrant humidifier offers powerful moisture with a modern flair.
Buy on Amazon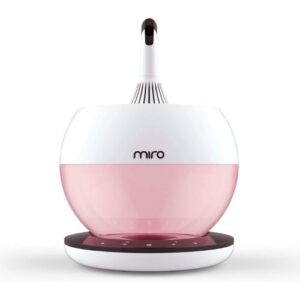 How to clean a humidifier
Follow our step-by-step process at least once a week for the cleanest humidifier. You'll need white vinegar for cleaning (it's more potent than vinegar for cooking).
Unplug the humidifier, detach the base, and empty any water in the tank.
Pour one cup of water and one cup of white cleaning vinegar onto the humidifier base.
Pour two cups of white cleaning vinegar into the water tank.
Seal the water tank shut and shake vigorously for at least five minutes.
Hold the water tank upside down, plug the reservoir nozzle, and allow the vinegar solution to drain.
Refill the water tank with distilled water and shake vigorously.
Hold the water tank upside down, plug the reservoir nozzle, and allow the water to drain.
Soak a small cleaning brush or a cloth in vinegar.
Wipe the inside of the water tank with the vinegar-soaked brush or cloth.
Scrub the base and exterior components with the same brush or cloth.
Rinse the humidifier base and water tank with water and reassemble.
Easy-to-clean humidifiers: FAQ
What types of humidifiers are easiest to clean?
The easiest humidifiers to clean have a wide-mouthed tank opening. A wider tank opening offers closer access to the corners of the humidifier, where moisture and germs are most likely to build up.
Are self-cleaning humidifiers real?
No, completely self-cleaning humidifiers are not real. Some high-end vaporizing humidifiers, like the Dyson Purifier Humidify+Cool Formaldehyde, have a deep clean mode and can descale their mineral buildup. However, prep steps are still involved, such as filling the tank with a water and citric acid mixture.
How often should I clean my humidifier?
You should clean ultrasonic and evaporative humidifiers at least once a week. Evaporative humidifiers also have filters, which you need to replace every 1-3 months. The Environmental Protection Agency recommends using distilled water in ultrasonic humidifiers. Distilled water has its minerals filtered out, creating less mineral buildup in your humidifier. Though distilled water may make your humidifier easier to clean, you still need to clean it regularly.
Introducing
QuoteScore™Beta
---
Are you getting a fair deal?
Our independent team of HVAC industry insiders can score your quote
Learn More
Sharing your quote takes less than a minute