Honeywell humidifiers review and ratings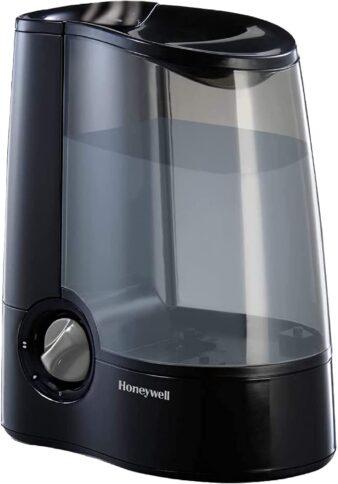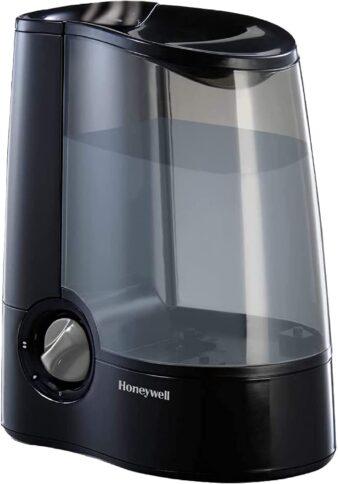 Dry indoor air can leave you feeling less-than-glamorous with cracked hands, allergies, and nosebleeds. If your home's air needs a moisture boost, a Honeywell humidifier can get the job done.
We're here to help you sift through Honeywell's impressive collection of humidifiers. Read on for our take on four of Honeywell's most popular models and discuss the brand as a whole.
Does Honeywell make good humidifiers?
We certainly think so. Honeywell started out as a heating company in 1906, but has evolved into a one-stop shop for everything home. Door chimes, fans, filters, air purifiers, even home security systems — Honeywell covers every base.
Honeywell takes that comprehensive approach to its vast lineup of humidifiers. The humidifiers span different sizes, temperatures, and fill styles to deliver a product lineup that has something for everyone.
While most homeowners will take quality over quantity, Honeywell proves that the two can coexist. The brand is intentional about making effective and long-lasting products, which has created a massive selection for consumers.
If you want proof that Honeywell stands behind its products, look to its generous warranties. Most Honeywell humidifier models have two to three-year limited warranties. Competing value brands like Levoit max out at one year.
Honeywell sells quite a few humidifiers, so let's break down some of the key differences you'll need to look for.
Honeywell humidifier types
Honeywell splits its humidifier lineup into four categories. While most are portable models, there are some options with the power to humidify your whole home.
Below, we'll explain how they differ and suggest which style may suit you best.
Cool mist humidifiers
Cool mist is the most popular type of humidifier. It's great for children and pets, as you don't run the risk of getting burnt by steam or hot water.
All of Honeywell's cool mist humidifiers are ultrasonic. These models release a visible stream of water droplets into the air.
Ultrasonic humidifiers are conveniently filter-free, but they have their downside. A common complaint is that without a filter, they collect more bacteria and minerals.
When these germs fester in your humidifier, they get sprayed into your air. The bacteria can cover your furniture in what's known as white dust.
Still, there's no need to avoid ultrasonic humidifiers. It's just important to know how to avoid the white dust:
Fill your humidifier with distilled water. Ordinary tap or spring water is chock-full of minerals, which mingle with bacteria to create the nasty dust. Distilled water has had the minerals filtered out, so you don't run the risk of spraying bacteria through your room.
Clean your machine with vinegar at least once a week.
Cool moisture humidifiers
Honeywell offers a variety of cool moisture humidifiers. The primary difference between a cool mist and cool moisture humidifier is that the latter creates an invisible stream of moisture in the air.
All of Honeywell's cool moisture models are evaporative. Unlike ultrasonic models, evaporative humidifiers use filters to process the water.
Honeywell sells replacement filters for its cool moisture humidifiers. You should swap out the filter every one to three months, depending on the manufacturer's recommendation.
Warm mist humidifiers
Like cool mist humidifiers, warm mist models are filter-free. This saves you from pumping money into replacement filters and fans, but you will need to spend time each week cleaning the device.
Warm mist humidifiers have an internal heater that boils water. Once the water gets hot, the humidifier sends visible droplets into your air.
Since the heat kills germs, warm mist humidifiers don't usually fall victim to white dust. They're also less noisy than cool mist models, thanks to their internal fan.
Flow through humidifiers
Whole-house models work differently from other Honeywell humidifiers. Flow through humidifiers are not portable, and they attach to your furnace.
When your home's humidity falls below the humidistat's reading, this device gets to work. Flow through humidifiers have an evaporator pad instead of a fan or heater.
When warm air from your furnace meets the warm water, it creates hot vapor. This vapor then flows through the furnace and out into your home.
If you have a central HVAC system, a flow through model could be a great fit. Shoppers without a furnace will need to look for a portable model.
Honeywell humidifier reviews
Honeywell's vast humidifier lineup may seem overwhelming at first. We'll help you start and refine your search with our Honeywell humidifiers review.
Below, we talk through the pros and cons of the best-selling models. That way, you can find the best Honeywell humidifier for your needs.
All prices are valid at the time of publication.
Best-selling Cool Mist Humidifier
Designer Series Cool Mist Humidifier | $95.91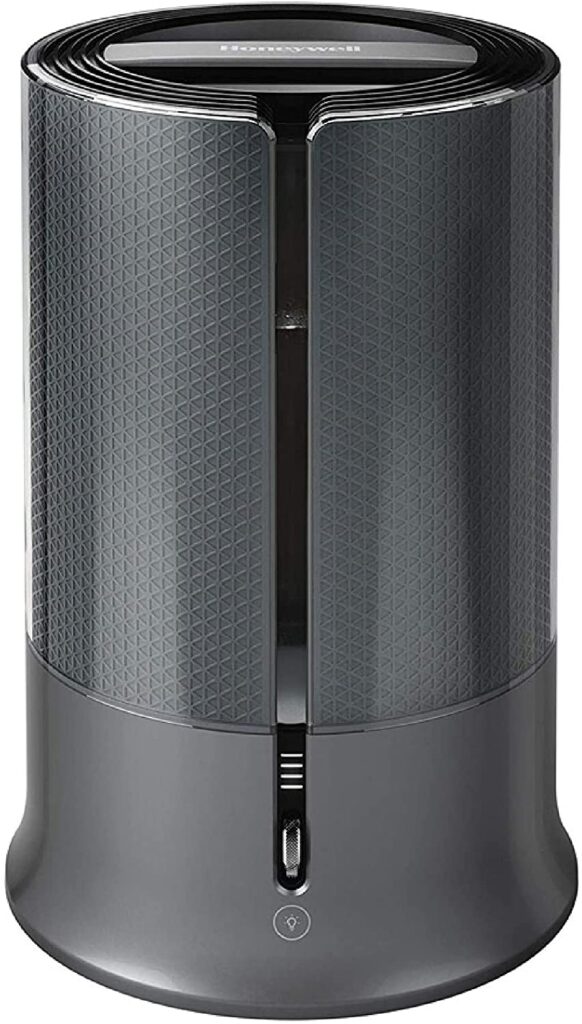 If you want to moisturize your air in style, look no further than the Designer Series Cool Mist Humidifier. This Honeywell humidifier is ultrasonic, so you'll see it push out cool mist.
The Designer Series' 1.25-gallon tank can run up to 24 hours on a single filling. The wide tank opening saves you from spills and headaches while you clean your humidifier.
Plus, this model is sleek and discrete. It looks like a 13-inch tall cylinder with a ribbed texture, and it comes in black or white.
The price tag is a bit more of an investment compared to other portable units, but it's all on the front end. The Designer Series is filter-free, so you don't have to pump money into replacement filters every few months.
With adjustable light dimming, this unit is ideal for creating a personalized sleeping environment. The machine will also auto-shut off when empty to avoid wasting energy.
Fans of aromatherapy will love the essential oil tray on the Designer Series. This luxurious touch can make your home or office feel like a wellness spa.
While this humidifier is aesthetically pleasing and powerful, some features leave us wanting more. Opening and closing the reservoir can prove a bit challenging, so a unit with a more accessible design may be best for those concerned over the closure.
Otherwise, the device is ideal for reaching the comfortable indoor humidity level of 30 to 50%. The quiet operation means you can enjoy its benefits throughout the day or night.
We recommend this humidifier to any shopper who likes to live lavishly. With a beautiful design and a boost of aromatherapy, you'll be the envy of all your dry-nosed friends.
Best-selling Cool Moisture Humidifier
Easy to Care Top Fill Humidifier | $49.95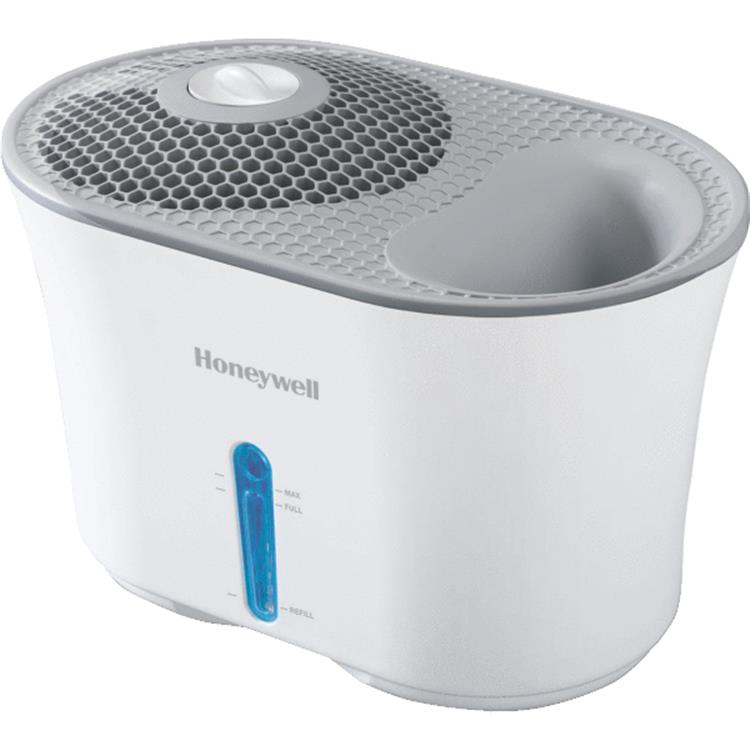 The Honeywell HCM-710 is a top fill evaporative humidifier that made our list thanks to its effectiveness and low maintenance. Just pour water into the top of this humidifier, and it's good to go.
You can choose between two moisture output settings and sound levels. The higher output setting can get a little noisy, but that's par for the course with humidifiers.
This 1-gallon humidifier's namesake is quite fitting. The Easy to Care can run up to 36 hours at a time. Its water window will indicate when it's time for a refill.
The Easy to Care's oval shape means there are no nooks and crannies for bacteria to hide. This makes cleaning easy and headache-free.
This unit requires a filter that will need to be changed every 30 to 60 days, depending on water quality and use. The Honeywell brand filter is designed to stop up to 99.99% of mold growth, making clean-up a little less icky.
We love that this model's filter comes with a carbon pre-filter. This pre-filter can catch airborne dust and minerals, stopping them before they go through your humidifier and fill it with gunk.
You don't have to buy the Honeywell replacement filters, but you may void the generous 3-year warranty by opting for another brand.
The blue refill indicator light is bright, so the Easy to Care may not be ideal if you sleep in total darkness. Still, this is a standout product for the affordable price tag. It's almost fail proof to care for, making it a great first venture into humidifiers.
Best-selling Warm Mist Humidifier
Filter Free 1 Gallon Warm Mist Humidifier | $51.55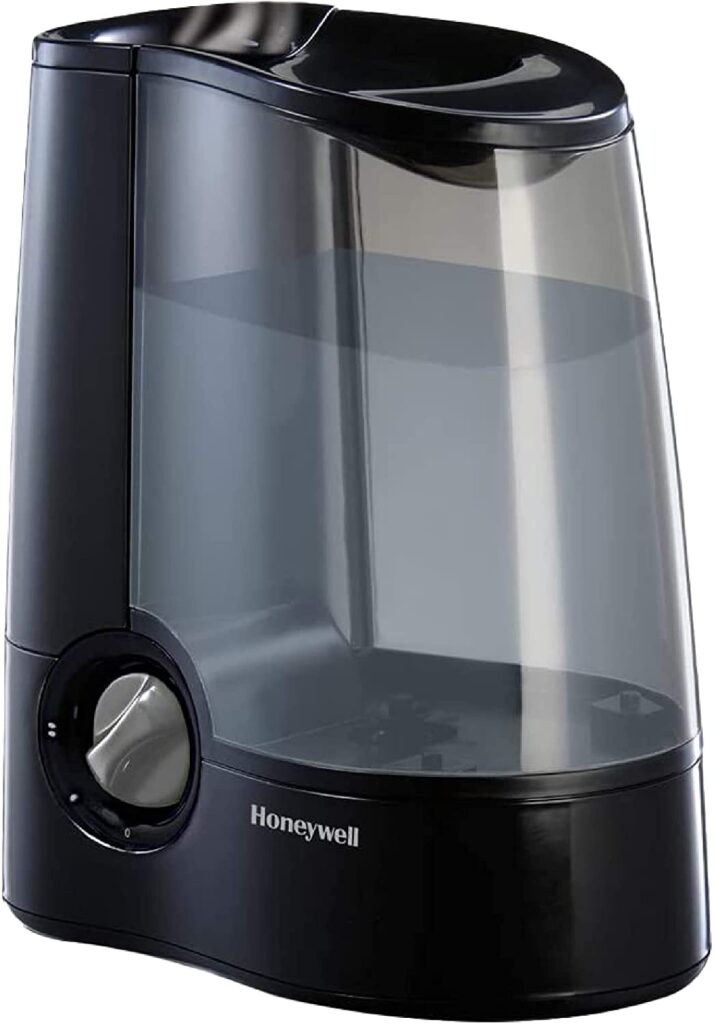 If cold air just isn't your thing, opt for the soothing comfort of warm mist. The Filter Free Warm Mist model is filter-free, which gives it points for convenience.
The Filter Free Warm Mist can take care of a space up to 320 square feet. Its one-gallon tank will auto shut-off once it empties. One gallon of water serves up 24 hours of low steam or 12 hours of high-pressure steam.
We like the easy-to-grip carrying handle on this unit, making it extra portable and easy to move between rooms. Another standout feature is the essential oil cup. Most aromatherapy-friendly humidifiers will run you $100 or more, so we like how Honeywell offers this premium feature at a value price point.
While there are some highlights to the Filter Free Warm Mist, it's got some functional shortcomings that we need to address. First, the tank does not have a top cap, so you must tip the water tank upside-down to mount it on the base.
You'll want to position this unit on a shelf, or away from high-traffic areas. The water tank doesn't securely lock into the base of the humidifier, so it could detach if you bump into it or push it.
The Filter Free Warm Mist humidifier is an affordable product that delivers on premium features like aromatherapy and effectiveness in a medium-sized space. For the price, this is a pretty solid warm mist humidifier.
Best-selling Flow Through Humidifier
Whole House Fan-Powered Humidifier w/ Installation Kit | $233.65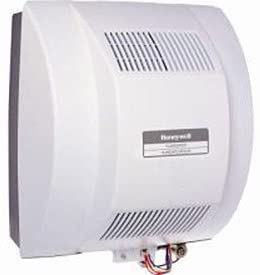 If you've got a furnace and are looking for a heavy-duty humidifier, this whole house option may have you covered.
Fans of DIY projects will love the easy installation and included setup toolkit. This humidifier mounts onto any forced-air furnace, and there's no need for bypass ductwork.
The installation will require cutting a hole in your furnace. If you're a beginner or don't trust the aspiring DIYer in your family, you can ring up your local HVAC technician to complete the job.
Depending on where you live, the installation will likely run you between $50 to $70 per hour. In most cases, the installation can be complete in a couple of hours. If you opt to have the technician order the unit for you and then install it, you'll pay $562, on average.
We like that this flow through model comes with a humidistat. This tool will allow you to check and adjust your home's humidity level.
This heavy-duty humidifier is also surprisingly quiet. It's no louder than your furnace, so you shouldn't notice extra noise in your house.
It gets to work within hours, and you'll notice a quick uptick in your home's humidity. The one drawback to this model is that the installation instructions are not very clear.
This flow through humidifier may not be as easy to install as Honeywell claims. Nonetheless, this device strikes an impressive balance between quality and value.
Our Take on Honeywell
Honeywell has been on the home improvement scene for over a century. Its humidifier collection varies greatly, with double the offerings of comparable brands.
You'd be hard-pressed to find another brand with so many offerings, value or premium. If selection is important to you, go for a Honeywell humidifier.
Another reason to opt for a Honeywell is the lengthy limited warranty. Most value brand warranties tap out after one year, but Honeywell usually offers two to three years of protection.
Honeywell's pricing is also affordable. We like how you can get premium features, like an essential oil tray, on value or mid-tier models.
Some things to keep in mind with Honeywell humidifiers. Most models have a run time of up to 24 hours. If you're looking for a unit you don't have to refill so frequently, you may opt for another brand.
Honeywell's product lineup is diverse, but it could have a bigger selection across room sizes. Most of Honeywell's product lineup is best for medium rooms. If you've got a tiny studio or a big space without central HVAC, you may be limited to one or two models.
If you want a premium humidifier with cutting-edge bells and whistles, you may need to look elsewhere. Honeywell is self aware that it's a value brand. Most of its humidifiers are made of plastic, and few are aesthetically pleasing.
That being said, Honeywell delivers quality products for the price. Its humidifier lineup has a bit of something for everyone.
Honeywell excels at making budget-friendly and reliable humidifiers. There's something to be said for a reputable and consistent brand that stands behind its products. In the HVAC space, that can be easier said than done. That's why we think Honeywell humidifiers are quality products worth checking out.