HVAC.com's Guide to Furnace Filters: Cost, Benefits, Brands & More
By Tom Moor
•
September 26, 2023
Introducing
QuoteScore™Beta
---
Are you getting a fair deal?
Our independent team of HVAC industry insiders can score your quote
Learn More
Sharing your quote takes less than a minute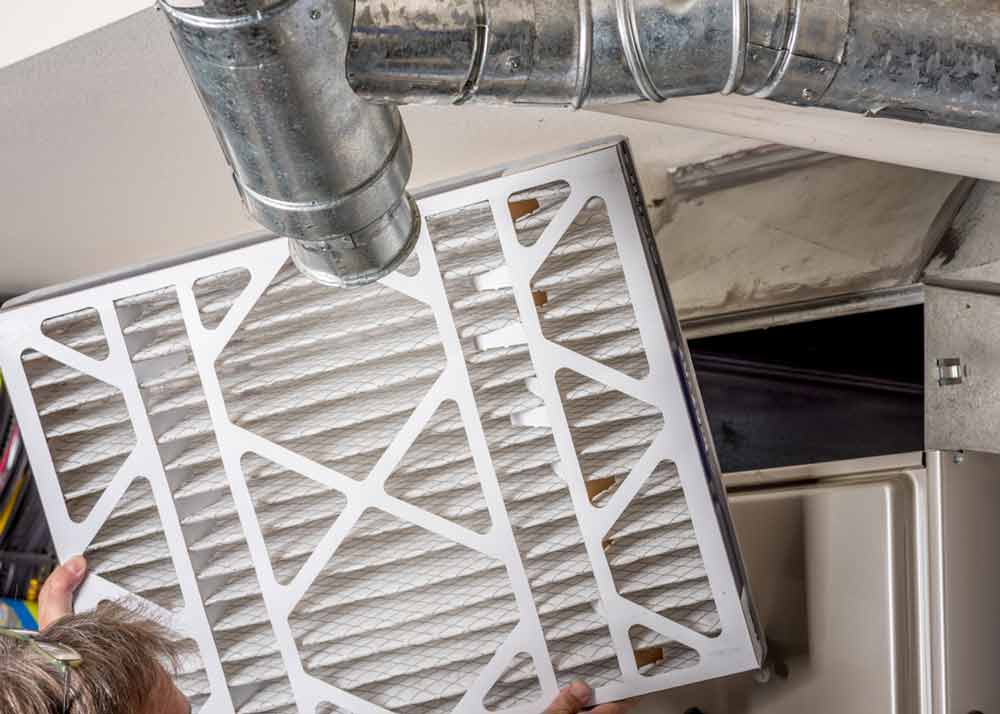 Furnace filters are a key component of your heating and air conditioning system which protects the system's blower motor and other parts from airborne debris. The furnace filter not only protects these system components from damage, but by removing airborne contaminants like dust, pollen, dander, and more, your household benefits from cleaner indoor air!
Furnace filter replacement is an important HVAC maintenance step that all homeowners need to do on a regular basis to protect the HVAC system, improve air quality, and maintain HVAC system efficiency. In our Guide to Furnace Filters, learn all about home furnace filters and the best furnace filters for your system, as well as furnace filter replacement.
Types of Home Furnace Filters
There are several different types of furnace filter replacements available for use in residential heating and air conditioning systems:
Fiberglass or Synthetic
Polyester
Electrostatic
Pleated
HEPA (High Efficiency Particulate Air)
These filters are disposable and need to be replaced on a regular basis, determined by the manufacturer's recommendations and home HVAC system usage. Some HVAC systems are equipped with reusable filters that are washed to remove contaminants and reinserted into the system once dry.
Furnace Filter Replacement FAQs
Keep your HVAC system healthy and protect indoor air quality with proper furnace filter replacement. Find the answers to homeowner frequently asked questions about furnace filter replacement below.
How much does furnace filter replacement cost?
Furnace filter replacement costs vary greatly from model to model. MERV value as well as filter thickness and material factors into the cost of a replacement filter. Furnace filter cost ranges from under $10 to over $50.
A standard 1-inch fiberglass disposable filter with a low MERV value costs just a few dollars, but has to be replaced on a frequent basis. A 5-inch pleated MERV 13 filter that only needs to be changed every 9 to 12 months costs more but for many homeowners is a better value. Signing up for a filter delivery service may offer discounts based on delivery frequency.
What is MERV?
MERV stands for Minimum Efficiency Reporting Value, which is the rating used to measure the efficiency of home furnace filters. For residential use, MERV ratings range from 1 to 16. The higher the MERV rating, the more efficient the filter at removing smaller airborne particulates.
Work with an HVAC specialist to determine the right type and MERV rating for your home's furnace filter replacement. An HVAC pro will asses your home's indoor air quality and the specific air quality concerns of your family. Furnace filters with higher MERV ratings can block airflow through some HVAC systems and are not appropriate for use with all systems – your HVAC contractor is able to advise you regarding the right filter for your system.
How often should I change my furnace filter?
Each filter manufacturer provides a recommendation for how often their filters need to be changed. In addition, consider your indoor environment, as households with higher levels of indoor pollutants or those with allergy sufferers often need to replace filters more often.
In general, this furnace filter replacement schedule is a good starting point:
1": 1-3 months
2": 1-3 months
3": 6-9 months
4": 6-9 months
5": 9-12 months
6": 9-12 months
How do I know what size furnace filter replacement I need?
Look at your existing filter – measurements are printed along the filter's frame. If you are unable to read the filter's dimensions, check your owner's manual to learn what size home furnace filters are compatible with your heating and cooling system.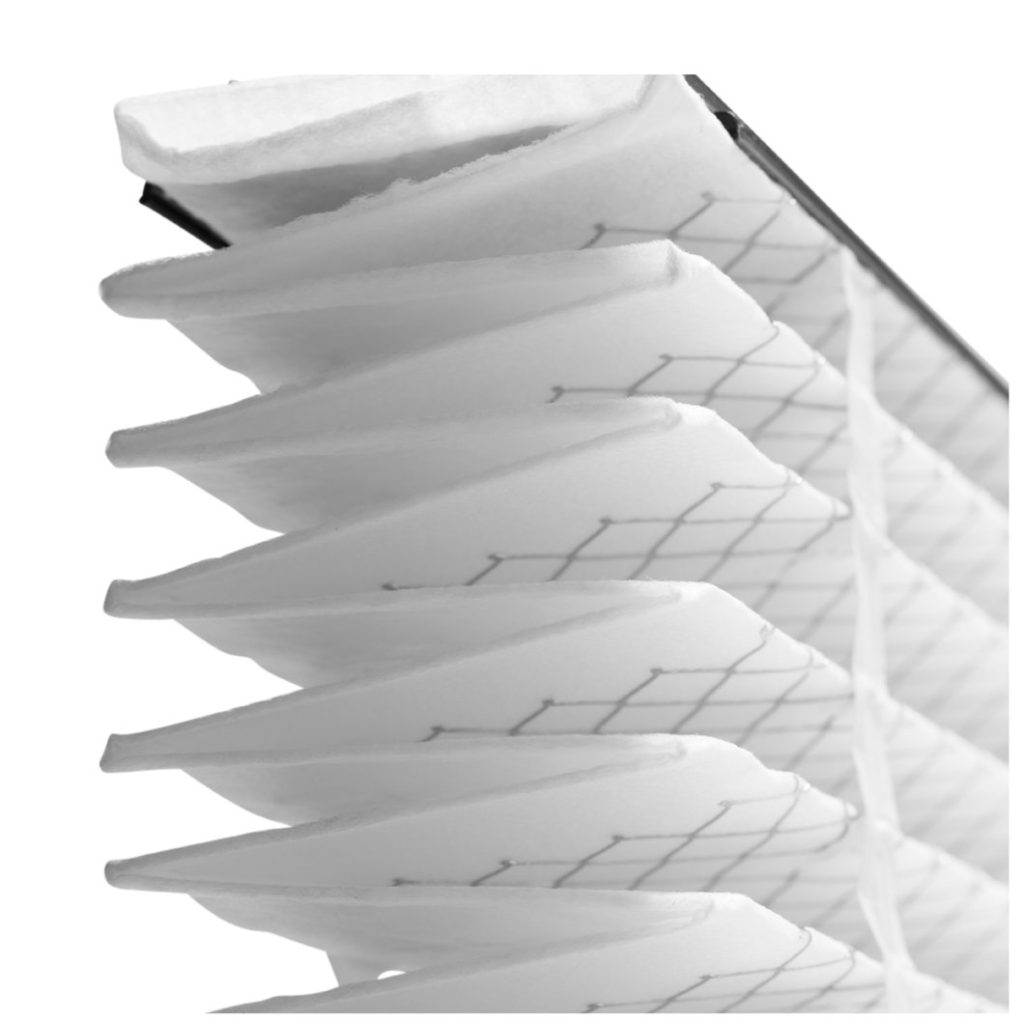 It is important that you use the right size furnace filter in your system. A filter that is too big is unable to fit inside the filter compartment, leaving your system vulnerable to damage from airborne contaminants. A filter that is too small can slip down into the plenum and obstruct airflow through your system, while also allowing airborne contaminants to settle on system components.
How do I change my furnace filter?
Follow these steps to perform furnace filter replacement as needed in your home:
Find your HVAC system's filter compartment, which is usually positioned between the furnace or air handler and return air duct.
Remove the compartment door, if there is one, slide out the old filter, and throw it away.
Unwrap your furnace filter replacement and dispose of the packaging.
Slide the new filter into the filter compartment, matching up the arrows printed on the filter frame with the direction of system airflow.
Replace the compartment door, if applicable.
Best Furnace Filters for Your Home
There are many furnace filter replacement options on the market to choose from when it's time to change your furnace filter. The following furnace filter manufacturers produce quality home furnace filters to protect your system and indoor air quality.
Purchase replacement furnace filters through your trusted HVAC contractor, mail delivery service, or at your local hardware and home improvements store. Contractors typically change the furnace filter when performing HVAC preventative maintenance, but you may need to replace your filter outside of these visits as well.
An online order service offered through your HVAC professional is an excellent way to ensure you have the furnace filter replacements you need, when you need them. Filters are shipped directly to your home at the frequency you need.
Find More Information on Furnace Filters through HVAC.com
HVAC.com brings homeowners a plethora of resources for all things heating, cooling, and indoor air quality. If you have more questions about home furnace filters, we encourage you to browse our blogs, FAQs, videos, guides, and other resources for expert answers.
When you need assistance finding the best furnace filters for your household, contact a local heating and cooling company. Use our HVAC Contractor Directory to find a heating and air conditioning professional near you.

Related Articles
Furnace Air Filters – Everything You Need to Know
Frequently Asked HVAC Questions: Air Filters
Top MERV 11 Air Filters By Brand
Top MERV 12 Air Filters by Brand
Introducing
QuoteScore™Beta
---
Are you getting a fair deal?
Our independent team of HVAC industry insiders can score your quote
Learn More
Sharing your quote takes less than a minute