Everything you need to know about solar-powered air conditioners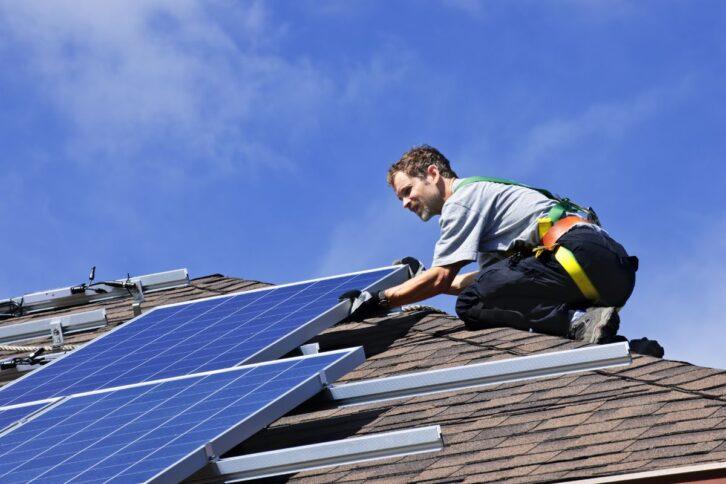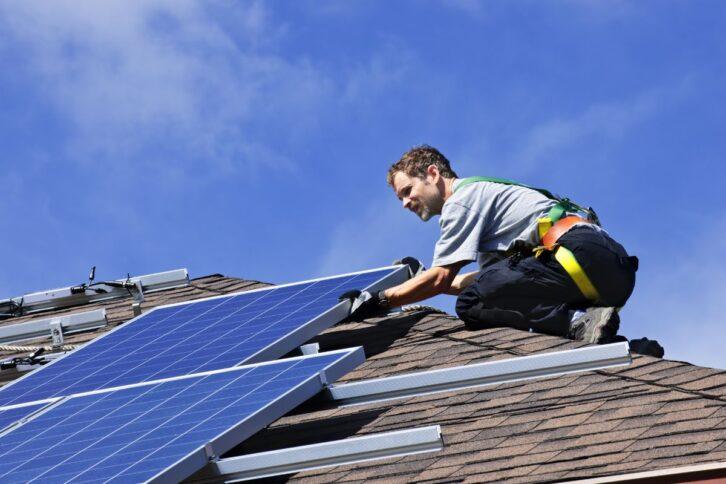 Solar-powered air conditioners just make sense. After all, you're most likely to use your AC when the sun is beating down on your home.
This piece will review the need for solar-powered air conditioning, how solar ACs work, and how much you can expect to save on utilities.
The benefits of solar-powered air conditioning
According to the U.S. Department of Energy, three-quarters of American homes have air conditioners. The energy used by power plants to support that many air conditioners produces 117 million metric tons of carbon dioxide annually. 
Carbon dioxide is considered a greenhouse gas. Greenhouse gasses contribute to global warming and cause environmental and human health issues. 
Additionally, air conditioners account for about 6% of the energy consumed in the U.S. Across the country, Americans spend a cumulative $29 billion on AC-related electricity annually.
Not only can solar-powered air conditioners reduce greenhouse gas emissions, but they can also help slash utility bills. 
And solar AC owners won't have to worry when utilities employ rolling blackouts on the hottest days to avoid grid overuse. Their ACs work independently of the power company. 
Connect me with an HVAC pro to talk about solar.
How does a solar air conditioner work?
In simple terms, solar ACs use solar panels to power the air conditioning system.
Solar panels collect energy from the sun. They convert this energy into power. That power either goes directly to the air conditioner or to a battery where it's stored until the AC needs it.
Most solar AC systems are hybrid, meaning they use traditional electricity sources in addition to solar power. Hybrid systems are more popular in very hot environments where it's necessary to run the AC at night (when there's no sun) to keep comfortable.
For complete off-the-grid air conditioning, there are solar-only systems. These are more energy-efficient but don't offer the same flexibility as hybrid systems.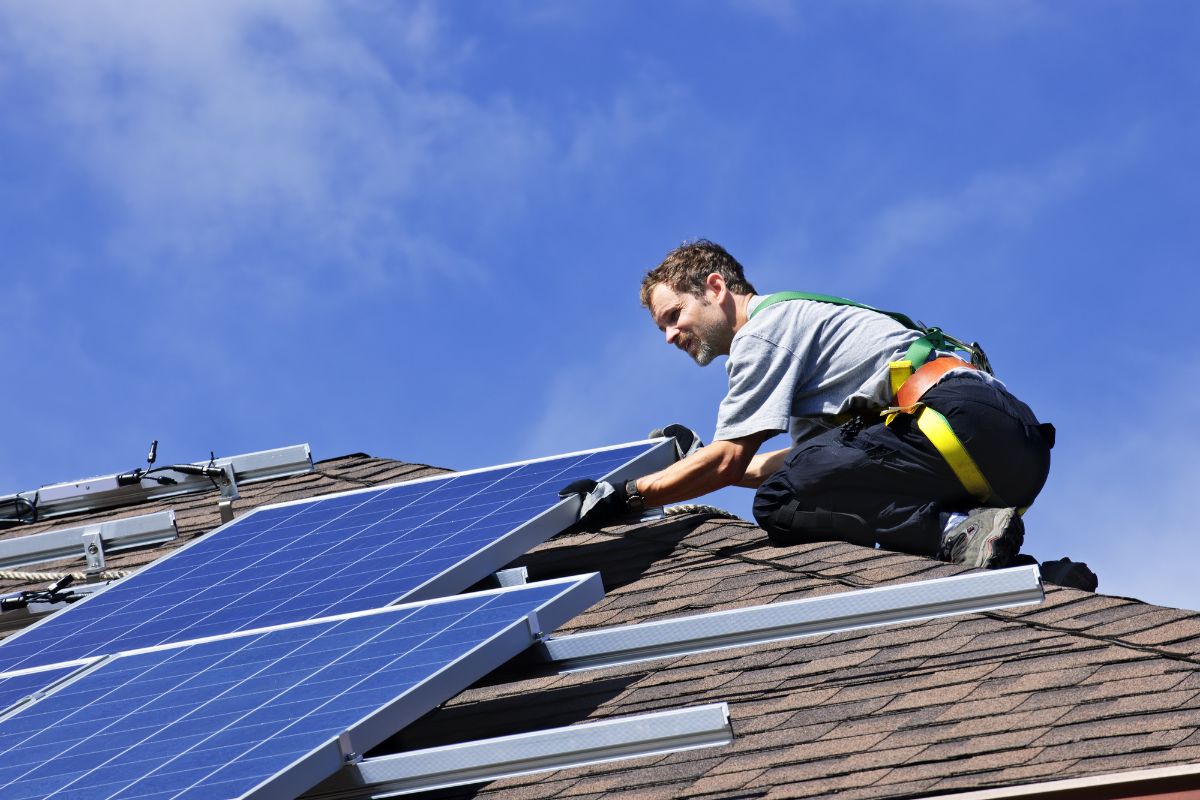 Solar-powered central air vs. mini splits
Though solar-powered central air conditioners exist, most solar ACs are mini splits. Mini splits differ from central ACs because they don't require ductwork to operate.
Traditional central ACs consist of an outdoor compressor that pushes air through evaporator and condenser coils to cool it. The equipment distributes that air through your ductwork to the vents throughout your home. A thermostat controls the temperature and function of the entire system.
Mini splits consist of an outdoor compressor and one or more indoor evaporators. The compressor and evaporators connect via electrical and refrigerant lines. Each evaporator has its own thermostat and works independently to cool a zone of your home.
Mini splits are generally more energy-efficient than central air conditioners. They're less expensive and simpler to install. Popular in Europe and other areas of the world, mini splits are gaining popularity in the U.S.
How many solar panels to run an air conditioner?
The number of panels required to run a solar AC varies. It depends on the solar-powered air conditioner you choose and how much you use it.
Most mini splits use 500-700 watts per hour per evaporator zone. Most residential solar panels make 250-400 watts per hour. That means most solar air conditioners require at least two solar panels.
Central air conditioning capacity is measured based on tonnage. For every 600 square feet, you'll need 1 ton to keep it cool. So, a 2,000-square-foot home requires at least a 3.5-ton AC. We recommend 1,200 watts of solar paneling for each ton. A 2,000-square-foot home would need 11-17 solar panels. 
Solar-powered mini split
| Size of system | Number of solar panels |
| --- | --- |
| Single zone | 2 |
| Two zones | 4 |
| Three zones | 6 |
| Four zones | 8 |
Solar-powered central air conditioner
| Size of space | Number of solar panels |
| --- | --- |
| 1,000 square feet | 6-10 |
| 1,500 square feet | 8-12 |
| 2,000 square feet | 11-17 |
| 2,500 square feet | 14-22 |
| 3,000 square feet | 15-24 |
| 3,500 square feet | 18-29 |
How effective is solar air conditioning?
Solar air conditioners are as effective as their traditional counterparts. They will keep you just as cool and comfortable.
Hybrid systems utilize electricity when your solar battery drains, so you don't have to worry about cloudy days or running the AC at night.
However, some solar-only ACs may not be able to maintain output without the sun's rays.
Solar air conditioner savings
Solar air conditioners usually cost more than traditional cooling systems. But the upfront expense is worth it to many because of the monthly energy savings. We found that the investment in a solar AC generally pays for itself within 10 years of purchase.
Angi reports the average homeowner spends $3,400 on a solar air conditioner. In general, they cost $1,600-13,000. Mini splits are more affordable, while solar-powered central air conditioners cost more. 
In addition to the cost of the unit, you'll need to pay for installation. Angi says this ranges $1,500-3,500. 
Alternatively, a traditional air conditioner costs an average of $5,650 with an installation cost of $500-2,500, according to HomeAdvisor. A ductless mini split costs an average of $3,400-4,800 for a single-zone system, with installation fees of $300-1,500.
Switching to a solar-powered air conditioner can reduce your energy bills by 40 percent. The average U.S. homeowner spends $115 per month on electricity. You could save about $46 a month by switching to a solar-powered home air conditioner. 
Solar savings programs
Beyond the monthly utility savings, there are local and federal incentives that offer credits for using solar energy.
For example, a solar air conditioner purchased in 2022 could be eligible for a 22 percent tax credit with the Federal Solar Investment program. The Energy Star program also offers rebates of up to several hundred dollars for energy-efficient HVAC equipment. 
Best solar-powered ACs
Most big-name HVAC brands aren't making solar products yet. Lennox's SunSource line is the only one we're currently aware of. With Lennox's reputation for cutting-edge technology, we're not surprised they're at the forefront of solar AC. 
HotSpot Energy makes solar-powered HVAC systems that are worth checking out. The brand hasn't been around for long, but it's Better Business Bureau accredited with an A+ rating.
Other solar AC manufacturers include Carisol and GREE. However, their presence in the U.S. is minimal at present. As such, we're unsure what level of installation and repair support they offer to U.S. customers. We'd hold off on purchasing these brands for now.
Still thinking about a solar-powered air conditioner? Connect with one of our HVAC experts to discuss the best deals in your area. 
Connect me with an HVAC pro to talk about solar.