4 questions to ask before hiring an HVAC technician
At HVAC.com, our writers create solutions that put you in control of your HVAC system. Our product reviews and recommendations are researched and backed by real buyers and industry experts, not dictated by our partners.
It's time to give your HVAC system a checkup and schedule a maintenance visit. As a homeowner, you're doing everything right to maintain your system and keep it healthy. Now, it's time to hire an HVAC technician to do the job. The only problem is, you're no HVAC expert. How do you know who to hire for the job?
It's good to talk to a few different contractors before making any decisions. Here's what you should ask every HVAC technician before hiring them to work on your system: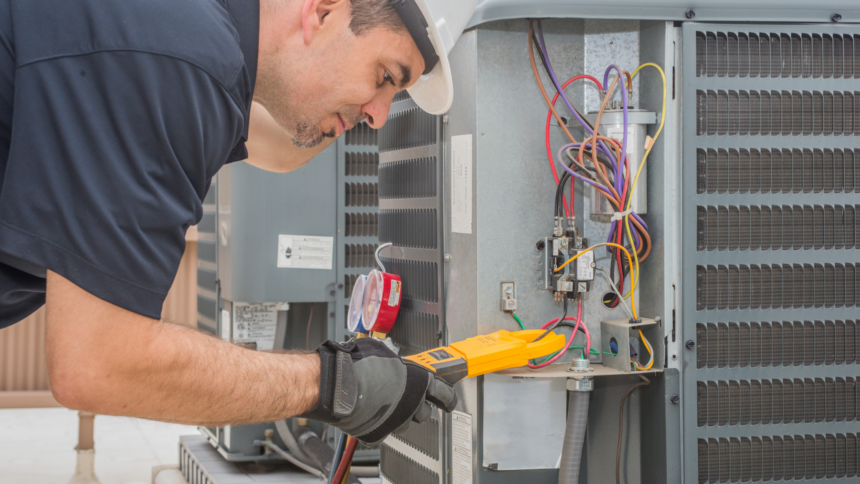 Are you licensed and insured?
Almost every state requires HVAC technicians to be licensed. If they're not, you probably shouldn't hire them to work on your system. Make sure to ask your technician if they are licensed, and grab the license number from them — you can then look it up through your state contractor licensing board.
Additionally, it's good to make sure they're insured, just in case something goes wrong while they're working in your home. Ask if their company has both worker's compensation and liability insurance, just in case.
How much experience do you have in the industry?
Have they been working in the HVAC industry for a long time? Are they relatively new? Knowing how much experience an HVAC technician has can help you feel more comfortable about hiring them.
In addition, consider asking how they learned their skills. If you have a specific brand or type of system, determine if they have experience with that as well.
Can you provide references from past customers?
Almost every HVAC technician will give you a written estimate explaining what work will be done and how much it will cost. However, it's important to get references, too.
Talking to past customers can give you a good idea of how the technician works. If they can't or won't provide references or reports from other customers, that's a bad sign and you should most likely hire a different technician.
How do refunds, warranties, and guarantees work?
Your current system may be under warranty, and a good HVAC technician will follow the terms of the warranty. Or, you may be past warranty, in which case they should give you a new guarantee in writing.
It's also good to ask about how refunds work. Make sure that you are hiring a reputable company that installs the equipment properly and fully discloses its policy. In most cases you can't get your money back should the repair not last, however, a reputable company will work with you to find a solution.
In addition, energy and cost efficiency are also important to many homeowners. If it's something important to you and you want to know more, or if you feel your system isn't working as efficiently as it should, bring it up with the technician to find out their recommendations.
You don't have to be an expert on HVAC systems to find a good technician. With these tips, you can hire the best person for the job and ensure your system runs smoothly and efficiently, keeping your home comfortable and saving you money.
What to Expect When Hiring an HVAC Technician
As a homeowner, you've invested a lot into your HVAC system and it's important to make sure it's working right and running smoothly and efficiently. The key to an HVAC system's health? Regular maintenance. However, not every homeowner knows what a maintenance visit entails.
Have a technician coming soon to check on your HVAC system and perform maintenance? Here's what to expect:
A technician visit should include:
An Overall System Check
Your HVAC technician should do an overall check of the system, including the furnace, air conditioner, heat pump, etc. During the maintenance visit, they'll make sure everything is running smoothly and efficiently and nothing needs to be repaired or replaced. If indeed the air filter or water panel needs to be replaced, they'll take care of replacing those items.
A General Safety Check
Your technician will perform a general safety check on the system to look for any problems that could prove dangerous to your family or home. They will inspect your heat exchanger for cracks, pits, or rust to be certain your system is not leaking carbon monoxide that could be extremely harmful to your family and in some cases, even deadly. If you have a carbon monoxide detector, the technician will also check that to ensure it works properly and there aren't dangerous levels of gasses in your home.
Cleaning
Although there are things you can clean yourself, a routine maintenance visit is a chance for the HVAC technician to clean any components of an HVAC system that you can't.
Any Necessary Repairs
If there are any repairs that need to be made, the technician will complete them during the visit. Generally, these will be pretty minor, as big repairs usually get their own visit. During a routine visit, technicians will fix any small issues that have cropped up, like replacing worn-out parts or tightening and aligning belts.
Any Questions Answered
After the maintenance visit is over, the technician should answer any questions you have. This is your chance to ask about anything going on with your HVAC system, no matter how trivial it seems. They will clearly communicate all answers so you understand what's going on.
They may also give you tips on what preventative steps you can take between visits, such as when to replace air filters and how to keep things in good working order.
A Written Report
At the end of the maintenance visit, the technician should give you a written report summarizing what the visit entailed and what, if any, repairs were made. This is for your reference and in case you have any questions later.
Whether you've just bought your first HVAC system or have been a homeowner for years, it's always good to know what to expect when your HVAC technician comes to call.